FULLER RUNS AWAY WITH DECKER MEMORIAL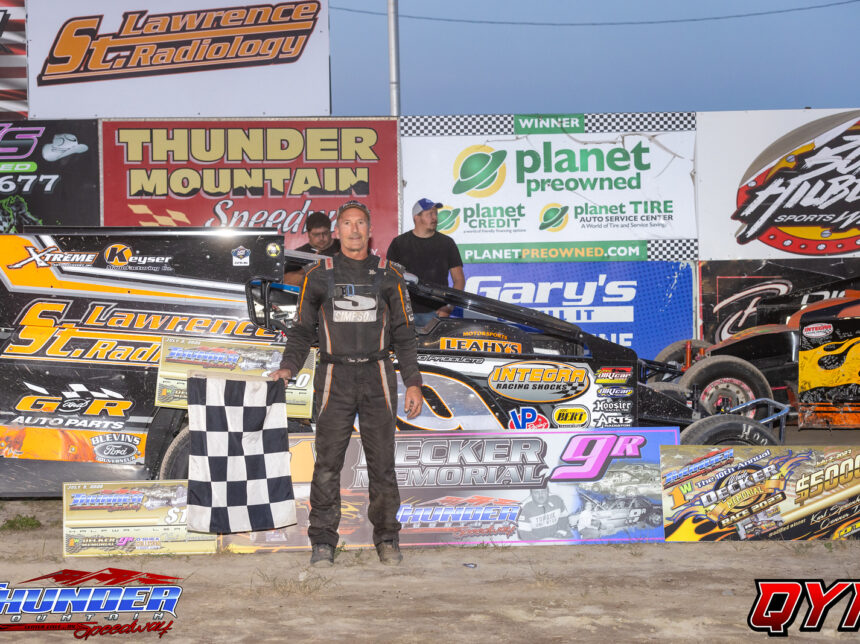 Another Decker Memorial is in the books! Thank you to all of the drivers and fans who came out to show your support!
Newly inducted hall of famer Tim Fuller put his St. Lawrence Radiology modified in victory lane at the Decker Memorial race Sunday at Thunder Mountain Speedway. For Fuller's first trip to the mountain he made quick work of the 50 lap feature and left with a smile and the $5,000 top prize. Anthony Perrego grabbed the second seat followed by Billy Decker, Dan Creeden, and Corey Cormier.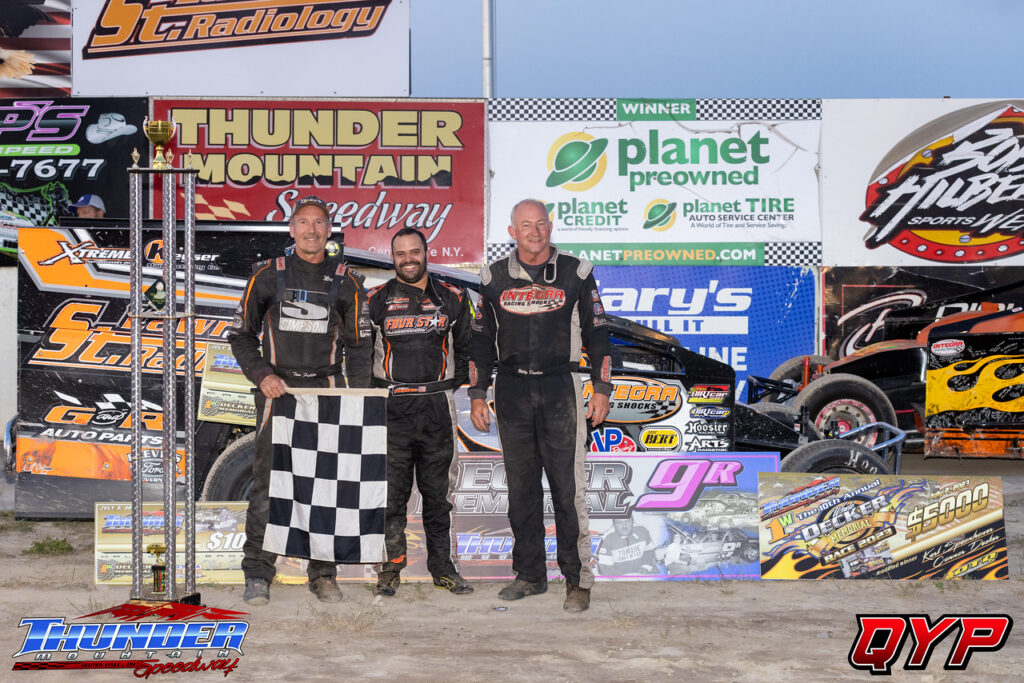 Gene Sharpsteen picked up the win in the street stock division. Jerry Lobdell Jr pulled out a strong second place finish followed by Doug Stack Jr, Doug Stack Sr and Steven Deinhardt.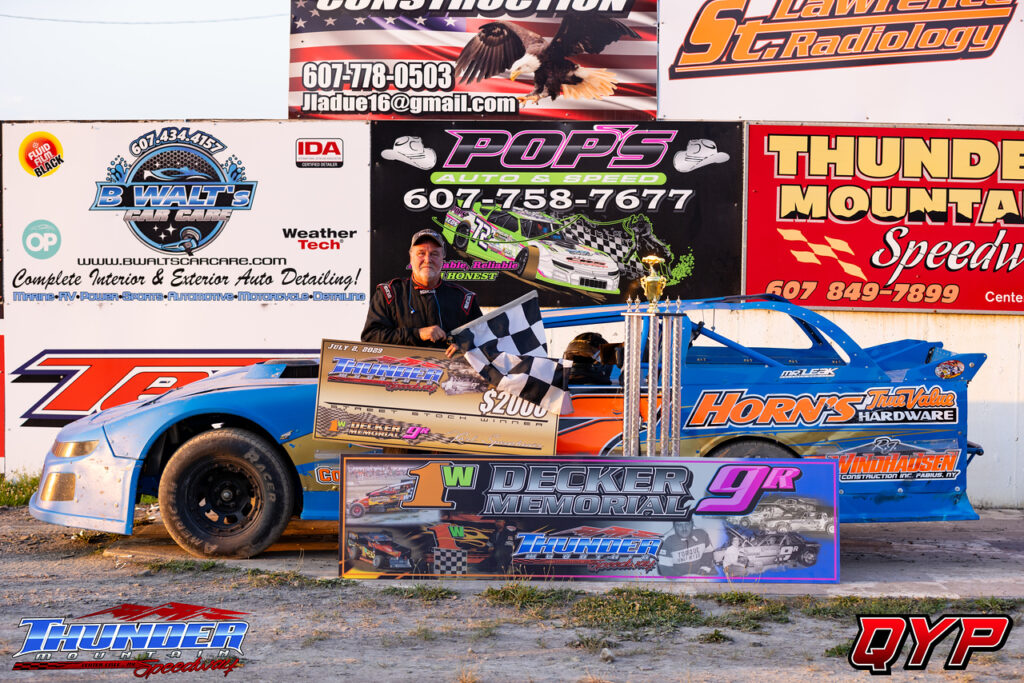 DIRTcar Sportsman race was a battle to the end. The win went to local TMS driver Byron Worthing. Daryl Krebs grabbed the second spot followed by Ray Leonard, Mike Nagel Jr. and Dane Hedlund.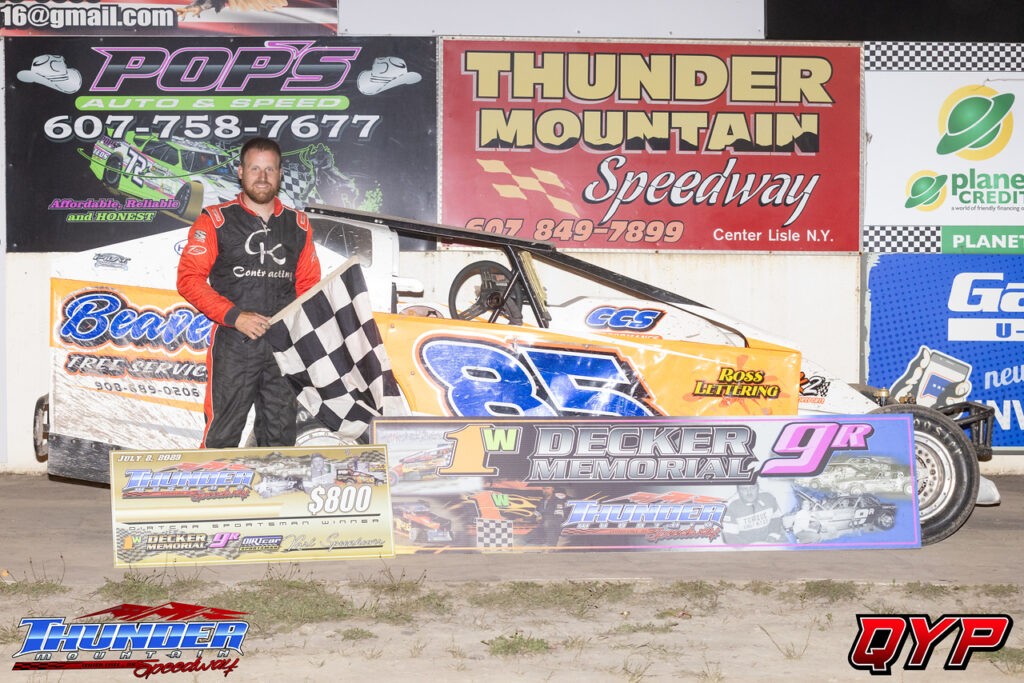 B Walt's Car Car 600cc Modified race was the Ryan Jordan show. Jordan bested Jake Waibel, P.J. Goodwin Sam Hubbard and James Randall who rounded out the top five.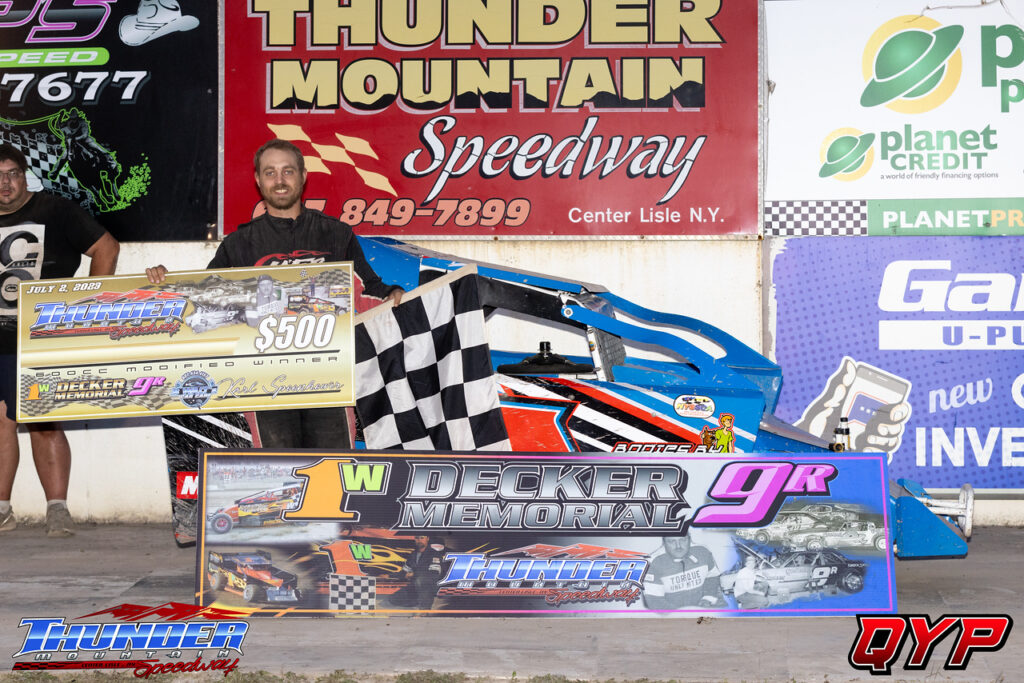 The CRSA Sprints were also on tap at the Decker Memorial. Billy VanInwegen brought home the win followed by Ron Greek, Aaron Shelton, Thomas Radivoy and Tyler Chartrand.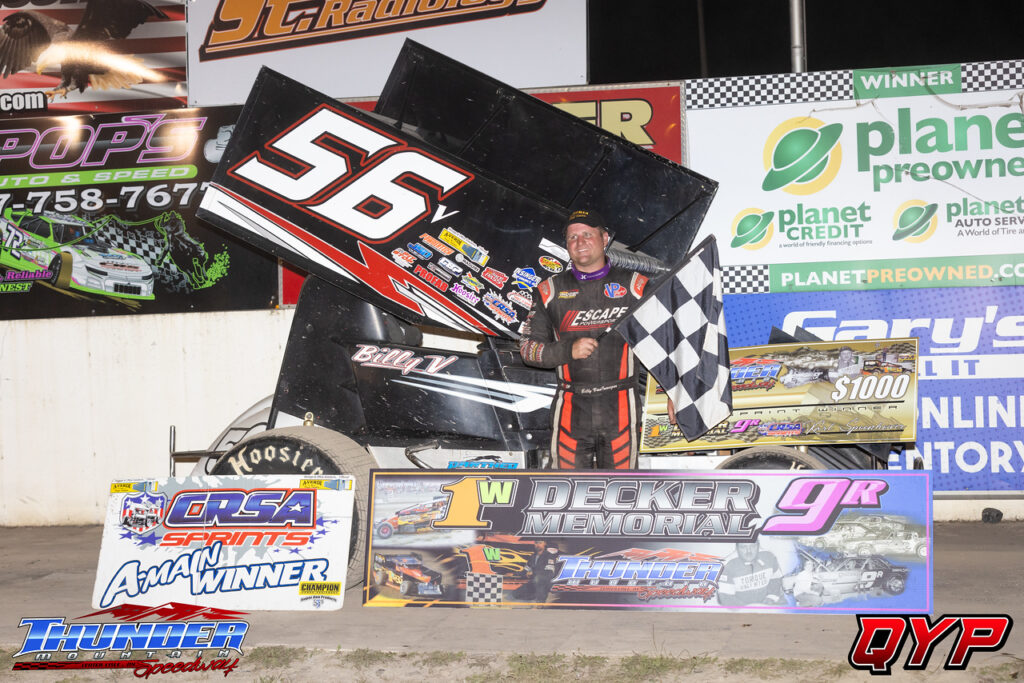 We are off this weekend, July 29 for the Broome County Fair but will be back in action August 5th for our throwback night! Wear your favorite old school racing apparel!
DTDTV Modified
Tim Fuller, Anthony Perrego, Billy Decker, Danny Creeden, Corey Cormier, Jimmy Zacharias, Matt Meade, Garret Rushlow, Will Shields, Brian Malcolm, Eric Leet, Tom Collins, Nick Nye, Alan Komar, Rusty Smith, Darren Smith, Tyler Siri, Marc Goodwin, Corey Costa, Shayne Spoonhower, Brandon Walters, Jeremy Hamilton, Rich Powell, Billy VanInwegen
Modified Dash for cash – Will Shields
B Walt's Car Care 600cc Modified
Ryan Jordan, Jake Waibel, P.J. Goodwin, Samual Hubbard, James Randall, Justin LaDue, Tom Donahue, Ali Scutt, Doug Windhausen, Anthony Desimone, Tommy Paige, Logan LaDue, A.J. Tuttle, Sam Usborne, Chelcie Beebe, DNS Damon Henry
Street Stock
Gene Sharpsteen, Jerry Lobdell Jr., Doug Stack Jr, Doug Stack Sr., Steven Deinhardt, Jon Carpenter, Brian Rhodes, Don Russell, Jerry Fassett Jr, Shane Moshier, Glenn Whritenour, Jakub Ingham, Damon Decker, Don Reeves, Kevin Garland, Josh Towner
SS Dash for cash – Jerry Lobdell Jr
DIRTcar Sportsman
Byron Worthing, Daryl Krebs, Ray Leonard, Mike Nagel Jr, Dane Hedlund, Dana Davis, Will Eastman, Tom Princiotta, Gordon Smith, Jamie Kamrowski, Eric Winsor, Chuck Miller, Dale Folejewski, George Schweigart, Wyatt Frink, Wyatt Frink, James Galarneau, Dylan Hartman, Brad Hurlburt, Mike Austin, Randy Brokaw, Kortney Slavick, Amanda Scholtisek
CRSA Sprints
Billy VanInwegen, Ron Greek, Aaron Shelton, Thomas Radivoy, Tyler Chartrand, Emily VanInwegen, Dillon Paddock, Kyle Pierce, Ray Preston, Scott Landers, Jerry Sehn Jr, Trevor Years, John Cunningham, Tomy Moreau, Dalton Herrick, Jordan Hutton, Cliff Pierce, Blake Warner, John Smith, Marc Connally, Dan Craun, Dustin Sehn, Kirsten Dombroski