Alan Barker soars to victory at Thunder Mountain Speedway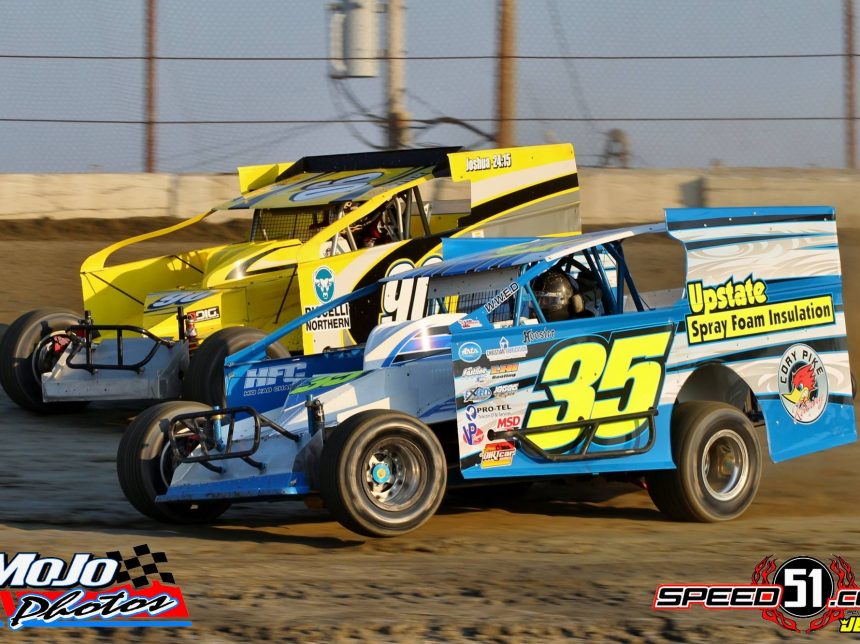 Center Lisle, NY
As the season nears its end the point battles are closer than ever and excitement on the track is at an all-time high. The racing at Thunder Mountain on Saturday proved this to be true both on and off the track.
Alan Barker churned out an exciting victory in the modified division – his first in 2017 at Thunder Mountain Speedway. He rode the high side of the speedway and took an impressive straight away lead which went unchallenged for the duration. This capped off a weekend sweep as he captured a victory Friday night at Afton Motorsports Park.
Matt Sherwood dominated the rookie sportsman division with a commanding lead over the young gun, Landon Spoonhower.
Rich Wagner survived some heavy pressure from Justin LaDue in the final five laps as LaDue made several attempts from all lanes to take the position in the 4cyl stocks. Wagner was up to the challenge and took the win.
In the crate sportsman division Daryl Krebs picked up his first victory of the season after the #20 car was unable to pass a post-race tech inspection.
After a rough 2017 on the mountain Kevin Jordan shook off the cobwebs and rode to victory in a dominating fashion over Eddie White, Brian White and Dan Allen in the open sportsman division.
The always exciting IMCAs put on a thrilling show as Mike Stoddard drove the high side to take home the victory. He was followed by Keith Lamphere and Bumps Scutt as they raced three and four wide throughout the 20-lap feature.
The patriot, Matt Spencer withstood early pressure from Don Russell and Earl Zimmer as well as a late race charge from Damon Decker to claim victory in the street stock division.
The 600 Xcel win went to Byron Worthing who took the lead from Shiner and never looked back.
A full weekend of racing awaits us this Saturday, September 2 and Sunday, September 3 as we hold the annual Wade Decker Memorial race. We hope you will join us for what is sure to be a memorable weekend.
Race Results – 8.26.17
Rookie Sportsman – Matt Sherwood, Landon Spoonhower, Richie VanOrden, A.J. Williams, John Traphagen, Rob Compton, Anthony Rundell, Cody Jackson
4Cyl. Stock – Rich Wagner, Justin LaDue, Chuck Powelczyk, Sam Curci, Chris Taylor, Mark Atutis, Rick Sinsabaugh, Michael Brown, Tanner Ensign, Rich Powell, Casey McPherson, Evan Wright, DNS – David DeNova
602 Crate Sportsman – Daryl Krebs, Mike Austin, Tom Collins, Mike Nagel Jr., Billy Spoonhower, T.J. Frost, Garrett Rushlow, Pat Parker, Jimmer Ulrich, Kailee DiMorier, Hilary Ward, Shayne Spoonhower, Darren Smith, Pat Jordan, Kyle Cicio, Tyler Keener, Kenny Hammond, Kimberlee Morgan, DQ – Corey Cormier
Modified – Alan Barker, Brent Wilcox, Jeremy Smith, Barry White, Cory Costa, Dan Creeden, Randy Brokaw, Nick Nye, Colton Wilson, Chris Stull, Bob Stahl, Sam Allen, Byron Worthing, Jeff Sheeley, Mike Ward, Ed Burgess, Jeff Bronson, Jim LaRock, Brian Malcolm
Open Sportsman – Kevin Jordan, Eddie White, Brian White, Dan Allen, Tom Eiklor, Chance Spoonhower, Chris Jordan, Bubba Brunell, Billy Spoonhower, Greg Morgan, Larry Mekic, Landon Cummings, John Morese, Phil Vigneri
IMCA Mod – Mike Stoddard, Keith Lamphere, Bumps Scutt, Tyler Stoddard, Dan Searles, Will Ward, Gary Roberts, Brandon Smith, Brad Smith, Dan Alvordi, Doug McKane, Billy Ward
Street Stock – Matt Spencer, Damon Decker, Don Russell, Earl Zimmer, Lanson Albanese, Jon Carpenter, Jake Fowlston, Jerry Lobdell Jr., Mike Wilbur Sr., Zack Mills, Rich Fife, Dan Force, Jeff Wilcox, Trever Dudley, Jerry Wilcox, Trever Dudley, Jerry Wilcox, Justin Mills, Butch Green, Buck Mills Sr., Bob Mills, Jonathan Fowlston, Cody Nielson
600cc Xcel – Byron Worthing, Tom Shiner, Chris Jordan, Dana Davis, Will Eastman, Chris Kithcart, Adam Mudge, Bailey Boyd, Paul DeRuyter, Justin Shiner, Doug Windhausen, Damon Henry, Joe McCabe, Rich Gardiner, Dominic Amato, Kyle Harrington, Jake Waibel, Dakota Anderson, DNS Doug O'Hara