MEADE TAKES HOME WIN IN MEMORIAL DAY SPECIAL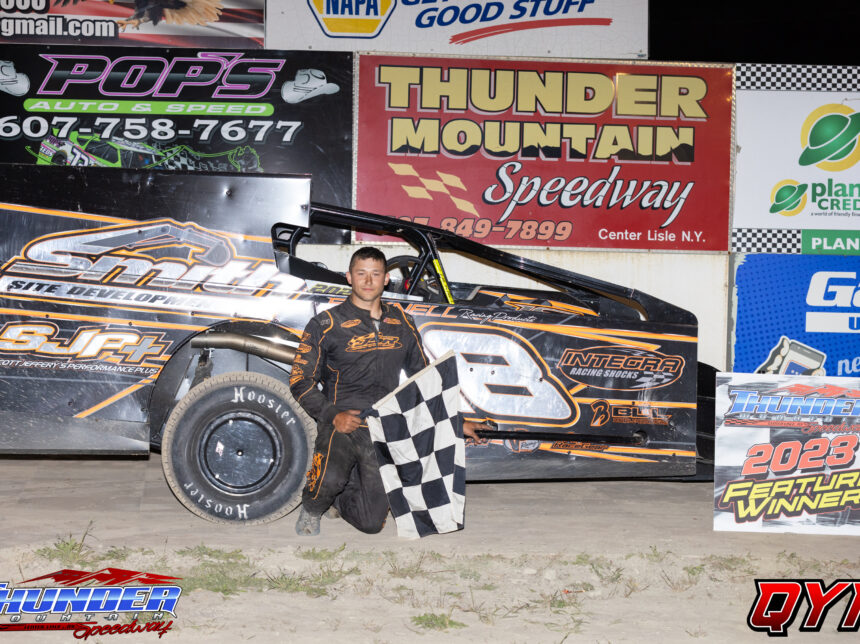 Center Lisle, NY – The weather was picture perfect for our Memorial Day show. Racing was exciting with multiple grooves in each and every feature. With a stellar Dirt Track Digest TV modified field Matt Meade bested Brandon Walters for the win.
The B-Walt's Car Care 600cc modifieds never disappoint as they put on a superb show. Justin LaDue shook off his bad luck streak with a dominate performance. Chris Jordan drove from a 21st starting position to finish runner up. Bumps Scutt took home the third-place position.
In the Street Stock division Jerry Lobdell Jr. put his number 2L machine back in victory lane. Gene Sharpsteen came in second with a strong finish with Doug Stack Jr to follow.
Dane Hedlund picked up the win in his DIRTcar Sportsman with TJ Frost second and Gordon Smith third.
The Pop's Automotive Factory Stock saw a new winner in Mike Morse.  A young Dominic Albanese had another solid run with a strong second place finish and Rich Sharpsteen took home third.
In the rookie classes Amanda Scholtisek got the win in the Rookie Sportsman with Stephen Winsor second and Kourtney Slavick in third. Justin Lovejoy snagged the victory in the Rookie Factory Stock with Cayden McPherson and Brandon Warren to follow.
Next week we will celebrate Bob Wildoner our longtime friend and turn three flagger whom we lost in December.
Wishing you all a great Memorial Day! Thank you veterans for your service.
May 27, 2023 Finish
UTV Under 1000cc – Neil Blaisure, Martin Truesdale, Cory Poirier
UTV Over 1000cc – Dennis Latwinski
Rookie Sportsman – Amanda Scholtisek, Stephen Winsor, Kourtney Slavick, Dylan Hartman, Ace Prentice Jr., Chance Spoonhower Jr., Bill Hartman
Street Stock – Jerry Lobdell Jr., Gene Sharpsteen, Doug Stack Jr., Doug Stack Sr., Bubba Peters, Shane Moshier, Mike Wilcox, Don Reeves, Mike Wilbur Jr., Don Russell
Turn One Tavern Rookie Factory Stock – Justin Lovejoy, Cayden McPherson, Brandon Warren, Buck Mills Jr, Jeremie Hale Jr, Mitch Quail Jr., Tever Wells
B-Walt's Car Care 600cc Mod – Justin LaDue, Chris Jordan, Bumps Scutt, Doug Windhausen, James Randall, Tom Donahue, Samual Hubbard, Harry Oliver, Ali Scutt, TJ Smith, Chelsie Beebe, Owen Mossow, Christian Hafl, PJ Goodwin, Anthony Desimone, Tracy Oliver, Damon Henry, A.J. Tuttle, Tyler Talada, Jake Waibel, Logan LaDue, Dewain Talada, Nick Johnson
Dirt Track Digest Modified – Matt Meade, Brandon Walters, Darren Smith, Mike Maresca, Alan Barker, Jimmy Zacharias, Tyler Siri, Jeremy Smith, Nick Nye, Chance Spoonhower, Rusty Smith, Shayne Spoonhower, Tom Eiklor, Jeff Taylor, Bailey Boyd, Landon Cummings, Jeff Sheely, Ken Hammond, Brian Malcolm, Garrett Rushlow, Will Shields, Eric Leet, P.J. Goodwin, Brad Knapp
DIRTcar Sportsman – Dane Hedlund, T.J. Frost, Gordon Smith, Rich Talada, Todd Hayward, Randy Brokaw, Jordan Millard, Kinser Hill, Jamie Kamrowski, Mike Austin, Dana Davis, Dale Folejewski, Greg Morgan, Will Eastman, Eric Winsor
Pop's Automotive Factory Stock – Mike Morse, Dominic Albanese, Rich Sharpsteen, Dusty Decker, Jason Beebe, Hayden Albanese, Jacob Fowlston, Kurtis Stickles, Billy Shoemaker