GREEK WINS FIRST CRSA RACE, MEADE WINS FIRST MODIFIED RACE; SELLARS, JACKSON, WINDHAUSEN, LOBDELL JR, RHODES, MORGAN VISIT VICTORY LANE.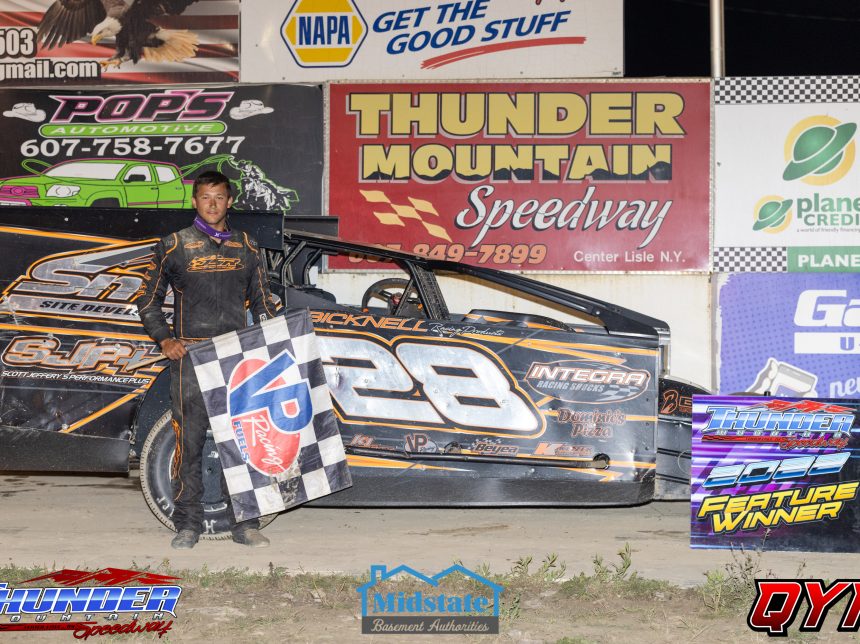 LISLE, NY – It was the penultimate night of racing in 2022 at the Thunder Mountain Speedway, and the on track action did not disappoint on Midstate Basement Authorities Night. Ron Greek held off Dalton Herrick for his first ever CRSA Sprint Tour win after flipping last week at Afton. Matt Meade claimed his first career Dirt Track Digest TV Modified feature after holding off Alan Barker. Connor Sellars held off Rusty Smith to return to DIRTcar 358 Modified victory lane. Cody Jackson visited DIRTcar Sportsman victory lane for the third time this year, leading the entire 25-lap event. Doug Windhausen nabbed his second win of the year in the B-Walt's Car Care 600cc Modifieds with a late race move on Sam Hubbard. Jerry Lobdell Jr. held off a hard charging Trevor Dudley to take win number 10 in a row in the Wheeler's Excavating Street Stocks. In the Pop's Automotive Factory Stock class, Jason Rhodes survived a chaotic feature to grab a big win. Greg Morgan broke through to claim his first win at Thunder Mountain in the Open vs Crate Sportsman.
Ron Greek and Dalton Herrick started on the front row and led the CRSA Sprint Tour to the green flag. Greek and Herrick quickly moved away from the rest of the top five on the top-side. Behind them, the battle for third, fourth, and fifth was intense. Trevor Years was running third, but he faced pressure right away from Chad Miller. While those two battled, Peter Dance charged his way up from the eighth place starting spot to challenge the pair for the final podium spot. As the top five worked lap traffic, the positions changed hands multiple times. Miller bested both Years and Dance at first, but Years came back at the pair to retake third. Dance worked around Miller in the late stages to take fourth. As Greek set up off of turn four to come to the checkered flag, Years' no.13T caught fire and ended up parked in the turn two infield, bringing out a yellow flag. Years, who's car also had a left rear flat and front end damage after contact with the uke tire surrounding a light pole, needed to be towed off the speedway. In the ensuing one lap dash, Greek held off Herrick to take win number one. Herrick continued his streak of strong runs at Thunder Mountain by finishing second, with Peter Dance completing the podium. Miller and Dana Wagner rounded out the top five.
The CRSA Sprint Tour takes a few weeks off before returning on September 10th at Skyline Raceway. Four races remain for the tour: Skyline, Fonda, Penn-Can, and the championship race at Afton Motorsports Park.
Jeff Sheely and Landon Cummings led the Dirt Track Digest TV Modified field to the green flag. Cummings moved into the race lead, while Matt Meade battled past Sheely to take second on lap three. Eric Leet came to a stop after breaking a serpentine belt, bringing out the first caution of the race. On the restart, Meade took the race lead away from Cummings and started to pull away. Another yellow flew on lap 7, as Garrett Rushlow ended up parked on top of Darren Smith's front end in turns three and four. Both drivers continued on after the incident. On the restart, Alan Barker charged into second around Cummings. Behind him, Cummings and Jimmy Zacharias engaged in a race-long battle for third. Barker started to pressure Meade early in the 20-lap run to the checkers, but Meade never crumbled to the pressure. Meade pulled back away from Barker to take his first Dirt Track Digest TV Modified win. Barker was second, over Zacharias, Cummings, and Jason Andrews.
Rusty Smith and Connor Sellars brought the DIRTcar 358 Modifieds to the green flag. Sellars took the race lead while everyone else jockeyed for position. Shayne Spoonhower and Lance Willix battled for third. Behind them on lap 6, Billy Spoonhower got sideways, leaving Doug Smith and Tom Eiklor nowhere to go. Smith and Eiklor needed to be towed off the track, while Spoonhower continued. The race went back to green, with Sellars streaking back away out front. Another yellow flew for Billy Spoonhower getting sideways in turns three and four, but he quickly rejoined. Sellars led the field away and held on for his second win of the year. Rusty Smith was second, followed by Willix, Shayne Spoonhower, and Billy Spoonhower to complete the top five.
Daryl Krebs and Cody Jackson led the DIRTcar Sportsman to the green flag. Jackson led the way early, but the yellow quickly flew after Will Eastman broke a right front hub and came off the pace on the track. On the restart, Jackson led the field away. Dana Davis charged into second, but quickly felt pressure from Alan Fink and Hunter Lapp. Fink and Lapp cleared Davis and tried to run down Jackson out front. The top three ran in order until a lap 18 yellow flew when Jake Mason and Dane Hedlund got tangled together in turn two after earlier contact between Mason, Hedlund, and Gordon Smith. On the restart, Jackson pulled away to take win three on the season. Fink and Lapp completed the top three, with Dana Davis and Mike Austin completing the top five.
Sam Hubbard and Chelsie Beebe led the B-Walt's Car Care 600cc Modifieds to the green flag. Hubbard led the field away early with Beebe in tow. Doug Windhausen moved up to third from fifth, with a hornet's nest of a battle between Jake Waibel, Justin LaDue, Aiden Miller, Devon Green, Chace Scutt, Tom Donahue, Chris Jordan, Ali Scutt, and more taking up just about every spot in the top ten. Hubbard led the way with a comfortable gap over Beebe and Windhausen until a lap 13 yellow flew for Owen Mossow going around in turn two. Windhausen bested Beebe and Hubbard on the restart, using his experience to take the race lead. Tom Donahue moved into third around Beebe. Tommy Paige broke on lap 17 to bring out the yellow flag. The issue ended Paige's racing career, as he stated earlier in the night that he intended to retire from racing after a long and successful 45 year career. Chad Mason will be driving the No.2p next week.
The field came back to green, with Windhausen holding the lead. Owen Mossow clobbered a uke tire on the last lap to bring out a yellow. Under yellow, Sam Hubbard's No.28 came off the pace, ending his great run. Windhausen led the last lap dash, taking his second checkered flag of the year. Tom Donahue took second over Cheslie Beebe, over Justin LaDue and Chris Jordan to complete the top five.
Don Reeves and Shane Moshier led the Wheeler's Excavating Street Stocks to the green flag. Reeves led the early going while Don Russell and Brian Rhodes moved into second and third. Trevor Dudley and Jerry Lobdell Jr. made their prescence known early. Dudley quickly got around Russell and Rhodes for second, and then got by Reeves to take the lead. Lobdell Jr. got caught up with the lap car of Lenny Kobbe and took a bit longer to get through the field, but he eventually moved into second. Lobdell Jr. took the lead away on lap twelve, but Dudley was hanging tough. The pair ran side by side for numerous laps, until a lap 17 yellow flew for a sideways Mike Wilbur Sr. On the restart, Lobdell Jr. held off Dudley to take win ten in a row. Dudley, Russell, Rhodes, and Reeves completed the top five.
Dominik Albanese and Logan Eaton led the Pop's Automotive Factory Stocks to the green flag. Albanese led early over Jason Rhodes, Buck Mills Jr., Bob Mills, and Eaton in that order. Buck Mills Jr. broke a gear, bringing out the yellow flag on lap 7. On the restart, Cyrus Homer and Dylan Eaton made hard contact on the frontstretch brining out another yellow flag for an extended clean-up. On the restart, Rhodes bested Albanese to take the lead, with Bob Mills moving into second. The top three stayed close to the end, but Rhodes claimed victory. Mills was second, Albanese was third, with Logan Eaton and Trever Wells completing the top five.
Greg Morgan and Jonathan Fowlston led the Open vs Crate Sportsman to the green flag. Morgan grabbed the lead quickly, with Carter Miller moving into second. Tres Palmer and Todd Titus passed Fowlston at halfway to move into third and fourth respectively. The race went flag-to-flag as Morgan claimed win number one at Thunder Mountain. Miller, Palmer, Titus, and Fowlston completed the top five.
Next week is CHAMPIONSHIP NIGHT presented by Timberwolf Firewood Processing at  Thunder Mountain Speedway! Come out and join us for the final night of racing action on the Mountain in 2022.
RESULTS: Midstate Basement Authorities Presents CRSA Sprints
CRSA Sprint Tour (25L)
RON GREEK, Dalton Herrick, Peter Dance, Chad Miller, Dana Wagner, Jordan Hutton, Ray Preston, Kyle Pierce, Tomy Moreau, Mike VanPelt, John Cunningham, Cliff Pierce, Calvin Wheelock, Trevor Years
Dirt Track Digest TV Modifieds (30L)
MATT MEADE, Alan Barker, Jimmy Zacharias, Landon Cummings, Jason Andrews, Rusty Smith, Nick Nye, Darren Smith, Bailey Boyd, Garrett Rushlow, Ken Titus, Jeff Sheely, Derek Cornish, Eric Leet
DIRTcar 358 Modifieds (25L)
CONNOR SELLARS, Rusty Smith, Lance Willix, Shayne Spoonhower, Billy Spoonhower, Doug Smith, Tom Eiklor
DIRTcar Sportsman (25L)
CODY JACKSON, Alan Fink, Hunter Lapp, Dana Davis, Mike Austin, Jamie Kamrowski, Gordon Smith, Jake Mason, Dane Hedlund, Bobby Sweeney, Daryl Krebs, Will Eastman
B-Walt's Car Care 600cc Modifieds (20L)
DOUG WINDHAUSEN, Tom Donahue, Chelsie Beebe, Justin LaDue, Chris Jordan, Jake Waibel, Devon Green, Ali Scutt, Chace Scutt, Aiden Miller, Bumps Scutt, TJ Smith, Nick Johnson, Tyler Paige, Tracy Oliver, Anthony Desimone, Logan LaDue, Owen Mossow, Sam Hubbard, James Randall, Tommy Paige, Ajay Tuttle, Talan Oliver, Damon Henry
Wheeler's Excavating Street Stocks (20L)
Jerry Lobdell Jr., Trevor Dudley, Don Russell, Brian Rhodes, Don Reeves, Dan Force, Mike Wilbur Sr., Bubba Peters, Shane Moshier, Lenny Kobbe. DNS: Mike Wilbur Jr.
Pop's Automotive Factory Stocks (15L)
JASON RHODES, Bob Mills, Dominik Albanese, Logan Eaton, Trever Wells, Buck Mills Jr., Dylan Eaton, Cyrus Homer, Caleb Clark
Open VS Crate Sportsman (15L)
GREG MORGAN, Carter Miller, Tres Palmer, Todd Titus, Jonathan Fowlston, Alan Komar, Alan Fink, Lucas Kastenhuber, Dylan Hartman, Bill Hartman, Mike Devall Jr.