BARKER WINS THIRD OF SEASON; SPOONHOWER, WAIBEL, DONAHUE, LOBDELL JR., MILLS JR., SARPRIACONE ADD TO WIN TOTALS, HEDLUND CLAIMS FIRST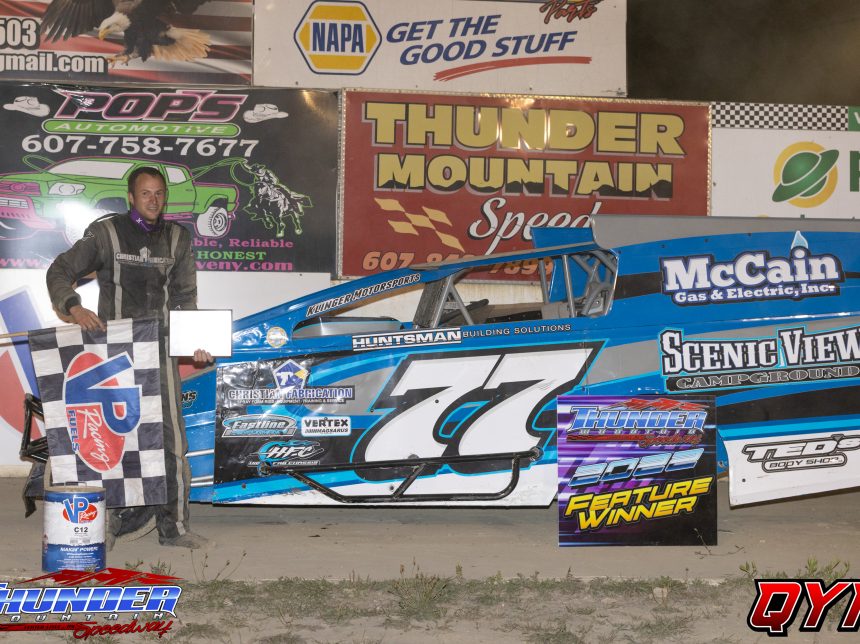 LISLE, NY – Championship battles are heating up at the Thunder Mountain Speedway, and drivers from all classes are hoping to stake their claim early. Alan Barker claimed a third victory on the season as he tries to defend his 2021 Dirt Track Digest TV Modified Championship from current title rivals Darren Smith, Jimmy Zacharias, Nick Nye, Rusty Smith, and Eric Leet. Shayne Spoonhower extended his points lead over Lance Willix with his fourth win of the season. Dane Hedlund held off current points leader Hunter Lapp to claim his first career DIRTcar Sportsman win. Jake Waibel went two-for-three on the weekend, claiming his second win of the week in the first of two B-Walt's Car Care 600cc Modified Roger Jordan Memorial Twin 22's and fourth of the season at Thunder Mountain. In the second non-points event, Tom Donahue was terrific once again, claiming his fourth of the season. Jerry Lobdell Jr. claimed another big win in the Wheeler's Excavating Street Stock class, effectively locking up the 2022 Championship. Buck Mills Jr. stretched his lead over Jason Rhodes in the Pop's Automotive points title by taking a close win over Bob Mills. Blake Sarpriacone returned to victory lane with the Open vs Crate Sportsman.
Jeff Sheely and Bailey Boyd led the Dirt Track Digest TV Modifieds to the green flag for their 30-lap feature. Boyd quickly took the race lead with Sheely holding second. Alan Barker got a great start, moving from sixth to second by lap five after passing Sheely. Sheely held third, but Eric Leet got by Sheely before lap ten for third. The top three then started to pull away from the field. Barker and Leet started to track down Boyd, and Barker was in striking distance at halfway. Barker moved to the bottom and grabbed the lead on lap 16, driving away from Boyd to take the checkers in a wire-to-wire feature. Leet took second over Boyd. Darren Smith and Jason Andrews were a distant fourth and fifth to complete the top five.
Tom Eiklor and Doug Smith led the DIRTcar 358 Modifieds to the green flag. Smith took the lead into turn one and led the opening circuits. Shayne Spoonhower made a power move through the middle of turns 3 and 4 to pass Eiklor and Rusty Smith for second. Spoonhower went to work on Doug Smith from there. On lap three, Spoonhower cleared Doug Smith on the top side and cruised to victory. Doug Smith and Rusty Smith battled all race long for second, but rookie Doug Smith held off veteran Rusty Smith for second. Lance Willix charged from last to fourth, with Connor Sellars completing the top five.
Dane Hedlund and Jamie Kamrowski led the DIRTcar Sportsman to the green flag. Kamrowski took the early race lead over Hedlund, with Gordon Smith and Dana Davis holding third and fourth. On lap three, Alan Fink and Davis made contact, sending Davis around. Fink was sent to the tail of the field for the restart. On the restart, Hedlund got around Kamrowski and took the race lead. Behind him, Hunter Lapp was on the move. Lapp got around Smith for third, and eventually Kamrowski for second. Lapp tried every lane on the track he could, but he was unable to get around Hedlund, who claimed his first ever win. Lapp was second, followed by Kamrowski, Smith, and Will Eastman to complete the top five.
The B-Walt's Car Care 600cc Modifieds ran Twin 22's in honor of 'Poppy' Roger Jordan. The first Twin 22 was the points-paying race of the two, with the second twin 22 paying a full purse. Young drivers Tyler Paige and Aiden Miller led the first twin 22 to the green flag. Paige led the way early over Miller, while Justin LaDue rocketed from eighth to third. As the field completed lap three, Christian Hafl pulled off the pace to bring out a yellow flag, ending his first race. As the yellow flew, Logan LaDue's left front wheel spectacularly dismounted from his race car, ending his first race. The ensuing restart paid dividends for Jake Waibel and Doug Windhausen. The pair rocketed around Miller and LaDue to claim second and third, but they didn't have enough for Paige early. The top five stayed put until a yellow flew on lap 9 for TJ Smith stopping off the top side of turn one.
Waibel bested Paige on the restart to claim the lead. Windhausen and LaDue challenged Paige for second, but Paige held them off to keep the two spot. Waibel and Paige pulled away from the pack, where an intense battle for spots three through eight saw Devon Green and Tom Donahue charge up through the field after starting 10th and 14th. This all stayed behind Waibel, who claimed his fourth of the year at Thunder Mountain. Paige held on to second, with Green, Donahue, and LaDue completing the top five. An incident at the end of the race saw Sam Hubbard and James Randall make contact in turn one and fly into the pit entrance ramp in turn one. Fortunately, both drivers were alright and without too much damage to their cars.
In twin 22 number two, Tommy Paige and Doug Windhausen led the field to the green flag after a 10-car invert. The race immediately went under a red flag after a large pileup collected Justin LaDue, Devon Green, Sam Hubbard, Owen Mossow, Damon Henry, Sharon Sealy, Christian Hafl, and Chelsie Beebe. Most were able to continue, but LaDue and Hubbard saw their nights end in the collision.
On the second start, Tommy Paige led the field away. Doug Windhausen did not let Paige lead for long, taking the lead in turns one and two on the second lap. Behind that battle, Tom Donahue got around Aiden Miller to take third, with Chris Jordan and Jake Waibel hot on Miller's heels. Donahue got around Paige for second off of four on lap seven. By halfway, Donahue was side by side with Windhausen for the race lead. The pair traded the top spot back and forth for multiple laps. Windhausen tagged the wall on lap 15, allowing Donahue to take the lead. Windhausen and Chris Jordan then made contact as Jordan rapidly closed on Windhausen for second. The contact brought Windhausen off the pace; he rolled into the Turn 1 Tavern to end his night. Nick Robinson then spun in turn four with two laps to go to bring out the final yellow of the night. Damon Henry stopped in turn one, needing a push off the speedway to the pits. Donahue led the field away on the final restart to take the win over Jordan, Waibel, Paige, and Miller.
Mike Morse and Don Reeves brought the Wheeler's Excavating Street Stocks to the green flag. Morse led the way early, while Don Russell and Jerry Lobdell Jr. challenged for the lead. Brian Rhodes went around on lap one to bring out a brief yellow. On the restart, Russell took the race lead with Lobdell Jr. moving into second. As Lobdell Jr. made the move for the lead, Shane Moshier slid into the infield sideways, bringing out another yellow. Lobdell Jr. took the lead on lap 8 and held it for good, securing another trip to victory lane. Russell, Morse, Rhodes, and Mike Wilbur Jr. completed the top five.
Dominik Albanese and Bob Mills led the Pop's Automotive Factory Stocks to the green flag. Albanese led the start, but contact with Mills sent Albanese around. Bob Mills led the second restart to green, with Buck Mills Jr. and Jason Rhodes in tow. Rhodes cut down a right rear tire, bringing out another yellow flag on lap three. Logan Eaton also had a flat right rear, sending him pitside for a fresh tire. On the restart, Buck Mills Jr. took the lead. A few laps later, the yellow flew again for Eaton, who cut down another tire, ending his night. With two laps to go, it looked like Buck Mills Jr. had the race wrapped up, but the yellow flew for a sideways Caleb Clark. Mills Jr. and Mills then had contact with the lap car of Ethan Roberts, sending them around. They returned to their positions at the front since the contact happened after the yellow. Mills Jr. held on to win over Mills, Rich Sharpsteen, Jason Rhodes, and Dylan Eaton.
Blake Sarpriacone took the lead away from Greg Morgan on the initial start and led all fifteen laps of the Open vs Crate Sportsman feature. Three yellows for Mike Devall Jr. slowed the race, but after Devall pulled off, Sarpriacone set sail to win. Morgan was second, while Tres Palmer battled past Lucas Kastenhuber for third. Jonathan Fowlston completed the top five.
CRSA Sprint cars join the card next weekend, August 20th, at the Thunder Mountain Speedway! Join us as the fire-breathing winged warriors climb the Mountain for the second time in 2022.
Results for August 13th, 2022: 50/50 has been CLAIMED!
Power Wheels Winners: Parker Smith, Carson Waldron
Dirt Track Digest TV Modifieds (30L)
ALAN BARKER, Eric Leet, Bailey Boyd, Darren Smith, Jason Andrews, Matt Meade. Jimmy Zacharias, Jeff Sheely, Rusty Smith, Nick Nye, Garrett Rushlow, Landon Cummings
DIRTcar 358 Modifieds (25L)
SHAYNE SPOONHOWER, Doug Smith, Rusty Smith, Lance Willix, Connor Sellars, Tom Eiklor, Lucas Heintz
DIRTcar Sportsman (25L)
DANE HEDLUND, Hunter Lapp, Jamie Kamrowski, Gordon Smith, Will Eastman, Cody Jackson, Daryl Krebs, Alan Fink, Jimmy Zacharias, Bobby Heintz, Dana Davis, Eric Winsor
B-Walt's Car Care 600cc Modifieds Twin 22 #1
JAKE WAIBEL, Tyler Paige, Devon Green, Tom Donahue, Justin LaDue, Aiden Miller, Doug Windhausen, Chris Jordan, Tommy Paige, Tracy Oliver, Bumps Scutt, Chelsie Beebe, Anthony Desimone, Nick Robinson, Ali Scutt, Sharon Sealy, James Randall, Sam Hubbard, Damon Henry, Ajay Tuttle, TJ Smith, Logan LaDue, Christian Hafl. DNS: Owen Mossow
B-Walt's Car Care 600cc Modifieds Twin 22 #2
TOM DONAHUE, Chris Jordan, Jake Waibel, Tommy Paige, Aiden Miller, Bumps Scutt, Tyler Paige, Chelsie Beebe, Ali Scutt, James Randall, Christian Hafl, Devon Green, Nick Robinson, Damon Henry, Sharon Sealy, Ajay Tuttle, Doug Windhausen, TJ Smith, Owen Mossow, Logan LaDue, Justin LaDue, Sam Hubbard
Wheeler's Excavating Street Stocks (20L)
JERRY LOBDELL JR., Don Russell, Mike Morse, Brian Rhodes, Mike Wilbur Jr., Bubba Peters, Don Reeves, Lenny Kobbe, Shane Moshier, Trevor Dudley.
Pop's Automotive Factory Stocks (15L)
BUCK MILLS JR, Bob Mills, Rich Sharpsteen, Jason Rhodes, Dylan Eaton, Hayden Albanese, Trever Wells, Ethan Roberts, Dominik Albanese, Justin Fuller, Caleb Clark, Mitch Quail Jr., Logan Eaton. DNS: Shannon Hollenbeck
Open vs Crate Sportsman (15L)
BLAKE SARPRIACONE, Tres Palmer, Greg Morgan, Lucas Kastenhuber, Jonathan Fowlston, Stephen Winsor, Mike Devall Jr.