DIRTcar 358 MODIFIED TOUR TAKES ON THUNDER MOUNTAIN ON AUGUST 10th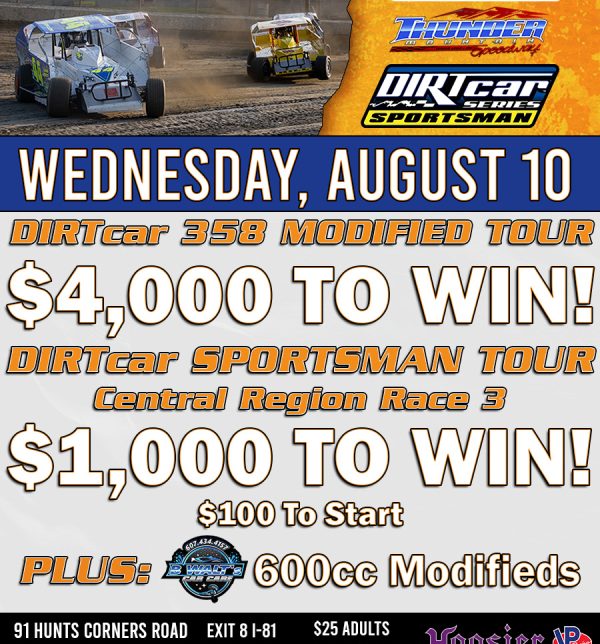 LISLE, NY – The best small block modified drivers in the Northeast will visit Thunder Mountain Speedway for $4,000 in round no.2 of the DIRTcar 358 Modified Tour! The 358's will go to battle for 60 laps in search of the money and valuable tour points as the series inches closer to a busy fall schedule. The DIRTcar 358 Modified Tour highlights a 3-division card of racing for Wednesday, August 10th alongside the DIRTcar Sportsman Central Region tour and the B-Walt's Car Care 600cc Modifieds. The DIRTcar Sportsman will race for $1,000 to win in the third race for the Central Region tour. The B-Walt's Car Care 600cc Modifieds will add some small-car excitement to what will be a great night of racing on the mountain.
General admission tickets will be $25 at the gate. Seniors, Students, and Veterans will be $20. Kids 9 and under are always FREE at Thunder Mountain! Pit admission will be $40 for DIRTcar Members and $45 for non-DIRTcar Members.
Thunder Mountain Speedway is located just off of Route 79 in Lisle, NY. Take exit 8 for Whitney Point and head west on Route 79 through Lisle until you see the racetrack sign at Church Road. Turn right onto Church Road and follow the road up to the next sign and the driveway on the left.
Want to get in contact with us? Give us a call at 607-849-7889 on race days, or get in touch with us on social media. You can find us on Facebook (Thunder Mountain Speedway), Twitter (@thundermtnspeed), or on our website, www.thundermtnspeedway.net.