CLIMBING THE MOUNTAIN: with Jerry Lobdell Jr.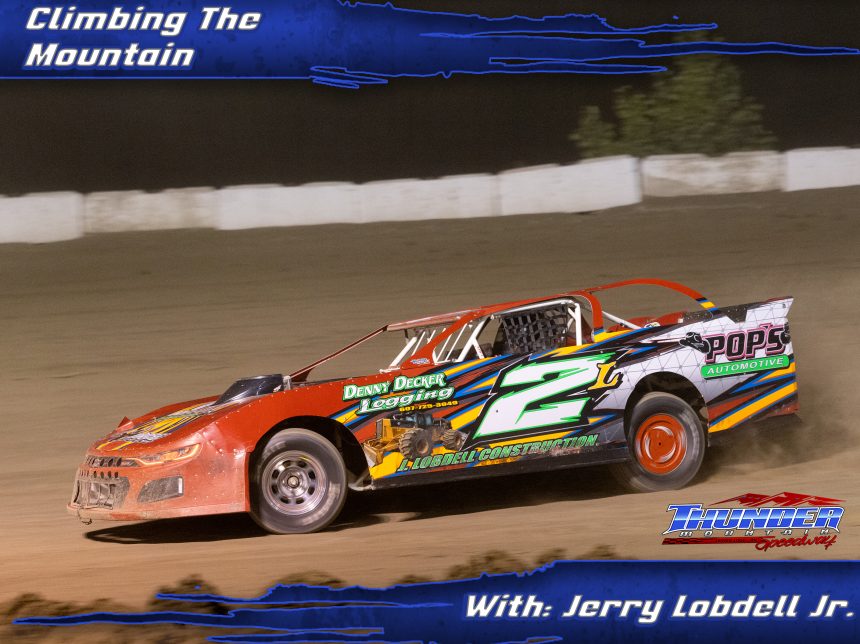 LISLE, NY – Street stocks are synonymous with the Thunder Mountain Speedway, and for good reason. The bumper to bumper racing that the full-fendered race cars can provide has thrilled fans at the Thunder Mountain Speedway since the track's inception. Many drivers have dominated the class at Thunder Mountain over the years. While the battle was on earlier this year for dominance in the 2022 Wheeler's Excavating Street Stock season, one driver has emerged as the car to beat. Randy Decker Memorial winner Jerry Lobdell Jr. sat down with us for this week's Climbing The Mountain.
Lobdell Jr. started off his career with his first race when he was a teenager. From there, Lobdell Jr. was hooked. He came to Thunder Mountain in his young racing career, joining a class that many drivers used to start their racing career.
"We ran our first race when I was fourteen", said Lobdell Jr. "We came here with a car for the Junkyard Dog class. We moved up to Pure Stocks, which became the Street Stock class."
Lobdell Jr. may be known as a street stock chauffer now, but Lobdell Jr. spent a sizeable chunk of his career racing in the open-wheel ranks. Different classes provided a new challenge, but Lobdell Jr. was still successful.
"We moved up to the IMCA modifieds for awhile", said Lobdell Jr. "We raced those for about five years. We went out to the Boone Supernationals in Iowa to race."
After making the pilgrimage out to Boone, Lobdell Jr. decided it was time for a change.
"We got out of racing for about a year", said Lobdell Jr. "We decided to get back into racing this year with a street stock. We were only planning to race part-time, hitting some races here and there. With our success this year, we decided to show up to any race we can find."
Lobdell Jr. has called the Thunder Mountain Speedway home for most of his career, and it continues to be a place Lobdell Jr. enjoys racing at.
"We raced a lot here with whatever cars we had", said Lobdell Jr. "I really like racing here. It's a lot of fun, not too far away, and just a great place to be on a Saturday night."
Out of all of the success Lobdell Jr. has had, some wins stand out over the others. The Randy Decker Memorial is one of those achievements. In addition, Lobdell Jr. found some success on the road back when he was racing the IMCA modifieds.
"We went to Weedsport once and beat the UMP modified guys", said Lobdell Jr. "That was a really big deal back then, so it was good for us to travel up there and get a huge win."
Despite all of the success Lobdell Jr. has had this year, his goals for race day remain humble. It's easy to get carried away with success, but the dominance of the No.2L this year has even surprised Lobdell Jr. himself.
"If we finish that's a good night for me", said Lobdell Jr. "We never expected things to go like this. We're on a really good run right now. If we can load the car up, do general maintenance, and go back to the track the next week, we're happy. That's still our goal despite everything that has happened."
The Wheeler's Excavating Street Stocks return to action next week on August 6th for our rescheduled 30th Anniversary Celebration presented by Forkey Fabrication and Contento's! The Dirt Modified Nostalgia Tour will join a full card of racing as well.