SMITH AND SPOONHOWER RETURN TO VICTORY LANE: LAPP, RHODES, SCUTT, AND HAMILTON TAKE WINS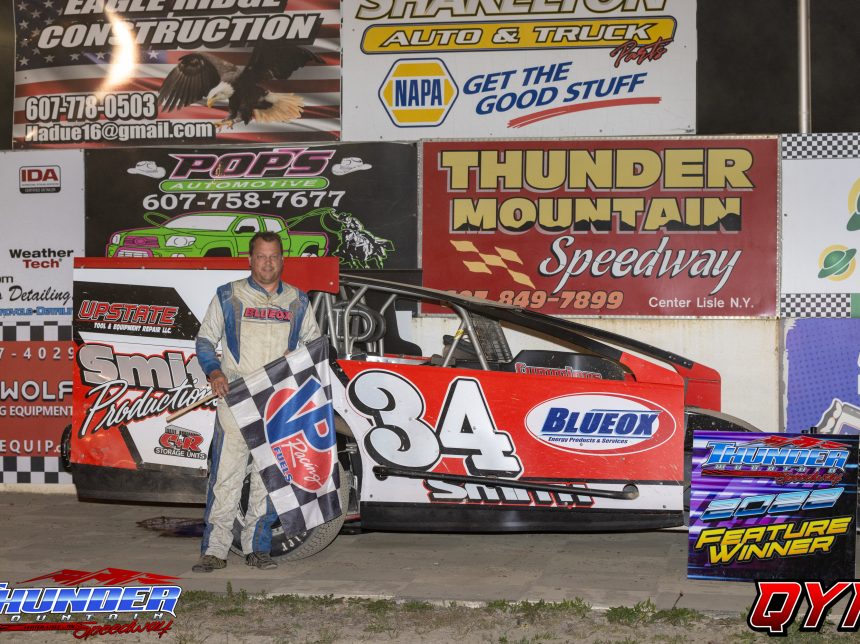 LISLE, NY – Rusty Smith became the first driver to score a win in the Dirt Track Digest TV Modifieds and the DIRTcar 358 Modifieds in 2022 with his win on July 16th's Fan Appreciation Night. Shayne Spoonhower and Connor Sellars battled in a wire-to-wire DIRTcar 358 Modified feature, with Spoonhower coming out on top. Hunter Lapp bested Alan Fink to extend his points lead with his first win of the year in the DIRTcar Sportsman. Bumps Scutt beat niece Ali Scutt off a late restart to take his first B-Walt's Car Care 600cc Modified win of 2022. Jason Rhodes held off Bob Mills to take the checkers in the Pop's Automotive Factory Stock feature. Jeremy Hamilton rounded out the night with his second win of the year in the Open vs Crate Sportsman.
Before racing kicked off, fan appreciation night was held on the frontstretch. Many drivers brought candy and hero cards to giveaway. Jordan Millard, Devon Green, Jacob Waibel, Chris Jordan, Jake Mason, Justin LaDue and Logan LaDue were just a few drivers who brought extra giveaways, such as bikes and water guns.
With fan appreciation night festivities in the books, it was time to go racing. Jeff Sheely and Jason Andrews brought the Dirt Track Digest TV Modifieds to the green flag. Andrews passed Sheely into turn one to take the race lead, but the field only completed two laps before Bailey Boyd's right rear tire came off, bringing out the first caution of the night. On the restart, Jeff Sheely got sideways coming through turn three. Points leader Alan Barker had nowhere to go but straight into Sheely. Both cars were done for the night with terminal front end damage.
Sheely's misfortune moved Rusty Smith up to second. On the restart, Smith used the high lane to his advantage and jumped out to the race lead. Ryan Jordan had charged up to third from eighth, and started to battle with Andrews. The two battled side-by-side all race long, allowing Smith to pull away. The last twenty-eight laps were ran under green, and Smith had a large lead when he crossed the line to take his first Dirt Track Digest TV Modified win of the year.  Ryan Jordan crossed the line second, but was moved to third after a post-race infraction. Jason Andrews was moved to second. Landon Cummings had a strong run to finish fourth, and Nick Nye completed the top five.
Connor Sellars and Shayne Spoonhower brought the DIRTcar 358 Modifieds to the green flag. Sellars' No.00 got out to the early race lead and started to pull away from Spoonhower. However, Spoonhower found some bite up high on lap 10 and started to close the gap. By lap 15, the two were side-by-side for the lead. The two made contact going through turns three and four, but Spoonhower beat Sellars off the corner to take the lead. Sellars stayed within a few car lengths of the Spoonhower for the rest of the race. Sellars did not have enough to make a move though, allowing Spoonhower to take his third win of the year. Sellars, Lance Willix, Rusty Smith, and Billy Decker rounded out the top five.
Dane Hedlund and Dana Davis brought the DIRTcar Sportsman to the green flag. Hedlund quickly jumped out to the lead and started to build a gap while Davis started to face challenges from Alan Fink. As they battled for second, Hedlund continued to extend his lead until the yellow flag flew after Mike Austin had problems. Hedlund's night came to an end with a reported overheating issue, as he pulled off the speedway under yellow. Dana Davis inherited the lead and brought the field back to the green. Hunter Lapp very quickly made his prescence known to Davis and Fink by the time they reached turn one. Lapp launched off the top-side to pass both Davis and Fink to take the lead. A yellow flag flew at halfway after contact between Gordon Smith and Cody Jackson sent Smith around at the start finish line. On the restart, Lapp continued to lead, with Fink working by Davis to take second. Another yellow flew on lap 19, with Jackson and Smith stacking up in turn one. Jamie Kamrowski was collected and suffered race-ending damage. Lapp led the field on the restart and across the line on lap 25 to take his first win of the year. Fink, Davis, Jake Mason, and Will Eastman completed the top five.
Aiden Miller and Bumps Scutt brought the B-Walt's Car Care 600cc Modifieds to the green flag. Ali Scutt dove under Miller and Bumps Scutt to take the race lead. From there, the uncle-niece duo battled all race long. Bumps Scutt worked the top side while Ali Scutt stayed down towards the bottom, and until lap 14 the niece had held off the uncle. Jacob Waibel brought out the yellow flag after a spin in turn four. The spin ended a great run for Waibel, who charged from 19th to well inside the top ten before his spin. Waibel continued, but had to start his run all over again. On the restart, Bumps Scutt finally made the move stick on Ali Scutt to take the lead. Ali tried to get back by on the final lap, but a bobble in turn four allowed Chris Jordan and Devon Green to get by. Bumps Scutt took the win with Jordan finishing second. Ali Scutt was credited with third after Devon Green was disqualified for a post-race technical infraction. Justin LaDue and Doug Windhausen completed the top five.
Dominik Albanese and Jason Rhodes led the Pop's Automotive Factory Stocks to the green flag. Rhodes quickly jumped out to the race lead while Albanese battled with Bob Mills and Buck Mills Jr. The Mills were able to get by, setting up a battle between father Lanson Albanese and son Dominick for fourth. Lanson got by Dominick to take fourth, and it looked like the top five was set with three laps to go. However, Buck Mills Jr. lost his engine in turn three, dropping fluid that caused Lanson Albanese to spin. Rhodes was able to hold off Bob Mills and Dominick Albanese on the restart to win, with Mills and Albanese taking second and third. Lanson Albanese recovered to take fourth, and Justin Wells rebounded from a heat race incident to take a top five on his debut.
Lucas Kastenhuber and Kourtney Slavick led the Open vs Crate Sportsman to the green flag. The yellow flew quickly after Slavick ended up sideways in turn two. After the restart, Jeremy Hamilton was able to get by Kastenhuber to take the lead, taking Blake Sarpriacone and Ray Leonard with him. A few cautions slowed the race down. Slavick seemed to have a problem with her car and spun again to bring out a yellow. Matt Backus then ended up spinning into a uke tire in turn three to bring the yellow out later on. After the flurry of brief cautions, Hamilton drove away to take another Open vs Crate Sportsman feature win. Sarpriacone, Leonard, Kastenhuber, and Matt Backus rounded out the top five.
Be sure to come on up to the Mountain next week for our 30th Anniversary Celebration! There will be more prizes and giveaways for fans as we honor our track's 30th year. Get your old racing t-shirts out; there might just be some fun things in store for anyone wearing vintage racing gear!
LISLE, NY – Quick Results for Fan Appreciation Night on July 16th, 2022, at Thunder Mountain Speedway.
Dirt Track Digest TV Modifieds (30L)
RUSTY SMITH, Jason Andrews, Ryan Jordan, Landon Cummings, Nick Nye, Matt Meade, Darren Smith, Eric Leet, Jimmy Zacharias, Bailey Boyd, Brandon Walters, Alissa Cody, Garrett Rushlow, Jeff Bushnell, Jeff Sheely, Alan Barker
DIRTcar 358 Modifieds (25L)
SHAYNE SPOONHOWER, Connor Sellars, Lance Willix, Rusty Smith, Billy Decker, Doug Smith, Marshall Hurd, Tom Eiklor
DIRTcar Sportsman (25L)
HUNTER LAPP, Alan Fink, Dana Davis, Jake Mason, Will Eastman, Jason Parkhurst Jr., Cody Jackson, Gordon Smith, Jamie Kamrowski, Dane Hedlund, Jordan Millard, Mike Austin. DNS: Daryl Krebs, Bobby Sweeney
B-Walt's Car Care 600cc Modifieds (20L)
BUMPS SCUTT, Chris Jordan, Ali Scutt, Justin LaDue, Doug Windhausen, Tracy Oliver, Tommy Paige, Tom Donahue, Chelsie Beebe, Will Eastman, James Randall, Jake Waibel, Sam Hubbard, Nick Johnson, Aiden Miller, Logan LaDue, Anthony Desimone, Tyler Paige, Ajay Tuttle, Damon Henry.
DQ: Devon Green
Pop's Automotive Factory Stocks (15L)
Jason Rhodes, Bob Mills, Dominik Albanese, Lanson Albanese, Justin Wells, Mitch Quail Jr., Cyrus Homer, Buck Mills Jr., Luke Mills. DNS: Frank Mills Jr.
Open vs Crate Sportsman (20L)
JEREMY HAMILTON, Blake Sapriacone, Ray Leonard, Lucas Kastenhuber, Matt Backus, Carter Miller, Carter Miller, Greg Morgan, Dylan Hartman