The Decker Memorial Shooutout: Southern Tier's Finest Battle for Big Pay-Day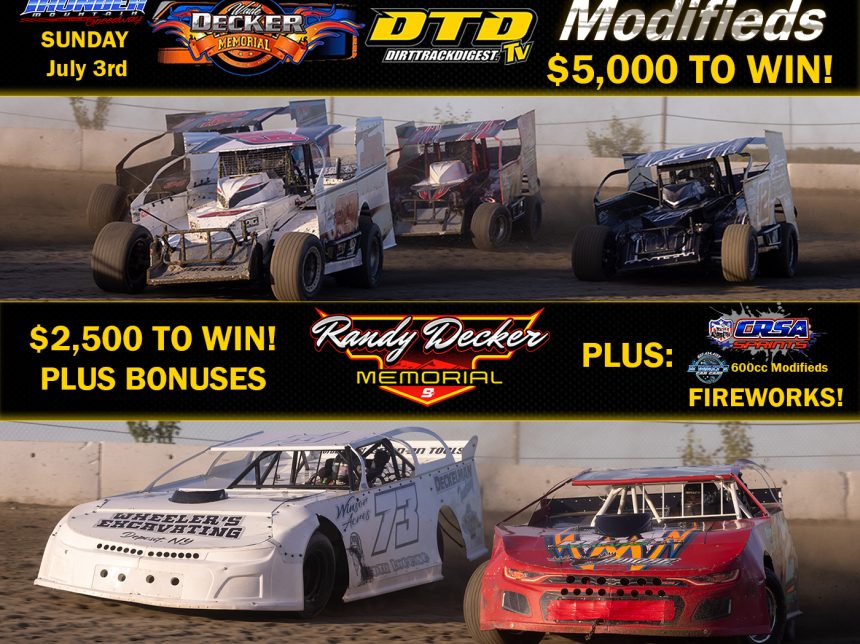 LISLE, NY- Racers and fans alike will celebrate the July 4th weekend at the Thunder Mountain Speedway on Sunday, July 3rd with the Decker Memorial Shootout. The 9th Annual Wade Decker Memorial for the Dirt Track Digest TV Modifieds and 2nd Annual Randy Decker Memorial for the Wheeler's Excavating Street Stocks highlight what is certain to be an action packed Sunday night. The CRSA 305 Sprint Cars and the B-Walt's Car Care 600cc Modifieds complete the card of racing before a massive fireworks display lights up the sky in honor of our country's Independence Day.
The Wade Decker Memorial is Thunder Mountain's Speedway's biggest Modified event of 2022. $5,000 is up for the finest in the Southern Tier to grab, with a stout field expected. With 51 laps of exciting action around the Thunder Mountain Speedway, it's anyone's guess as to who will claim victory on Sunday night. The Randy Decker Memorial is one of the biggest Street Stock events in the state. $2,500 is up for grabs, with various bonuses provided by MJH Oilfield, Close Racing Supply, and others. The biggest stars and the best cars the Southern Tier has to offer will climb the Mountain in search of bragging rights and bags of cash.
The CRSA 305 Sprint Car Tour joins the card this Sunday for the second night in a row at the Mountain with sprint car racing action. A healthy mix of young stars and seasoned veterans will climb the Mountain to do wing-to-wing battle on the latest stop on the CRSA Tour. The CRSA 305 Sprint Car Tour travels across the Northeast, and Thunder Mountain is one of the tightest bullrings these winged warriors race on. They will race for $1,000 to win on Sunday night.
The B-Walt's Car Care 600cc Modifieds round out the racing action by bringing bumper-to-bumper action all race long. The 600's always put on a wild show at the Mountain every week, and you never know who will rise to the occasion and park in victory lane at the end of a 20-lap weekly event. This special event for the 600's alongside the Decker Memorial and the CRSA Sprints is sure to be an excellent addition to a high-stakes night of action on the Mountain.
Tickets will be $25 at the gate and $40 for pit admission. Seniors, Students, and Veterans can get in for $20. Kids under 9 are always FREE at Thunder Mountain! Bring the whole family for what promises to a spectacular evening on the Mountain.