Nye Nabs First Modified Win of Season; Sellars, Fink, Lobdell Jr., Waibel, Albanese, Fowlston, and Forney visit Victory Lane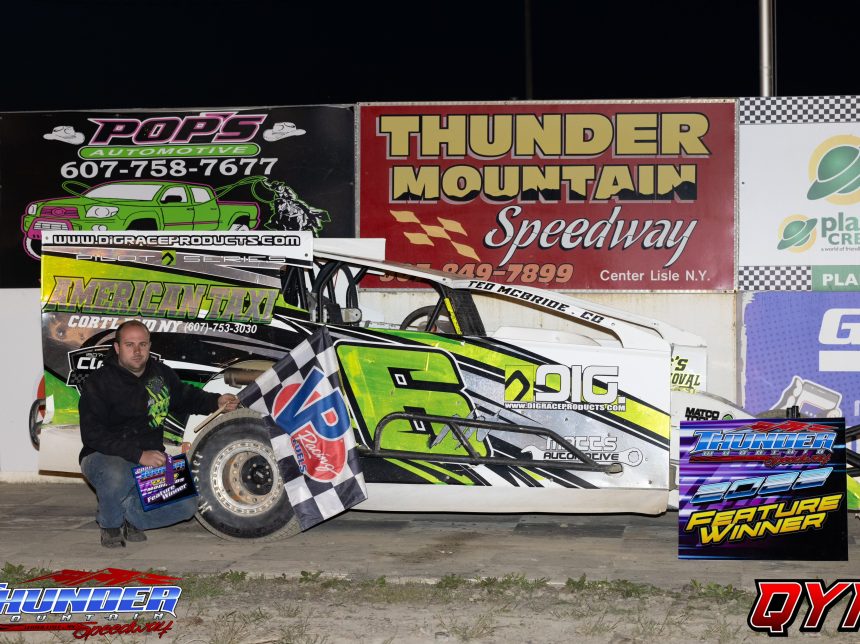 LISLE, NY- The pieces all finally came together for Nick Nye at Thunder Mountain Speedway. After running up front all year long with the Dirt Track Digest TV Modifieds, the American Taxi No.6NN parked in victory lane for the first time to highlight another action-packed night on the Mountain. It was also a night of firsts in the DIRTcar 358 Modifieds, as Connor Sellars grabbed his first dirt modified feature win. Alan Fink made a late move on Mike Austin to take home another DIRTcar Sportsman feature win. Jerry Lobdell Jr. continued his new reign of dominance on the Wheeler's Excavating Street Stock field with another feature win. Jake Waibel became the second driver to score two feature wins in the B-Walt's Car Care 600cc Modified feature. Lanson Albanese passed Buck Mills Jr. to claim the Pop's Automotive Factory Stock win. Jonathan Fowlston survived chaos on the last lap to claim the Open V. Crate feature. Ivan Forney graced victory lane after taking the lead at halfway in the NY6A Micro Sprint tour feature event.
Jeff Sheely and Nye led the Dirt Track Digest TV Modified field to the green flag. Sheely led briefly early before Nye powered around Sheely on the topside to take the lead and never look back. Fourth place starter Jimmy Zacharias moved to second with Eric Leet following closely for third. The yellow flag flew on lap twelve for a small stack-up that involved Jeff Sheely, Bailey Boyd, and Landon Cummings. Sheely and Boyd made contact, sending Sheely around infront of Cummings who had nowhere to go. All cars continued on. On the restart, Nye jumped back out into the lead ahead of Zacharias and Leet. On lap 23, Ryan Jordan started to challenge Leet for third. They raced side by side for a few laps, but "The Rocket" Jordan was able to get ahead of the "Marathon Man" Leet for third. Darren Smith followed Jordan through to take fourth. Nye took the win despite dealing with heavy lap traffic near the end. Zacharias finished second, followed by Jordan, Smith, and Leet to complete the top five.
Connor Sellars and Rusty Smith led the DIRTcar 358 Modifieds to the green flag. Initially, Smith led the way with Sellars in tow. The field settled in for 12 laps before the yellow flew for Tom Eiklor, who came off the pace on the frontstretch. On the restart, Sellars got around Smith into turn one, and held on for the rest of the race. Shayne Spoonhower and Jordan McCreadie got around Smith late to take second and third. Rusty Smith kept fourth with Darren Smith finishing fifth to complete the top five.
Dane Hedlund and Mike Austin led the DIRTcar Sportsman field to the green flag. Hedlund ran into early trouble in turn one, pushing up the hill and sliding to a stop near the pit exit in turn two to bring out the first yellow. On the restart, Mike Austin got ahead of Gordon Smith to take the lead. As the field completed lap two, Daryl Krebs and Bobby Heintz spun in turn three. Hedlund had nowhere to go and made hard contact with Krebs. Both Krebs and Hedlund had their nights end, while Heintz was able to continue. The lap two restart was the last restart for the race. With five laps to go, Mike Austin led Alan Fink and Hunter Lapp in a three-car breakway from the rest of the field. Fink tried multiple times to pass Austin, but he did not have any success until Austin caught a push into turn four. Fink got underneath Austin to take the lead, with Lapp getting by Austin for second on the last lap. Fink took the win over Lapp and Austin with Cody Jackson and Will Eastman completing the top five.
Trevor Dudley and Steven Deinhardt led the Wheeler's Excavating Street Stocks to the green flag. Deinhardt quickly took the lead from Dudley, but both faced immediate pressure from Jerry Lobdell Jr. Lobdell Jr. quickly got around Dudley and then pressured Deinhardt for the lead. Before halfway, Lobdell Jr. had the lead and ran away to a half track lead to take the win. Dudley got back around Deinhardt for second, with Mike Wilbur Jr. and Shane Moshier completing the field.
Ali Scutt and Dakota Anderson led the B-Walt's Car Care 600cc Modified field to the green flag. Scutt jumped out to the early race lead ahead of Anderson. Devon Green and Jake Waibel quickly entered into the top three after getting around Anderson on lap one. Waibel got around Scutt on lap 9 before the yellow flag came out for Anderson breaking in turn one. Waibel got the jump on the restart and never looked back as a hornet's nest of a battle ensued for spots 2-5. Scutt and Green faced heavy pressure from Tracy Oliver, Doug Windhausen, and Tom Donahue late. At the checkered flag, Waibel grabbed his second win of the year with Scutt, Windhausen, Green, and Oliver completing the top five.
Bob Mills and Buck Mills Jr. led the Pop's Automotive Factory Stocks to the green flag. However, Lanson Albanese charged up to and past the Mills' cars to take the win. Buck Mills Jr., Bob Mills, Jason Rhodes, and Dominik Albanese completed the top five. Albanese and Frank Mills Jr. received an extra $50 in bonus money from Luke Mills. Stay tuned for more bonuses on the way for the Factory Stocks!
Jonathan Fowlston took a chaotic Open V. Crate feature win. Fowlston was running third late when the two leaders of Stephen Winsor and Lucas Kastenhuber made contact in turn three coming to the white flag. They left the inside lane wide open for Fowlston, who survived contact from Winsor to take the win. Tres Palmer finished second, followed by Kastenhuber, Winsor, and Jeremy Hamilton to complete the field.
The NY6A Hoosier Micro Sprint Tour race was won by Ivan Forney. Forney battled with early leader Chuck Bruce to take the lead just past halfway and never look back. Jason Moll charged up through the field to take second. Billy Applebee, Will Fisher, and Ron Vedder completed the top five.
Join us next week on June 11th for Youth Sports Night! More information on next week's racing action will be out later this week.
Results for 6/4/2022 at Thunder Mountain:
50/50 Numbers:
Money Ticket: White Ticket 866433
GA Tickets: Blue Ticket 8395983
Dirt Track Digest TV Modifieds (35L)
NICK NYE, Jimmy Zacharias, Ryan Jordan, Darren Smith, Eric Leet, Kenny Hammond, Alan Barker, Larry Mekic, Rusty Smith, Jason Andrews, Bailey Boyd, Brandon Loucks, Landon Cummings, Jeff Sheely, Matt Meade
DIRTcar 358 Modifieds (30L)
CONNOR SELLERS, Shayne Spoonhower, Jordan McCreadie, Rusty Smith, Darren Smith, Tom Eiklor, Lance Willix
DIRTcar Sportsman (25L)
ALAN FINK, Hunter Lapp, Mike Austin, Cody Jackson, Will Eastman, Jake Mason, Jimmy Zacharias, Jamie Kamrowski, Doug Smith, Gordon Smith, Eric Winsor, Bobby Sweeney, Bobby Heintz, Daryl Krebs, Dane Hedlund
B-Walt's Car Care 600cc Modifieds (20L)
JAKE WAIBEL, Ali Scutt, Doug Windhausen, Devon Green, Tracy Oliver, Bumps Scutt, Chris Jordan, Tom Donahue, Tommy Paige, TJ Smith, James Randall, Justin LaDue, Chelsie Beebe, Tyler Paige, Logan LaDue, Samuel Hubbard, Aiden Miller, Nick Johnson, Dakota Anderson, Zach Mills
Wheeler's Excavating Street Stocks (20L)
JERRY LOBDELL JR, Trevor Dudley, Steven Deinhardt, Mike Wilbur Jr, Shane Moshier
Pop's Automotive Factory Stocks (15L) *Luke Mills sponsored an extra additional $50 to first and last place.
LANSON ALBANESE, Buck Mills Jr, Bob Mills, Jason Rhodes, Dominik Albanese, Frank Mills Jr.
Open V. Crate (15L)
JONATHAN FOWLSTON, Tres Palmer, Lucas Kastenhuber, Stephen Winsor, Jeremy Hamilton