Jordan Wins on Action-Packed Night of Racing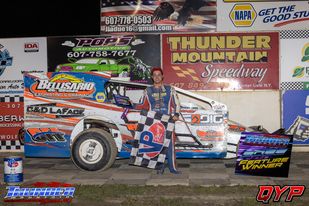 LISLE, NY – It was a wild night of racing for all divisions at the Thunder Mountain Speedway on May 21st. Ryan Jordan survived a chaotic race to win the Dirt Track Digest TV Modified feature. Lance Willix dominated the DIRTcar 358 Modified race to take his first win of the year. Alan Fink charged through the field to take his second win of the year in the DIRTcar Sportsman race. Chris Jordan made it two for two for the Jordan family by winning t the B-Walt's Car Care 600cc Modified main event. Jerry Lobdell Jr. scored his second win in a row in the Wheeler's Excavating Street Stock class. Buck Mills Jr. scored the win in a hotly contested Pop's Automotive Factory Stock feature. Lucas Kastenhuber rounded out the night with his first ever Open V. Crate Sportsman win in spectacular fashion.
Bailey Boyd and Jason Andrews led an 18 car modified field to the double green flags. Boyd got the early jump on Andrews and strutted out to a couple car length lead in the early stages. A slew of cautions would slow the race down. The first yellow flew after contact between Brandon Walters and Garrett Rushlow sent Walters around in turn two, with the field narrowly avoiding Walters. On the restart, Ryan Jordan made his presence known by jumping into the top five from a thirteenth place start. Soon after Jordan made his move towards the front, Brandon Loucks would end up sideways in front of Matt Meade and Larry Mekic who piled into the No.23. All three drivers managed to continue after the accident. The next restart saw Jordan wrestle the lead away from Boyd, who was now facing pressure from Alan Barker and Rusty Smith. Barker moved up to second around Boyd, but Smith locked into a battle with Boyd.
The race's only red flag came out on lap twelve. Eric Leet and Jason Andrews locked bumpers while battling for fourth down the front straightaway, sending Andrews and Leet sideways in front of the field. A slew of cars piled in, including Brandon Walters, Larry Mekic, Matt Meade, Kenny Hammond, and Jeff Sheely. Sheely got the worst of anyone in the pileup, rolling his No.38 over onto the side of Mekic's car. All drivers were okay, and many managed to drive their wounded cars away from the scene. Sheely had to be craned off the speedway by two tow trucks with heavy front and rear end damage to the right side of his car.
After the restart, Jordan and Barker pulled away from the field. Before they could start battling, the yellow flag came out as Bailey Boyd's night ended with plumes of smoke and vapor coming out of the hoodscoop of the No.163. Jordan and Barker resumed doing battle after the restart. Jordan was strong up top through three and four, but Barker found a lot of bite on the bottom through turns one and two. Jordan took notice, and after clearing Barker just before lap thirty, shifted to the bottom groove to take the race win. Barker finished second, with Darren Smith, Rusty Smith, and Eric Leet completing the top five.
Lance Willix started on the pole for the 30 lap DIRTcar 358 Modified feature and never looked back. Rusty Smith gave Willix a few challenges while driving the Kinser Hill owned No.60x, but Smith was relegated to second place. Darren Smith finished third, with Shayne Spoonhower and Connor Sellars completing the top five.
Dane Hedlund and Gordon Smith brought the DIRTcar Sportsman to the green flag for their 25 lap feature. Hedlund and Smith exchanged places on the first lap, which allowed Smith to pull a gap early. Hedlund battled early with Mike Austin for second while a hornet's nest of cars battled for spots four through eight behind them. On lap 4, fourth place runner Bobby Heintz spun in front of the field, leaving nowhere for Will Eastman and Eric Winsor to go. Eastman piled into Heintz, doing major damage to both cars. Winsor lightly slid into Eastman while trying to take evasive action, and was able to continue on. After a spin by Dane Hedlund forced another restart, Gordon Smith started to face pressure from Alan Fink. Fink, the reigning track champion, showed his experience by moving under Smith after Smith slid up the race track in turns one and two to take the lead for good. Fink was followed home by Cody Jackson, Hunter Lapp, Smith, and Jamie Kamrowski to make up the top five.
Christian Hafl and Ali Scutt led the B-Walt's Car Care 600cc Modified feature to the green flag. Scutt quickly jumped ahead of Hafl to take the early race lead. The race ran green-flag most of the way with a few exceptions. Justin LaDue and Tracy Oliver made contact, sending LaDue spinning out of the top five to bring out the caution. The yellow allowed Chris Jordan to pounce. Jordan started twelfth, but worked his way up into the top five when the final restart happened. It happened without Scutt or Hafl, as both drivers pulled into the infield with problems before the restart. Jordan grabbed the lead on the restart and never looked back, taking his second win of the year.  Tom Donahue, Doug Windhausen, TJ Smith, and Jake Waibel completed the top five.
Mike Wilbur Jr. and Trevor Dudley led the Wheeler's Excavating Street Stocks to the green flag. Dudley took the lead early and led the opening stages. However, Jerry Lobdell Jr. worked his way up from fourth to quickly challenge for the lead. After the two briefly traded paint, Lobdell Jr. took the lead and extended a straightaway gap to take the race win. Doug Stack Jr, Mike Wilbur Jr, Don Reeves, and Bubba Peters completed the top five.
Bob Mills and Buck Mills Jr. started on the front row for the Pop's Automotive Factory Stocks feature. Mills Jr. quickly jumped out to the lead, with Lanson Albanese following Mills Jr. around Bob Mills. It quickly became a three car battle for the lead, with Mills Jr. fending off challenges from Bob Mills and Albanese. Albanese pulled up alongside Mills Jr. on the last lap, but Mills Jr. powered back ahead of Albanese to take the win. Albanese, Bob Mills, Frank Mills Jr., and Dominik Albanese completed the top five.
Stephen Winsor and Lucas Kastenhuber started one-two in the Open V. Crate Sportsman feature and battled for the top spot all race long. Winsor held off Kastenhuber until the last lap. Winsor pushed up the track just enough in turns one and two to allow Kastenhuber to dive under Winsor and lead the only lap that matters, the last one. Winsor finished second, followed by Carter Miller, Tres Palmer, and Jonathan Fowlston to complete the top five.
Results for May 21st, 2022 – 50/50 has been claimed!
Dirt Track Digest TV Modifieds (35L)
RYAN JORDAN, Alan Barker, Darren Smith, Rusty Smith, Eric Leet, Jimmy Zacharias, Jason Andrews, Brandon Walters, Brandon Loucks, Nick Nye, Bailey Boyd, Larry Mekic, Kenny Hammond, Jeff Sheely, Matt Meade, Garett Rushlow, Jeff Bushnell, Landon Cummings
DIRTcar 358 Modifieds (30L)
LANCE WILLIX, Rusty Smith, Darren Smith, Shayne Spoonhower, Connor Sellars, Tom Eiklor, Eric Leet, Garrett Rushlow (DNS)
DIRTcar Sportsman (25L)
ALAN FINK, Cody Jackson, Hunter Lapp, Gordon Smith, Jamie Kamrowski, Mike Austin, Doug Smith, Dane Hedlund, Ray Reynolds, Eric Winsor, Bobby Heintz, Will Eastman
Wheeler's Excavating Street Stocks (20L)
JERRY LOBDELL JR., Doug Stack Jr, Mile Wilbur Jr., Don Reeves, Bubba Peters, Trevor Dudley, Steven Deinhardt, Shane Moshier
B-Walt's Car Care 600cc Modifieds (20L)
CHRIS JORDAN, Tom Donahue, Doug Windhausen, TJ Smith, Jake Waibel, Tyler Smith, Nolan Smith, Bumps Scutt, Dakota Anderson, Tracy Oliver, Aiden Miller, Tyler Paige, Devon Green, Larry Furman, Zack Mills, Sharon Sealy, Ali Scutt, Justin LaDue, Christian Hafl, Jack Sherwood, Nick Johnson (DNS), Logan LaDue (DNS), Damon Henry (DNS)
Pop's Automotive Factory Stock (15L)
BUCK MILLS JR., Lanson Albanese, Bob Mills, Frank Mills Jr., Dominik Albanese, Jason Rhodes
Open v. Crate Sportsman
LUCAS KASTENHUBER, Stephen Winsor, Carter Miller, Tres Palmer, Bill Hartman, Jonathan Fowlston, Dylan Hartman
Next weekend: Saturday, May 28th: Weekly Racing at 6:00pm. Sunday, May 29th: THUNDER IN THE MUD Offroad Truck, UTV, and ATV racing. See you next week on the Mountain!