SMITH TAKES CHECKERS AT THUNDER MOUNTAIN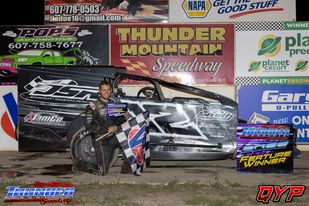 LISLE, NY – Despite Mother Nature's best efforts, a full card of racing was completed last night on the Mountain. The brief rainstorm provided for a very heavy and fast racing surface, with 7 classes taking to the 3/8ths mile bullring to see who would best the rest.
18 Dirt Track Digest TV Modifieds took the green flag for their 35-lap feature event. Brandon Kuhn led the way early, but it was the 'Marathon Man' Eric Leet who came to spoil the polesitter's party. Leet took the lead away from Kuhn after they battled for a handful of laps early on. Leet quickly opened up a 3-4 car length lead on the field. Behind him, a pair of Smiths were starting to mount a charge. Darren Smith and Rusty Smith worked their way past Kuhn, and the pair started to run down the No.11x out front. Darren would win the battle for Smith supremacy on this occasion, battling Leet for the lead as the race approached halfway. Multiple yellow flags near halfway slowed the race down. A large pileup on the back-straightaway involving Brandon Kuhn, Bailey Boyd, Landon Cummings, and Brandon Walters would see the red flag fly as track crews worked to clear the cars. After that, Darren Smith would take the lead away from Leet on an ensuing restart. Rusty Smith followed the leaders closely while fending off challenges from Jimmy Zacharias. A green-white-checkered was set up after Ryan Jordan spun in turn four, collecting Matt Meade in the process. Darren Smith got a good jump on the restart and that would be enough for the Jeremy Smith Racing No.12 to pull away and take the checkered flag. Leet, Rusty Smith, Jimmy Zacharias, and Garrett Rushlow completed the top five.
Shayne Spoonhower continued his dominance of the DIRTcar 358 Modified class in the early stages of the 2022 season, taking his second feature win of the year. Spoonhower redrew second in the last week of draw/redraw for the class before handicapping starts, and never looked back after passing Connor Sellars in turn one on the first lap. Spoonhower pulled a gap of over a straightaway over Sellars to take the win, who fended off challenges from Rusty Smith all race long to take second. Smith finished third, followed by Eric Leet and Lance Willix.
In the DIRTcar Crate Sportsman feature, Jamie Kamrowski dominated the 25-lap feature to take his first win of 2022. Kamrowski and Mike Austin battled early on the front row, as multiple yellow flags slowed the pace of the race down. The largest of these incidents occurred when Hunter Lapp got turned sideways early and was collected by Dane Hedlund in turn three. They continued on with some damage. On the restart, Kamrowski powered around Austin using the cushion on the top side of the track to speed away and never look back. Will Eastman followed Kamrowski home to take second, with Alan Fink, Austin, and Hunter Lapp completing the top five. Kamrowski also proposed to his long-time Taylor in victory lane, who said yes!
The B-Walt's Car Care 600cc Modified division saw 26 cars take the green flag for their feature event. Jake Waibel quickly worked his way around second-place starter Josh Towner to take the lead and ultimately prevail in a chaotic 20-lap event. A slew of pileups and incidents brought out multiple yellow flags before halfway. In the closing laps, Devon Green started to mount a charge on Waibel. 'Daring' Devon would show a nose and sometimes a door to Waibel, but he would not get close enough to make a move stick as Waibel took the win. Green finished second, followed by Doug Windhausen, Justin LaDue, and Tyler Smith.
The Wheeler's Excavating Street Stock feature hoped to answer a question in week three; can anyone beat Steven Deinhardt? Jeremie Hale of Rivers Run Pilot Car put up a bounty of a pit pass to any driver that could best the 'Delaware Digger' who has been outright dominant early in the season. That question was answered as Jerry Lobdell Jr. jumped out front quickly to take the 20-lap feature win and claim the bounty on the spot. Lobdell was followed home by Trevor Dudley, Deinhardt, Don Reeves, and Mike Wilbur Jr.
The Pop's Automotive Factory Stock 15-lap feature event quickly became a three-car tussle for the lead. Jason Rhodes led the way but faced challenges from Buck Mills Jr., who was also being pressured by Grayson Albanese. Mills Jr. tried to throw a slider on the last lap, but just barely failed to clear the lap car on Dominik Albanese, sending the No.187v into a spin. Rhodes took the win, with Mills Jr. recovering for second, followed by Grayson Albanese, Bob Mills, and Dominik Albanese. Jeremie Hale of Rivers Run Pilot Car also paid $25 to the top two in the factory stock heat. The money went to Bob Mills and Buck Mills Jr.
The Open V. Crate Sportsman saw Tom Princiotta haul all the way from New Jersey to take the win after a race long battle with Lucas Kastenhuber. Dylan Hartman, Stephen Winsor, and Bill Hartman completed the top five.
Finish for Saturday, May 14, 2022 – 50/50 has been claimed
Dirt Track Digest TV Modifieds (35L)
DARREN SMITH, Eric Leet, Rusty Smith, Jimmy Zacharias, Garrett Rushlow, Jason Andrews, Alan Barker, Nick Nye, Ryan Jordan, Brandon Loucks, Kenny Hammond, Matt Meade, Landon Cummings, Brandon Kuhn, Bailey Boyd, Brandon Walters, Jeff Sheely, Jeff Bushnell
DIRTcar 358-Modifieds (30L)
SHAYNE SPOONHOWER, Connor Sellars, Rusty Smith, Eric Leet, Lance Willix, Darren Smith, Jordan McCreadie, Tom Eiklor, Greg Morgan
DIRTcar Crate Sportsman (25L)
JAMIE KAMROWSKI, Will Eastman, Alan Fink, Mike Austin, Hunter Lapp, Cody Jackson, Jordan Millard, Jake Mason, Bobby Heintz, Gordon Smith, Bryce Bailey, Dane Hedlund, Eric Winsor (DNS)
B-Walt's Car Care 600cc Modifieds (20L)
JAKE WAIBEL, Devon Green, Doug Windhausen, Justin LaDue, Tyler Smith, Bumps Scutt, Tommy Paige, Tracy Oliver, Tom Donahue, Nolan Smith, Chace Scutt, Josh Towner, Jordan Towner, Tyler Paige, Dakota Anderson, Samuel Hubbard, Aiden Miller, Sharon Sealy, TJ Smith, Ali Scutt, Christian Hafl, Zack Mills, Chris Jordan, Nick Johnson, Jack Sherwood, Logan LaDue
Wheeler's Excavating Street Stocks (20L)
JERRY LOBDELL JR., Trevor Dudley, Steven Deinhardt, Don Reeves, Mike Wilbur Jr. Shane Moshier, Bubba Peters
Pop's Automotive Factory Stocks (15L)
JASON RHODES, Buck Mills Jr., Grayson Albanese, Bob Mills, Dominik Albanese, Dylan Eaton, Alecia Towner, Frank Mills Jr.
Open V. Crate Sportsman (15L)
TOM PRINCIOTTA, Lucas Kastenhuber, Dylan Hartman, Stephen Winsor, Bill Hartman
Thank you for choosing to race with us!
Next event – May 21st, Full Card of Racing plus 30th Anniversary Celebration!