QUICK RESULTS: Jordan Grabs First DTD.TV Modified Win of 2022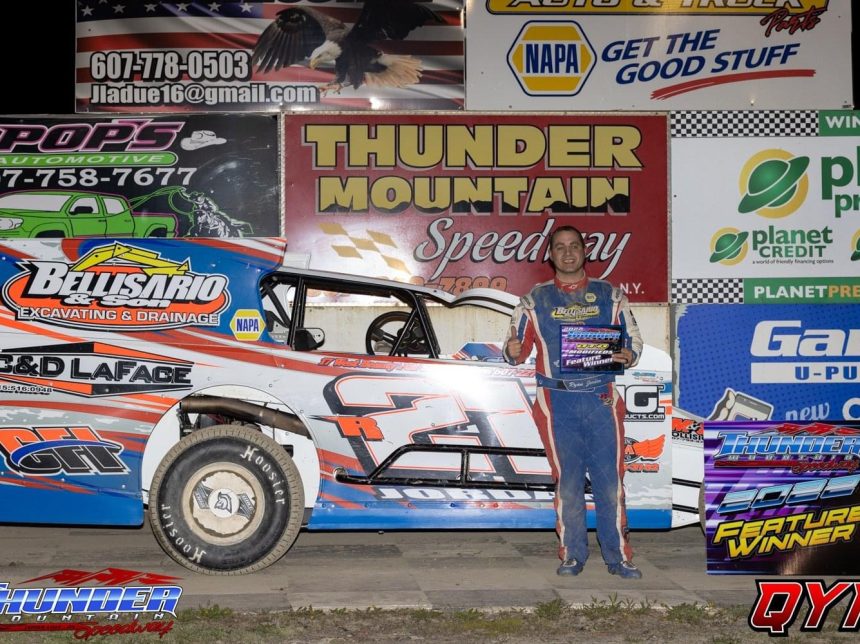 Thunder Mountain Speedway welcomed the Mohawk Valley Vintage Dirt Modifieds on the second night of weekly racing in 2022. Ryan Jordan took his first win of the season in the Dirt Track Digest TV Modifieds. Shayne Spoonhower grabbed his first DIRTcar 358 Modified win after winning last week's cash dash. Cody Jackson found his way to victory lane in the DIRTcar Speedway. Steven Deinhardt doubled down his domination of the Wheeler's Excavating Street Stocks with his second win of the year. Chris Jordan denied Justin LaDue of a second win in the action packed B-Walt's Car Care 600cc Modified feature. Gary Smith won the Open V. Crate feature. Buck Mills Jr. held off Jason Rhodes to take his first Pop's Automotive Factory Stock win of the year. Four drivers brought home wins with the Mohawk Valley Vintage Dirt Modifieds.
Dirt Track Digest TV Modifieds – Ryan Jordan, Brandon Walters, Jimmy Zacharias, Nick Nye, Darren Smith, Matt Meade, Alan Barker, Rusty Smith, Eric Leet, Kenny Hammond, Larry Mekic, Jason Andrews, Bailey Boyd, Garrett Rushlow, Brandon Loucks, Brandon Kuhns, Jeff Sheely, Corey Cormier, TJ Frost, Jeff Bushnell
DIRTCar 358 Modifieds- Shayne Spoonhower, Darren Smith, Jordan McCreadie, Eric Leet, Lance Willix, Rusty Smith, Connor Sellars, Tom Eiklor, DNS Tommy Colins
DIRTCar Sportsman – Cody Jackson, Hunter Lapp, Alan Fink, Jamie Kamrowski, Bryce Bailey, Gordon Smith, Will Shields, Will Eastman, Jake Mason, Mike Austin, Jordan Millard, Daryl Krebs, Ray Reynolds, Eric Winsor, Dane Hedlund , DNS Bobby Heintz
Mohawk Valley Vintage Dirt Modified Club Results:
Feature #1 15 Laps
𝐕𝐢𝐧𝐭𝐚𝐠𝐞 𝐋𝐚𝐭𝐞 𝐌𝐨𝐝𝐞𝐥
🏁 #28 John Roese
2) #9 Will Reed
3) #8𝑥 Les Smith
𝐕𝐢𝐧𝐭𝐚𝐠𝐞 𝐒𝐩𝐨𝐫𝐭𝐬𝐦𝐚𝐧
🏁 #22 Joe Rando
2) #11× Billy Leonard
3) #66 Tom Church
4) #20 Steve Longo
𝐕𝐢𝐧𝐭𝐚𝐠𝐞 𝐌𝐨𝐝𝐢𝐟𝐢𝐞𝐝
🏁 #37𝐀 Jack Miller
2) #80 Duane Hiller
Feature #2 15 𝙻𝚊𝚙𝚜
𝐕𝐢𝐧𝐭𝐚𝐠𝐞 𝐀𝐧𝐭𝐢𝐪𝐮𝐞
🏁 #7 Don Briggs
2) #72 Jeff Mitchel
3) 29 Mike Cole
4) 43𝐴 Richard Ackerman
DNS #0 John Mason
𝐕𝐢𝐧𝐭𝐚𝐠𝐞 𝐌𝐲𝐬𝐭𝐢𝐪𝐮𝐞
🏁 #2 Jimmy Fugel
2) #007 Howard Leonard
3) #5 Ace Prentice
4) #95 George Berberich
Thank you for choosing to race with us!