New Winners And Some Familiar Faces visit Thunder Mountain Speedway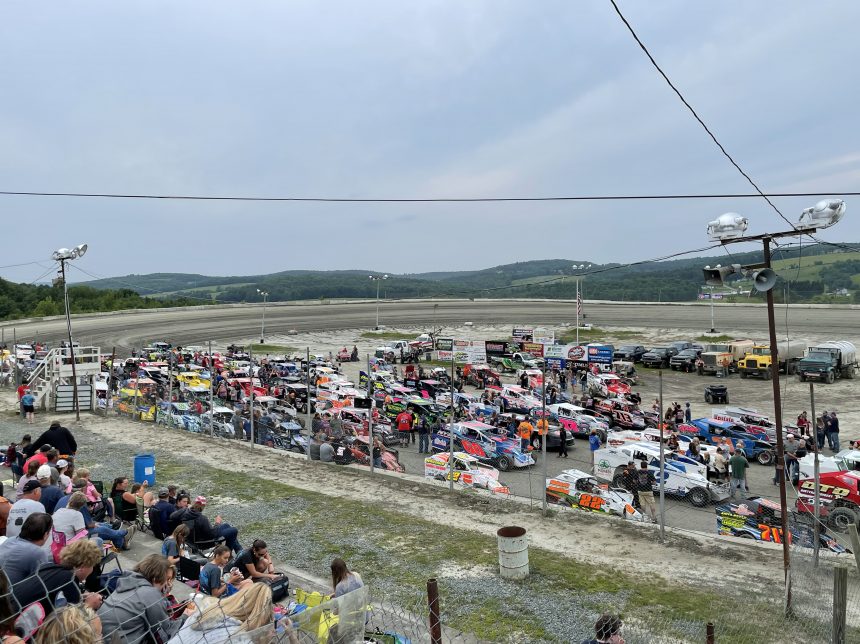 By Jarrad Wakefield
Center Lisle, NY- Another cast of new winners visited Thunder Mountain Speedway Victory Lane on Saturday night, alongside some familiar faces that returned once more to Victory Lane.
The Modified feature saw Jimmy Zacharias jump out to an early lead from the pole with Jeff Sheely starting to his outside. Zacharias made quick work to build an early lead while others made their way to the front. Ryan Jordan, Shaun Walker, and Rusty Smith charged their way through the field early to enter the top five as the race progressed. The race was slowed by a caution for Nick Nye. Nye, who sat third in points behind Alan Barker and Shaun Walker, had to go pitside to check on his 6NN after it came to a halt in turn four. On the restart, Zacharias would chose the inside lane, which set up Ryan Jordan for a power move around the outside to grab the lead and keep it for good. Jordan held on to take the race win in an exciting feature that saw Walker, Smith, and Eric Leet shuffle Zacharias back to fifth to complete the top five. Nye rebounded from his flat tire to finish ninth.
"I didn't think I was going to be able to pass Zacharias.", said Jordan. "I saw him pick the inside, and I knew I had to hit the restart good. He's foxy, he's real good on the restarts. I knew once I got around him in one and two that I had to win the drag race into three and four to get the stop, and thankfully we did".
"I love winning here", said Jordan. "I love racing here. It's a huge win for us at home. The fans here are fantastic, this place is always packed, and the track is smooth. This win came at a good time to keep us in the points and get some motivation going".
In the DIRTCar 358-Modified feature event, Connor Sellars and Glenn Forward led the field to the green flag. Sellars jumped out to an early lead, and the field settled into a racing groove, as Jordan McCreadie worked his way around Sellars to take second. When the yellow flag flew for Sellars breaking in turn four, Forward chose the outside lane for the restart. McCreadie took advantage, getting a great restart and passing Forward on the restart to take the lead. He never looked back as he took the race win, followed home by Lance Willix and Colton Wilson to complete the top three.
"I figured Forward was going to get rolling quicker on the start being on the top", said McCreadie. "I might've slid up in front of him in one and two, but we got the car wound up and were able to take the win. It feels good, running all of the Super DIRTCar Series tour races and stuff gets busy this time of year. The win is a very nice pick-me-up for us. We've got Weedsport tomorrow though".
"I've got to thank Pat and Tammy for letting me drive the car, along with the race team and my family for supporting me. Thank you to the fans for coming out tonight", said McCreadie.
In the DIRTCar Crate Sportsman division, Ajay Potrzebowski and Will Eastman led a 21-car field to the green flag. It was clear from the beginning that the front row were the cars to beat. Both drivers battled for the lead all race long, with Eastman looking high and low for any way around the AMP Contracting No.72. There were battles all throughout the field as the blue and pink cars stayed out front. Alan Fink and Hunter Lapp rallied their way from 11th and 10th place starting spots into 6th and 7th before a slew of cautions slowed the race down. A pileup in turn one brought the first caution out on lap 6, and then a pileup which saw Joshua Vantassel climb on top of Stacy Jackson brought out a red flag to lower Vantassal's car off of Jackson's door. Both drivers continued, as well as other cars involved in the wreck. The field got back into a rhythm, with Fink and Lapp cutting through the field behind the leaders. A late 
race caution set up a three lap dash to the finish, but no one had anything for Potrzebowski as he held on for his first win of the year on the Mountain. 
"The car was really good tonight", said Potrzebowski. "We really needed this win. I saw Eastman a few times, we were struggling a bit in the center of three and four. I was running where I felt good, and when I saw Eastman I moved up a bit to try and take that line away, and that's how you get it done. I have to thank AMP General Contracting, Dig Race Products, my Dad, Fastline Performance, the crew, and everyone who helps us and cheers us on."
The 600cc Modified event saw Tom Donahue and Chad Mason lead the field to the green flag. Donahue took an early lead as the Gray Racing cars of Brett Gray and Brenton Miller stormed their way through the field and into the top five. An early yellow came out as the previous feature winner Ali Scutt and Tyler Smith came together, causing Scutt to spin and collect a few cars in a small pileup. Most cars drove away. On the restart, Gray and Miller got around Donohue to take the 1-2 positions. Donahue never gave up, and powered back around the teammates on the top side to claim the lead and the win.
"There's so much tough competition here this year", said Donahue. "I didn't expect to wn tonight. When Gray and Miller got by us, I thought it was over. But I found some bite up top, and we went by back them. I spun the tires on the restart and assumed the traction on the bottom was going away. I had to at least try the top, and it worked."
The Wheeler's Excavating Street Stock race was all about Damon Decker. Decker started on the pole and drove away from the field. The show was put on for second, as Lanson Albanese threw everything at Steven Deinhardt to try and take second away, but Albanese had to setle for third as Deinhardt claimed third. Shane Wolff Jr. and Don Russell completed the top five.
"The races we win aren't won here", said Decker. "We're in the garage every day of the week. We put the work in to get here. Track was good, and we had a really good starting spot. I have to thank Celtic Cable and all of my sponsors that make this possible, especially my family, crew, and Dylan for supporting me and helping us put together such a good car and team this year."
In the Pops Automotive Factory Stock class, it was a similar show to the Street Stocks. A lap one pileup when the front row of Luke Mills and Shane Moshier collided set the stages for Jason Rhodes and Mike Morse to drive away, and Rhodes would come out on top for another race win on the Mountain with Morse on his heels.
"We got the car hooked up real good, it's just going", said Rhodes. "I was happy we made it through the pileup, and we drove away. Thank you Brian, Shannon, Nick, Dakota, and all of our sponsors and family who supports us and comes weekly. I wouldn't do this without the fans here, it's awesome."
In the Budget Sportsman Class, it was pure elation for Steve Schrader. Schrader started on the pole of the feature and held off challenges from Eric Winsor, Chris Clemens, and Johnathan Fowlston to claim his first win.
"This is our first time here, I have a lot of people to thank, especially my brother and girlfriend. Tommy Collins and J&J Racing has helped us out a lot. It's a dream for us to be here, we want to be here a few more times. It's amazing to have people like that to get knowledge from, especially guys from J&J and 
Fastline Performance. They're a good group of people. We have no sponsors, we fund this car ourselves, it's an awesome feeling".
The Jr. Slingshot race was dominated by Liam Zacharias. The slingshot-lookalike to his dad's modified, Zacharias started on the pole, took the lead, and never looked back as he claimed a dominant victory.
Liam's words in victory lane were simple; "It felt good. I have to thank Mom, Dad, and all of the family, crew, and fans that help me."
Thunder Mountain Speedway is off next week for the Broome County Fair but returns on August 3rd for the Super DIRTCar Series.
THUNDER MOUNTAIN SPEEDWAY FEATURE RESULTS
MODIFIED (35 Laps): RYAN JORDAN, Shaun Walker, Rusty Smith, Eric Leet, Jimmy Zacharias, Alan Barker, Darren Smith, Chris Jordan, Nick Nye, Brandon Walters, Kenny Hammond, Rick Wilk, Landon Cummings, Jeff Sheely, Jesse Velez, Marc Goodwin, Adam Haddow, Larry Mekic, Bailey Boyd (DNS)
DIRTCAR 358 MODIFIED (30 Laps): JORDAN MCCREADIE, Lance Willix, Colton Wilson, Tom Collins, Matt Meade, Tom Eiklor, Shayne Spoonhower, Greg Morgan, Glenn Forward, Connor Sellars, Brandon Walters.
DIRTCAR 602 SPORTSMAN (25 Laps): AJAY POTRZEBOWSKI, Will Eastman, Alan Fink, Hunter Lapp, Mike Austin, Rich Talada, Jordan Millard, Kinser Hill, Todd Hayward, Stacy Jackson, Brandon Carvey, Jake Mason, Dane Hedlund, Jamie Kamrowski, Isabella VanOrden, Bobby Heintz, Tom Velez, Brian White, Tim Guild, Cody Jackson, Joshua Vantassel.
600cc MODIFIEDS (20 Laps): TOM DONAHUE, Brett Gray, Brenton Miller, Chad Mason, Mark Golden, Tyler Smith, Justin LaDue, Devon Green, Doug Windhausen, Ali Scutt, Jake Waibel, Jared Green, Bumps Scutt, Nolan Smith, T.J. Smith, Cameron Searles, Tracy Oliver, Logan LaDue, Tyler Paige, Taylor Wilk, Nicholas Johnson, Chris Krebs, Christian Hafl, Aiden Miller
WHEELER EXCAVATING STREET STOCKS: DAMON DECKER, Steven Deinhardt, Lanson Albanese, Shane Wolff Jr., Don Russell, Mike Wilbur, Rich Green, Mike Wilbur Jr.
POP'S AUTOMOTIVE FACTORY STOCKS: JASON RHODES, Mike Morse, Jason Beebe, Shane Moshier, Josh Towner, Shawn Sabo, Buck Mills Jr., Luke Mills, Buck Mills Sr.
BUDGET SPORTSMAN: STEVE SCHRADER, Chris Clemens, Jonathan Fowlston, Eric Winsor, Will Jones, Dylan Hartman, Mike Goodwin, Ethan Decker.
JR SLINGSHOTS: LIAM ZACHARIAS, Evan O'Hara, Avery Decker, Dominic Kirchberger, Kolt Gamble, Anthony Mancini (DNS).