Order of Events for Thunder Mountain 9/12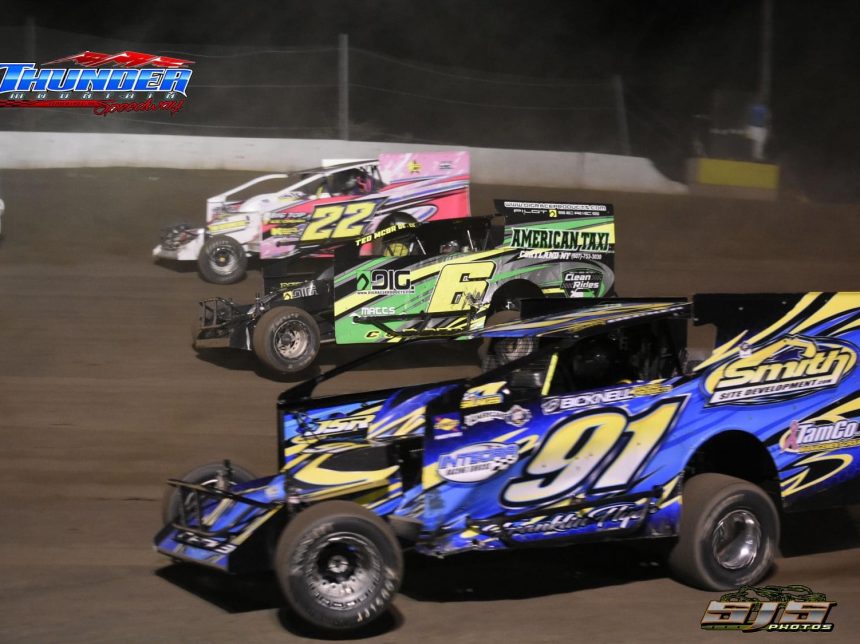 Thunder Mountain Speedway
Order of Events – Saturday, September 12, 2020
Pre-Race Chicken & Rib BBQ/Corn Roast – 3:00pm
DRIVER REGISTRATION CLOSES at 6pm
Wheelers Excavating Street Stock and Pop's Automotive Factory Stock
Rookie 600cc Modified HEAT (4 laps)
DIRTcar 358 Modified (8 laps)
DIRTcar Crate Sportsman (8 laps)
Wheelers Excavating Street Stock (8 laps)
Rookie Sportsman (6 laps)
Rookie 600cc Modified FEATURE (10 laps)
Pop's Automotive Factory Stock (8 laps)
DIRTcar Crate Sportsman (25 laps)
Bicknell Drawing (Mod. feature winner to draw)
Wheelers Excavating Street Stock (20 laps)
DIRTcar 358 Modified (30 laps)
Pop's Automotive Factory Stock (15 laps)
Rookie Sportsman (15 laps)
Crowning of Champions in Victory Lane
Admission- Pits $35, Drive In Theater- $12 adults, $10 Sr students and veterans, 9 & under are free.
Pay per view via Dirt Track Digest TV – $19.99
https://dirttrackdigest.tv/videos/10280
Live recording of our events is STRICTLY PROHIBITED. Anyone caught live streaming will be asked to leave the property and race teams involved will lose pay and points. No Exceptions.