Thunder Mountain and Utica-Rome Speedway Backroads Battle Series Adds Sponsors, Champion Set to Earn $1,500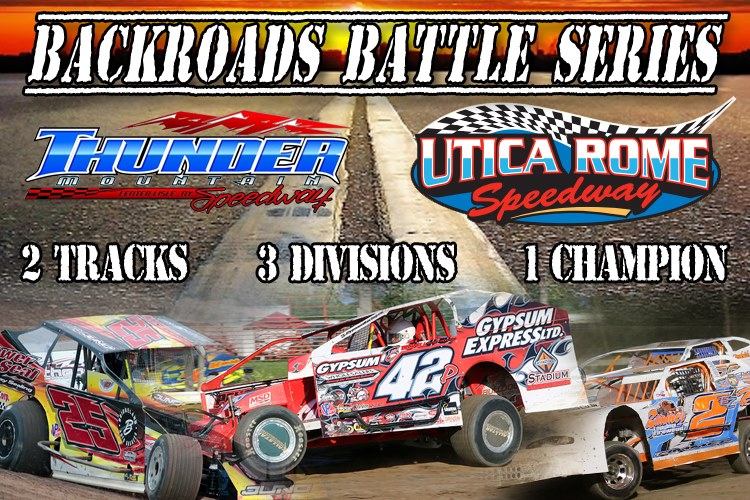 VERNON, NY – It didn't take long for the Backroads Battle Series to gain the attention of the racing world.
Thunder Mountain Speedway and Utica-Rome Speedway finalized the details of the Backroads Battle Series last week and already several sponsors have offered support to the two facilities. With help from Donath MotorWorx, Enders Racing Engines and Chris Gennarelli, who is contributing in memory of his son Christopher Gennarelli, the top 10 in points will now split a total pot of $6,000.
The champion of the Backroads Battle Series pockets $1,500 with second in rundown scoring $750. The third high point driver earns $600 while fourth and fifth pay $550 and $500 respectively. Sixth spot is worth $450 while seventh and eighth place drivers earn $425. Spots nine and 10 are worth $400 each.
Donath MotorWorx is a performance engine shop located in Central New York. They produce and provide services for big and small-block Modifieds as well as Sprint Cars. They're also a certified crate engine repair center. They offer numerous in-house services as well. For more information you can contact Brian Donath at (315) 481-2489 or you can visit their Facebook page.
Enders Racing Engines has been offering performance technology expertise for nearly 30 years. They supply some of the most successful teams in the Northeast. Kevin Enders has in-depth knowledge of engines, camshafts and designs. They pride themselves on maintaining the most innovative equipment and most dedicated staff to produce results for the teams using their power in numerous motorsports divisions. They are also a certified crate engine repair center. Find them online at http://endersracingengines.com/ or give them a call at (315) 695-4491.
The Backroads Battle Series is open to drivers in the DIRTcar 358-Modifieds, DIRTcar Sportsman and the Street Stock divisions. Two tracks, three divisions with one title on the line. The champion in the series can come from any one of the three divisions. A driver's eight best finishes at each track will count towards the title. A driver that competes at both tracks on the same weekend will receive a 10-point bonus toward the championship.
In order to be eligible, a driver must have a minimum of eight starts at each facility, unless Mother Nature limits those possibilities. Both tracks are utilizing the weekly 60-point DIRTcar point system to tabulate the standings for the series. Weekly track points at each track will be used, with the eight best at each counting toward the title.
Thunder Mountain Speedway is located in at 91 Hunts Corners Road in Lisle, N.Y. Those looking for information about Thunder Mountain Speedway can visit the website at https://thundermtnspeedway.net/, find them on Facebook at Thunder Mountain Speedway and on twitter @thundermtnspeed.
Utica-Rome Speedway is located at 5591 State Route 5 in Vernon, N.Y. Interested parties can find information about the upcoming season at Utica-Rome Speedway find them on Facebook at Utica-Rome Speedway, on Twitter @UR_Speedway or on the web at www.uticaromespeedway.com.