RACE INFORMATION – 602 CRATE TOPLESS 100 SEPTEMBER 9, 2018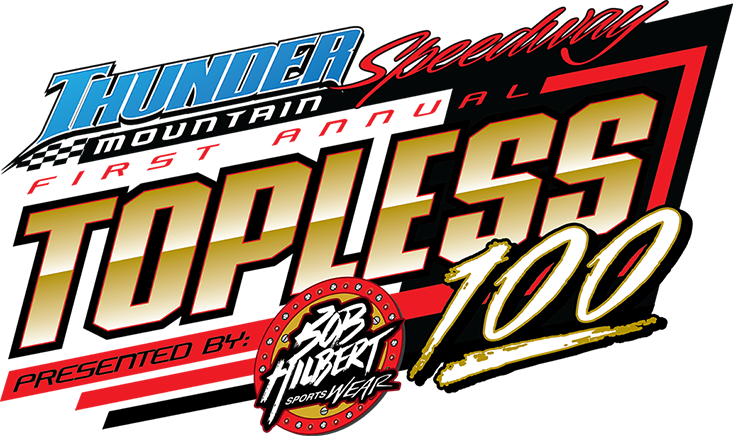 Race Information Sheet – 602 Crate Topless 100 Presented by Bob Hilbert Sportswear
Thunder Mountain Speedway/Center Lisle, N.Y.
Sunday, September 9
Speedway Address: 91 Hunts Corners Road, Lisle, NY 13797
Speedway Phone (Race Day): 607.849.7889
Speedway Website: www.thundermtnspeedway.net
Karl Spoonhower Jr. Phone: 607.343.6154
Pit Gates Open: 11 a.m.
Grandstand Gates Open: 4 p.m.
Drivers' Meeting: 5:00 p.m.
Hot Laps: Immediately Following Drivers' Meeting
Qualifying: 6 p.m.
Admission: $22 (Adults); $20 Seniors (ages 65 and up) & Students (ages 10-17) & Military with ID; Kids 9 and under are FREE
Pit Admission: $40 (no license required)
Camping & Parking: Permitted on Thunder Mountain grounds, FREE Of Charge
Competing Classes:
600CC MODIFIEDS— 25 Laps $500 TO WIN $100 TO START
602 CRATE SPORTSMAN—100 Laps $12,000 TO WIN, $300 TO START plus B and C Mains
Qualifying:
Drivers will draw for their starting positions in heat races. Top finishers from the heat races transfer to the redraw. The remainder of heat-race qualifiers go directly to the features. Consolations will set the remainder of the field. Three provisionals (half-green money) will fill the field.
B and C Main for non-qualifiers – 15 Laps
General Rules:
One-way radios are mandatory. Transponders are required. The frequency is 454.000.
On track (10 minute) pit at lap 50 for fuel only. Drivers out of car for fueling. One crewmember, gas can and one screwdriver permitted on track
Cars leaving the track will line up in the spot in which they return
CRATE RULES:
– Unaltered sealed 602 Crate Engines ONLY
– No open motors allowed
– Window post and roof removed
– No windows
– Steel or aluminum shocks
– No added parts (except to brace)
– VP Race fuel max octane 110 (no alcohol)
– Must weigh 2400 lbs
– No gear rule
– 650 carberator
– Tires American Racer 33 or harder or Hoosier D300 or harder (no drag rubber)
– No rev limiter
– Any driver regardless of experience
– All cars subject to inspection at any time
– No two way radios
– Stock distributor
– Steel or aluminum water pump
Tire questions: Contact Al Wilcox, track vendor, at 607.625.3800.