WALKER BREAKS INTO WIN COLUMN AS JORDAN DOUBLE DIPS IN VICTORY LANE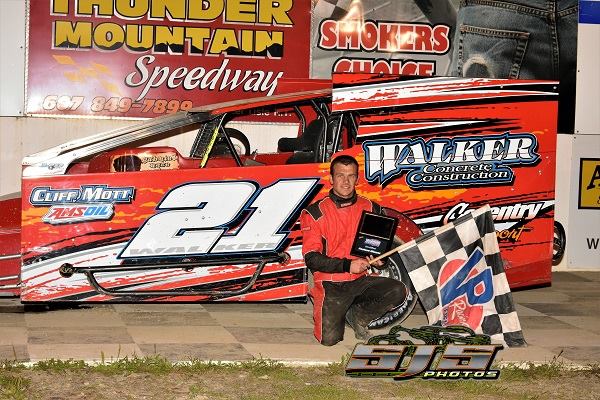 By C. Barry Goodband
CENTER LISLE, NY – Another gorgeous Saturday night on the mountain and once again the pit area was stocked with over 130 race teams ready to do battle in the 8 weekly divisions at TMS. With only two point paying shows left on the schedule and another beautifully manicured surface, the stage was set for a great night of racing excitement.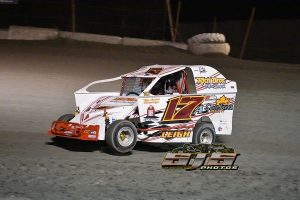 The 600cc Modified feature was paced by Jake Waibel and Chris Jordan. The front two raced side by side through the first set of turns and onto the back chute with Jordan coming off four to lead laps one and two until the yellow flew for a car off the pace. On the restart Nichols, NY resident Chris Kithcart came together with Fabius's Doug Windhausen. The contact sent the tangled pair into a vicious head on collision with the outside barrier. In a testament to the safety built into these miniature speed machines, both drivers climbed shaken but not injured from their battered racecars. This is truly hard luck for Windhausen who came into the night with a scant 7 point lead in the championship standings over Dana Davis. Chris Jordan who lead all of the 20 lap distance came into the evening sitting third in the points chase. Jordan's win tightens the point picture even further with championship night set for next Saturday.
600cc Modified – Chris Jordan, Jared Green, Rich Powell, Dana Davis, Shayne Spoonhower, Jake Waibel, Justin LaDue, Chace Scutt, Rich Gardiner, Paul DeRuyter, Ali Scutt, Aiden Miller, Kristen Chamberlain, Chris Krebs, Dakota Anderson, Chris Kithcart, Doug Windhausen, Tom Shiner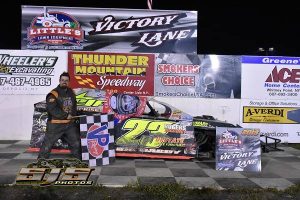 The 20-lap IMCA modified feature came to the green with Jeff Cardinale and Bill Nichols on the front row. Nichols would get away first and bring Bumps Scutt with him. The two then engaged in a side by side duel for the top spot with Nichols in the high groove and Scutt down on the hub of the speedway. Nichols would get the upper hand a few laps later and extend to a three-car length advantage as Rodney Morgan joined the fight from third. Morgan dove into three with a slide job attempt on Scutt but the two cars came together with Morgan's right rear riding up and over Scutt's left front. The damage to Scutt's car forced him to retire and during the ensuing caution period, Morgan was invited to the rear of the field. Nichols would then be joined teammate Tyler Stoddard on the front row restart. Stoddard motored away from Nichols off turn two and never looked back as he glided to his first IMCA win of the year at TMS.
IMCA Modified – Tyler Stoddard, Ray McClure, Bill Nichols, Billy Ward, Rodney Morgan, Bumps Scutt, Will Ward, Brandon Smith, Jeff Cardinale, Don Alger, Shawn Bruce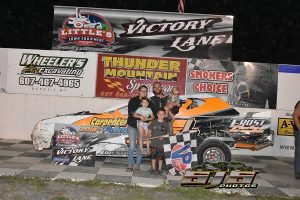 Donny Russell and Buck Mills Sr. shared the front row for the start of the 20 lap street stock main event. Mills would maintain a slight advantage over Russell in the early going. Earl Zimmer then made it a three-way dogfight up front a few laps later. A couple of early yellows kept the full fendered pack in tight formation and the racing was often three and four wide for positions in the top ten. The man on the move in these battles was Jon Carpenter who had started 9th. Carpenter pedaled his way into second by lap 6 and began to apply heavy pressure to the low side on leader Buck Mills. Mills fought to keep the door closed on Carpenter but in turn 4 on lap 12 Mills slipped just high enough for Carpenter to see daylight. As Carpenter surged ahead, Mills tried to battle his way back coming cross track and making contact with the right side of Carpenters machine. This contact flattened the left front on the Mills ride, ultimately causing him to spin in turn 2. It was all Carpenter from there to the checkers as he picked up his second win of the season. An honorable mention must also be given Shane Wolf Jr. after being involved in one of the early skirmishes, Wolf drove from the back of the pack to finish 6th and maintain a firm grip on the championship points.
Street Stock – Jon Carpenter, Earl Zimmer, Rich Green, Don Russell, Jake Fowlston, Shane Wolff Jr., Jack Holcomb, Trevor Dudley, Mike Wilbur, Matt Spencer, Jonathan Fowlston, Buck Mills, Bill Flask, Jerry Lobdell Jr., Jeff Wilcox, Bobby Wagner, Bob Mills, DQ- Abe Romanik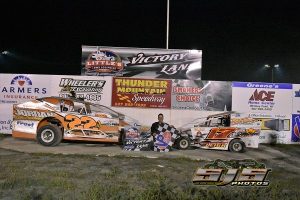 The Open Sportsman field was paced by Tommy Eiklor and Greg Morgan. Eiklor showed the way for the first five circuits until succumbing to the challenge made by point leader Chris Jordan. Jordan then set an unmatchable pace as he cruised to his second feature win of the night. The win also allows Jordan to continue feathering his championship nest, after coming into the evening with an already comfortable 119 point lead.
Open Sportsman – Chris Jordan, Landon Cummings, Tom Eiklor, Rich Powell, Chris Hunsinger, Jesse Velez, Greg Morgan, John Morse, Jimmy Zacharias, Duane Knapp, Brian Franko, Matt Adonna
A pair of rookies sat on the front row for the start of the 35-lap modified big dance as Kailee Dimorier and Damon Decker set the pace. Dimorier; an impressive young rookie commanded the first 14 laps stretching out to as much as a 3.5 second gap over Brian White. A pair of yellows between laps 10 and 14 bunched the field together and allowed Shaun Walker to close in and overtake White for the number two slot. Walker, who had started 10th, escaped Dimorier's grasp on the restart and began his march to his first modified win at Thunder Mountain. The battle was a fierce one behind him however, as current top point holder Jeremy Smith climbed to 2nd after rolling off 12th on the grid and Alan Barker recovered from a spin on the first lap to make it home in 4th.
Modified – Shaun Walker, Jeremy Smith, Billy Decker, Alan Barker, Kailee DiMorier, Mike Bowman, Ryan Jordan, Brian White, Damon Decker, Colton Wilson, Bob Stahl, Larry Mekic, Eldon Payne, Nick Nye, Brandon Walters, Lee DeWitt, Kevin Jordan, Jeff Sheely, Scott Ferrier, Alissa Cody, Chance Spoonhower, P.J. Goodwin, Chris Stull, Brent Wilcox, Chad Cook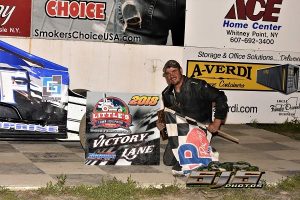 The crate sportsman had the last event of the evening and started their 25-lap feature with Tyler Keener and Chance Spoonhower on the pole. Spoonhower was first on the trigger as he blazed his way into the number one position. Jimmy Zacharias debuted a new crate sportsman ride and after starting 4th on the grid, Zacharias moved quickly into 2nd. Zacharias chased Spoonhower closely for the entire distance but was never able to make a real challenge for the lead as Chance Spoonhower charged his way to Little's Lawn Equipment Victory lane.
Crate Sportsman – Chance Spoonhower, Jimmy Zacharias, Kenny Hammond, Damon Decker, Shayne Spoonhower, Matt Brewer, Will Eastman, Mike Austin, Hunter Lapp, Dustin Jordan, Rich Talada, Tyler Kenner, Larry Mekic, Isaiah Forward, Pat Jordan, Kimberlee Morgan, Hilary Ward, Chad Cook, T.J. Frost, Randy Brokaw, Byron Worthing, Marc Goodwin, Daryl Krebs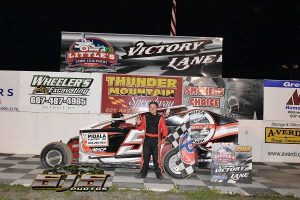 Jake Mason led all 15 laps of the Rookie Sportsman feature enroute to his fifth rookie win of the year.
Rookie Sportsman – Jake Mason, Joe McCabe, Michael Corbin, Alex Payne Jr., Matt Adonna, Brandon Fritsch, Zach Murray, Leah Decker, Greg Cole, Danielle Smith, Zachery Diedrickson, Cody Jackson, Erica Bowman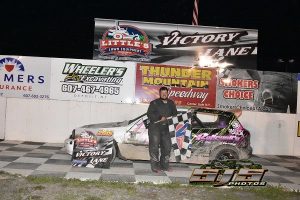 Rich Wagner held off a tough challenge from point leader Justin Ladue, picking up his 3rd set of checkers this season in the 4-cylinder division.
4cyl Stock – Rich Wagner, Justin LaDue, Tim Bush, Matt Browning, Michael Brown, Casey McPherson, Mike Ferris, Zach Hayward, Luke Mills, James Robinson, Tyler Rose
The final point race of the 2018 campaign lies less than a week away as we open the action packed month of September with the first of two big double-header weekends. We will crown eight champions on Saturday, September 1st and the following day, Sunday September 2nd, the Bob Hilbert Sportswear Short Track Super Series Fueled By Sunoco Crate Sportsman tour rolls into town for round 3 in the STSS 602 Northern division. The Modifieds, Street Stocks and 600cc mods will join them.
Free camping is always available on the speedway grounds and VIP rooms are still available to rent on race nights. This will be a September to remember at Thunder Mountain Speedway. Don't miss any of the action!