LEET, SMITH, AND KREBS GET FIRST THUNDER MOUNTAIN WINS OF 2021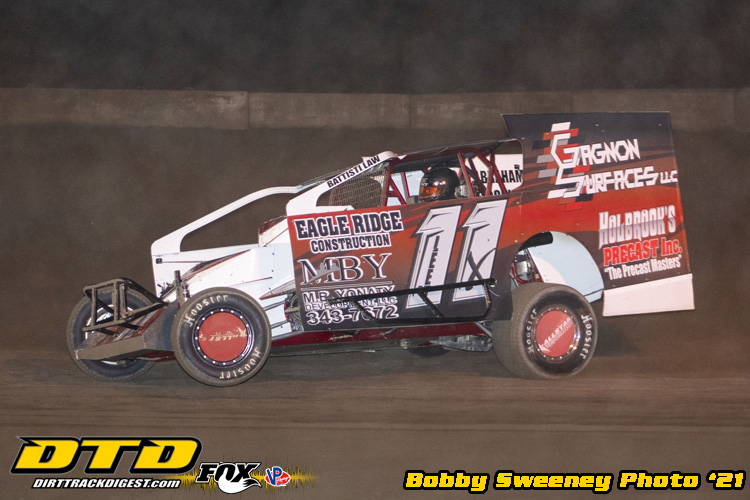 CENTER LISLE, NY – Several first time winners for the 2021 season found Victory Lane Saturday night at Thunder Mountain Speedway, including Eric Leet in the Modifieds, Rusty Smith in the DIRTcar 358 Modifieds, Daryl Krebs in the DIRTcar Crate Sportsman, Brenton Miller in the 600cc Modifieds, Damon Decker in the Wheeler Excavating Street Stocks, and Jeremy Hamilton in the Budget Sportsman. The only repeat winner on the night was Mike Morse, who took his second of the year in the Pop's Automotive Factory Stocks.
Landon Cummings led the first 12 laps of the Modified feature until Jimmy Zacharias caught him and took the lead. They battled for several laps, but contact between the pair after a lap 18 restart sent Zacharias spinning. Cummings went to the pits and Zacharias restarted from the back of the field. That handed the lead to Eric Leet, who withstood pressure from Shaun Walker over the next few laps. Leet pulled away as Nick Nye came on to challenge Walker for second, finally getting that spot on the final lap. At the checkers, Leet had the win over Nye, Walker, Alan Barker, and Darren Smith, who came from the 21st starting spot to fifth.
In the DIRTcar 358 Modifieds, Matt Meade led early while Tom Collins Jr tried to fight off Rusty Smith for second. Smith got the runner up position on lap 11 and took the lead a couple of laps later, while Meade spun out of the second spot in turn four on lap 13. Glenn Forward made his way to third, but fell back with an overheating car, which moved Colton Wilson into the third spot. Smith held on for the win over Collins Jr and Wilson, with Jordan McCreadie making a last lap move to take fifth from Billy Dunn.
Brian White and Ray Reynolds battled for the lead at the start of the DIRTcar Crate Sportsman main event, but contact just after a restart sent them both to the back and handed the lead to Daryl Krebs. Krebs extended a lead of half a straightaway at the middle stages of the event while Alan Fink worked his way into the top five. Fink got past Mike Austin and Kinser Hill in the late going to grab second, but could not catch the speedy Krebs, who took his first win of the seaosn. Fink, Hill, Austin, and Hunter Lapp rounded out the top five.
Brenton Miller busted out of the pack to take the lead in the 600cc Modified feature, with Tom Donahue giving chase while three and four wide racing was happening behind them. While the top two were able to pull away, several drivers battled hard for the rest of the top five spots. When the race ended, Miller had his first win of the year with Donahue not too far behind him. Rich Powell emerged out of the race long battle for the remaining top five spots with a third, trailed by Bumps Scutt and Jake Weibel.
Damon Decker took the lead from the drop of the green in the Wheeler Excavating Street Stock feature and led wire to wire, but had to endure a late race restart with former winners Steven Deinhardt and Lanson Albanese on his tail. Decker was up to the challenge, turning around some bad luck the previous two weeks to take the victory. Following Deinhardt and Albanese were Mike Wilbur and Tom Paige.
After breaking a timing change while leading last Saturday night's Pop's Automotive Factory Stock feature, Mike Morse roared back to form, taking the lead on the first lap of the feature from his third starting spot and pulling a huge lead. That lead was erased by a lap 14 yellow, but he held off Josh Towner on the final restart for his second feature win of the year. Luke Mills, Shane Moshier, and Frank Mills Jr. rounded out the top five.
Jeremy Hamilton grabbed the lead at the start of the Budget Sportsman feature and was able to hold off two-time winner Johnathan Fowlston on a late race restart for his first win of the season. Eric Winsor passed Lucas Kasterhuber on the final lap for the third spot, with Steve Schrader fifth.
Dom Kerchburger won his second Junior Slingshot main event, besting Liam Zacharias and Evan O'Hara, while Taylor Wilk outran Logan LaDue and Tyler Paige for the Junior 600cc Modified honors.
Next Saturday night, the Lucas Oil Empire Super Sprints will join the regular racing program (the Pop's Automotive Factory Stocks will have the night off). Racing begins at 7:00 p.m. For more information, visit thundermtnspeedway.net.
RACE SUMMARY-THUNDER MOUNTAIN SPEEDWAY-MAY 15, 2021
MODIFIED FEATURE-ERIC LEET, Nick Nye, Shaun Walker, Alan Barker, Darren Smith, Jimmy Zacharias, Ryan Jordan, Bailey Boyd, Ken Hammond, Jeff Sheely, Chris Curtis, Chris Jordan, Marc Goodwin, Billy Decker, Landon Cummings, Larry Mekic, Jesse Velez, Rick Wilk, PJ Goodwin, Brandon Walters, Brad Knapp (DNS).
DIRTcar 358 MODIFIED FEATURE-RUSTY SMITH, Tom Collins Jr, Colton Wilson, Jordan McCreadie, Billy Dunn, Lance Willix, Connor Sellers, Tyler Meeks, Cameron Black, Glenn Forward, Lucas Heintz, Tom Eiklor, Shayne Spoonhower, Matt Meade.
DIRTcar CRATE SPORTSMAN FEATURE-DARYL KERBS, Alan Fink, Kinser Hill, Mike Austin, Hunter Lapp, Rich Talada, Jake Mason, Todd Heyward, Brian White, Jamie Kamrowski, Will Eastman, Colby Herzog, Tom Velez, Bobby Heintz, Jordan Millard, Brandon Carvey, Cody Jackson, Chuck Miller, Ray Reynolds, Robby Vormwalk, Dane Hedlund.
600cc MODIFIED FEATURE-BRENTON MILLER, Tom Donahue, Rich Powell, Bumps Scutt, Jake Weibel, Ali Scutt, Eli Akshar, Doug Windhausen, Brett Grey, Nick Nye, Justin LaDue, Nick Robinson, Jared Green, Chelcie Beebe, Devon Green, Tracy Oliver, Christian Hafl, Chris Krebs, Doug Genereaux, Chris Jordan, Tyler Smith, Nolan Smith, TJ Smith, Chad Mason, James Randall, Connor Sellers.
WHEELER EXCAVATING STREET STOCK FEATURE-DAMON DECKER, Steven Deinhardt, Lanson Albanese, Mike Wilbur, Tom Paige, Don Russell, Rich Fife, Mike Wilbur Jr, Trevor Dudley.
POP'S AUTOMOTIVE FACTORY STOCK FEATURE-MIKE MORSE, Josh Towner, Luke Mills, Shane Moshier, Frank Mills Jr, Shawn Sabo, Buck Mills Sr, Greg Lockwood, Jason Beebe, Jason Rhodes (DNS).
BUDGET SPORTSMAN FEATURE-JEREMY HAMILTON, Johnathan Fowlston, Eric Winsor, Lucas Kastenhuber, Steve Schrader, Michael Roach, Mike Dawson, Will Jones, Dylan Hartman, Tres Palmer.
JUNIOR SLINGSHOT FEATURE-DOM KERCHUBRGER, Liam Zacharias, Evan O'Hara.
JUNIOR 600CC MOD FEATURE-TAYLOR WILK, Logan LaDue, Tyler Paige.