Pop's Automotive Returns as Title Sponsor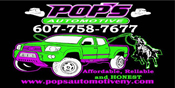 Center Lisle, NY-
Pop's Automotive has returned for the 2021 season as the title sponsor of the Pop's Automotive Factory Stocks.
Pop's Automotive is located in Homer, NY. They specialize in quality used cars and trucks as well as parts and accessories to keep your vehicles on the road.
You can find them on the web at www.PopsAutomotiveNY.com.