Thunder Mountain Speedway 2020 Wrap-Up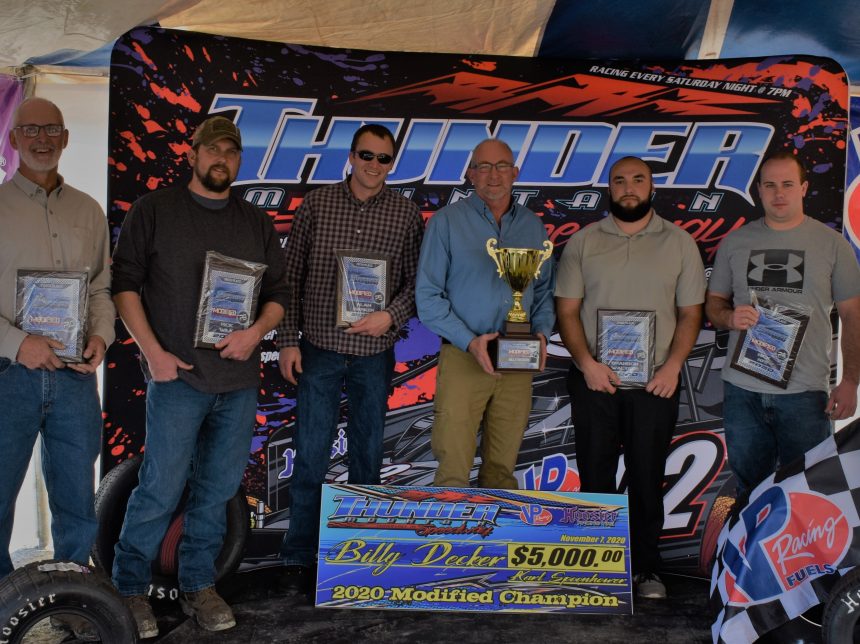 Center Lisle, NY – To say our 2020 season was unprecedented is an understatement. It was a tough year for racing worldwide but we did what all racers do, we adapted and kept moving forward.  We wouldn't have gotten through the season without the support of our loyal racers and their families and our sponsors who stuck with us through it all.
Although we had a shortened season the weather cooperated which limited the number of rain related losses.  In the end, we are proud that we were able to pay out $38,000 in point fund money to our drivers for 2020 in a 13 race season. We crowned eight champions this year! Our modified champion, Billy Decker, took home a $5,000 payday and our first ever Dirtcar 358 Modified champion, Ronnie Davis III, pocketed $3,000 for his hard work.  Champions also include Alan Fink (Dirtcar Sportsman), Jerry Lobdell Jr. (Street Stock), Doug Windhausen (600cc Modified), Mike Morse (Factory Stock), Jonathan Fowlston (Rookie Sportsman) and Logan LaDue (Rookie 600cc Modified).  Each of our champions received a Hoosier tire and Hoosier jacket along with their winnings.
We would also like to congratulate Matt Meade (Dirtcar Sportsman) and Corey Cormier (Dirtcar 358 Modified) on their prestigious 2020 Dirtcar Rookie of the Year awards. Our track rookie of the year awards went to Chris Jordan (Modified), Corey Cormier (DIRTcar 358 Modified), Matt Meade (DIRTcar Sportsman), and Cameron Searles (Street Stock). Car Owner of the year went to Jeremy Smith Racing, a four car race team. The Commitment to Racing award went to Chris Gennarelli and Helping Hands Awards were given to Bobbi Pool, Kirk Reynolds and Bob Wildoner for generously giving of their time and talents.
Thanks to our generous sponsors, Brandon Carvey was the lucky winner of the Hig Fab Chassis, Alan Fink won the Dig Shocks, Doug Windhausen won the Styker Fabrication body and Billy VanInwegen was the 2020 Bicknell winner.
As always, sponsors are often the backbone of racing whether you're a race team or a race track. We think our sponsors are the BEST! Please do everything you can to patronize these businesses. Thank you Hoosier Racing Tire, Bicknell Racing Products, Hig Fab Chassis, Wheeler Excavating, Dig Race Products, Shakelton Auto & Truck Parts, Planet Pre-Owned, Planet Credit, Planet Tire, Beyea Headers, Stryker Fabrication, Hinds Energy, Enders Racing Engines, Pop's Automotive, VP Racing Fuels, Barrett Paving, Bob Hilbert Sportswear, Forkey Construction & Fabrication, Moose Wraps, Donath Motor Worx, Hunts Auto, Fire Tower Doubles, Wicked Tees, and Averdi Storage Containers.
Post season we took advantage of the beautiful fall weather to resurface the track with 1,000 loads of fresh clay. It was an enormous undertaking but we got it done in 11 days working sun up to sun down. A big thank you goes out to Matt Hayes, Steven Deinhardt, George Deckelman, Bob Wildoner, Shayne Spoonhower, Larry Kasmarcik, Tanner, Tucker and Tyler Harpell.
Our 2021 schedule is in the works but in the meantime please save the following dates:
Sunday, May 30 – TBD
Tuesday, June 15 – Mike Colsten Memorial (Rain date June 16)
Sunday, July 4 – Randy Decker Street Stock Shootout
Friday, July 16 – Kolby Oakley Concert
Tuesday, August 3 – Super Dirtcar Series Big Blocks
Tuesday, August 31 – Short Track Super Series
Sunday, September 5 – Wade Decker Memorial
Saturday, September 18 – King of the Mountain
We look forward to a fresh start in 2021 and can't wait to welcome you back to the Mountain! Be safe, healthy and enjoy this time with your family.