Perrego Picks Up Win at Thunder Mountain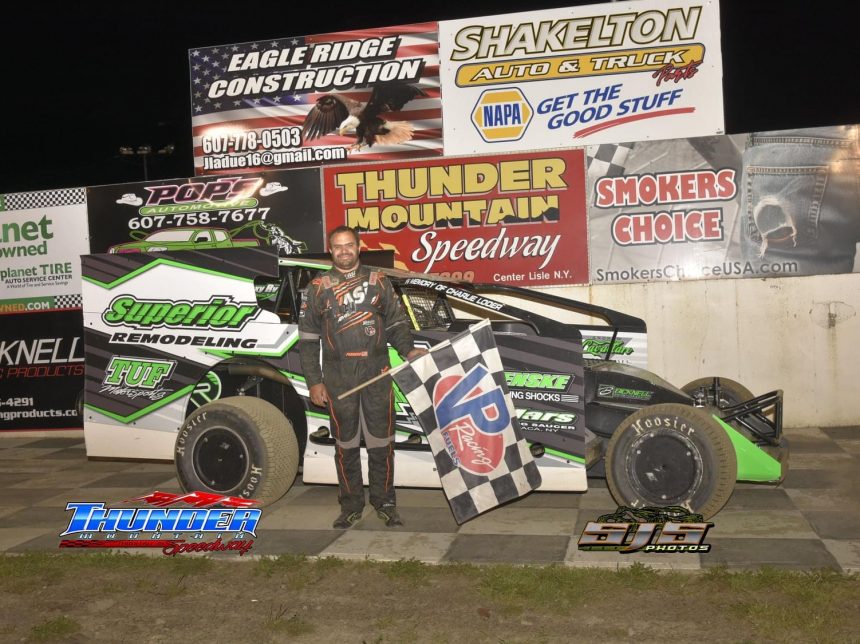 ​by Kyle Young
Center Lisle, NY – Despite an ugly looking forecast, Mother Nature once again played nice to the Thunder Mountain Speedway and allowed the track to conclude the month of August with another full, eight division program.
​A couple invaders joined the Open Modified field this week and they made their presence known.  Eric Leet led the opening laps after making a tight three wide move in turn two off the start.  A few yellow flags clogged up the early portions of the race before the field found their footing and got some green flag laps in.  Leet caught up to lapped traffic during the race's first lengthy green flag run, which played a major factor for all of the front runners.  Anthony Perrego and Andy Bachetti battled behind Leet when they caught the lapped traffic.  Bachetti made contact with one of the lapped cars, allowing Perrego to clear him for second.  Shortly after, Leet got majorly out of shape trying to avoid another lapped car that had spun around in the middle of turns one and two.  Off the ensuing restart, Perrego got around Leet for the race lead.  Perrego was untouchable from that point on, running away from the field and taking the victory in his first start of the season.  Eric Leet finished in second while Kenny Hammond picked up an impressive third place finish after a great battle with Billy Decker and Andy Bachetti in the race's late stages.  Decker and Bachetti would complete the top five.
​Redemption was on the mind of Michael Marescsa in the DIRTcar 358 Modified feature.  After a late race mechanical failure ruined his chances at victory last week, Maresca was determined to right that wrong.  Michael Stanton Jr. jumped out to the race lead and had a great battle with Lucas Heintz in the race's first six laps.  Heintz would take over the race lead off of the first restart on lap seven, but he didn't hang on to the top spot for long.  Another quick yellow came out and allowed Michael Maresca to line up next to Heintz.  Maresca charged up through the field from his 11th place starting spot to take the lead off of the lap nine restart.  While he made his charge, Jordan McCreadie also worked his way to the front of the field and took over second shortly after Maresca went to the lead.  McCreadie was able to stick with Maresca for a little while and challenged for the race lead, but Maresca was too strong and eventually started to pull away.  Once he opened up his lead, he was not to be denied and picked up his first victory at Thunder Mountain of the season in just his second start.  Ronnie Davis III made a late race pass on Jordan McCreadie to finish in second, leaving McCreadie to settle for third.  Lance Willix and Brandon Walters were fourth and fifth.  Points leader Corey Cormier struggled all race long and finished back in 11th.  All three of his championship competitors finished inside the top five, which will once again shake things up in the intense fight for the track championship.
​Another redemption effort was put together in the DIRTcar Crate Sportsman feature.  Rich Talada and Colby Herzog put on an early fight for the race lead.  Talada was able to hold Herzog off, but while those two fought, Hunter Lapp was making moves to catch them.  Lapp found strength on the top side of the race track to put himself into second before a caution allowed him to restart next to Talada.  The restart was exactly what he needed as he took the lead from Talada once the green flag flew.  Behind Lapp, championship contenders Tommy Collins and Alan Fink made their way up to Lapp's presence.  Collins gave Lapp the best fight he could down on the bottom of the track until a caution came out with two laps to go to reset things.  Lapp got off to a great restart and was able to do enough to keep Collins and Fink behind him to grab his second win of the season after having a miserable performance last week.  Collins held onto second with Fink finishing behind him in third.  Newcomer Austin Germinio scored a fourth place finish in his first race of the season with Rich Talada hanging on to the final top five spot at the checkered flag.
​The Wheeler's Excavating Street Stocks had a very dramatic feature event to say the least.  The race was marred by cautions in the early going before Don Russell was able to establish himself as the race leader once the field started to get some laps in.  Steven Deinhardt used the early cautions to work his way through the field and eventually got around Russell for the lead.  Deinhardt was looking strong out in front of the field, but a late race challenge from Lanson Albanese kept him on his toes.  Albanese made his way to Deinhardt's rear bumper in the closing laps after starting all the way back in 20th, but he just couldn't find enough space underneath of Deinhardt to make the pass.  Deinhardt would score the win, but was later disqualified.  This gave the win to Albanese for the second week in a row.  Don Russell, Doug Polhamus, Gene Sharpsteen, and Jerry Lobdell Jr. were the top five finishers.
​Devon Green led the first six laps of the 600cc Modified feature from the pole.  Green got a challenge from Jake Waibel on lap seven and handed over the lead to Waibel.  Last week's feature winner Tom Donahue came back with another strong car and attempted to take the lead away from Waibel.  A big mistake coming out of turn four with seven laps to go cost Donahue a ton of time on Waibel, allowing Waibel to open up a big lead.  Donahue caught a break as a caution came out a couple laps later and erased the gap he created for himself up to Waibel.  Donahue did his best to work the top side of the track to get around Waibel for the race lead, but his efforts were not good enough and Waibel took the victory.  Donahue settled for second with Devon Green scoring his best feature finish of the season in third.  Fourth place across the line was Justin LaDue and Tom Shiner grabbed himself a fifth place finish.  Points leader Doug Windhausen was invovled with a late race caution, resulting in an 11th place finish.  With Waibel and LaDue finishing inside the top five, the 58 point lead that Windhausen had entering the week will shrink considerably going into next week.
​The dominance of Mike Morse over the last couple months in the Pop's Automotive Factory Stocks sparked a new reward for the drivers this week with a bounty being put on his head.  Pop's Automotive and WXM Auto put up an extra $375 on the line for anyone who could beat Mike Morse and end his winning streak as long as Morse finished on the lead lap.  Morse started in fifth place and had a rough start to his race as he nearly got turned around twice in the opening lap.  Pole sitter Buck Mills Sr. jumped out to the early race lead and held a narrow but comfortable lead over the field behind him.  Morse was able to recover from his first lap misfortune and started picking cars off, but the race was run entirely without a caution.  That kept the field strung out ahead of him and he was unable to make a challenge for the lead.  Buck Mills Sr. kept his #15 out in front of the field the entire way and got the win, ending the streak of Morse and claiming the $375 bounty the first night it was offered.  Tommy Groover was closing in on Mills as the race neared the end, but he ran out of time and finished second.  Morse was able to come back for a third place finish while Buck Mills Jr. and Nick Stark wrapped up the top five behind him.
​The 12 lap Rookie Sportsman feature was dominated by Blake Sarpriacone.  Sarpriacone started on the pole and dealt with an early challenge from Jamie Kamrowski.  The two drivers made contact coming off of turn four on a restart, sending Kamrowski around by the time they entered turn one.  Sarpriacone held onto the led and had new challenges from behind with Josh Allen and Jordan Millard taking over from Kamrowski's spin.  Millard would have a spin of his own, leaving the race for the win to come down to Sarpriacone and Allen.  Allen tried his best to go back-to-back, but Sapriacone was too good out front and claimed the victory.  Allen finished in second with Timmy Borden Jr. completing his debut run with a third place finish ahead of Jamie Kamrowski and Billy Fiske.
​After taking last week off, Logan LaDue returned to the Rookie 600cc Modified division.  He was once again the only competitor, so he jumped onto the back of the third heat for the regular division.  Logan ran a smooth and mistake free race despite having some time away from the car.
​The month of August has concluded for the Thunder Mountain Speedway, leaving just two races remaining in the 2020 season for September.  Our penultimate show of the season will be held next Saturday night on September 5th.  All eight divisions will return to the track to make another very important push toward the track championships.
Finish for August 29, 2020
50/50 – 255685 (claimed), Tickets – 255638 (unclaimed)
Modified – Anthony Perrego, Eric Leet, Ken Hammond, Billy Decker, Andy Bachetti, Brandon Walters, Ryan Jordan, Alex Tonkin, Shaun Walker, Nick Nye, Bailey Boyd, Chris Jordan, Larry Mekic, Adam Roberts, Bob Hentschel, Jeff Sheely, Russell Morseman, John Morse, Marc Goodwin, Rick Wilk, Chris Stull, Greg Morgan, Rich Christman, Landon Cummings, Corey Cormier, Alan Barker
DIRTcar 358 Modified – Michael Maresca, Ronnie Davis, Jordan McCreadie, Lance Willix, Brandon Walters, Colton Wilson, Michael Stanton, Rocky Warner, Alan Barker, Dave Marcuccilli, Corey Cormier, Darren Smith, Garrett Rushlow, Chris Curtis, Chris Stevens, Glenn Forward, Jeff Taylor, Bob Hentschel, Marshall Hurd, Kirk Reynolds, Lucas Heintz, Shayne Spoonhower, Willy Decker, Tom Eiklor, Devin Willis
DIRTcar Sportsman – Hunter Lapp, Tom Collins, Alan Fink, Austin Germinio, Rich Talada, A.J. Miller, Brandon Carvey, Matt Meade, Mike Austin, Cody Jackson, Will Eastman, Colby Herzog, Steve Marshall, Bobby Heintz, Rocco Leone, Stacy Jackson, Willy Decker Jr., Mike Button, Kevan Cook, Tim Guild, Lance Irwin
Wheeler Excavation Street Stocks – Lanson Albanese, Don Russell, Doug Polhamus, Gene Sharpsteen, Jerry Lobdell Jr., Rich Sharpsteen, Oliver Gage, Abe Romanik, Don Reeves, Eric Boynton, Earl Zimmer, Bob Crandall, Chris Cunningham, Dustin Maynard, Cameron Searles, Kurt Decker, Dusty Decker, Cody Baker, Jake Fowlston, Damon Decker, Craig Kranz, DQ Steven Deinhardt
600cc Modifieds – Jake Waibel, Tom Donahue, Devon Green, Justin LaDue, Tom Shiner, Nolan Smith, Tracy Oliver, Tyler Smith, Ali Scutt, Nick Robinson, Doug Windhausen, Chace Scutt, Adam Mudge, Samantha Mills, Chad Mason, Damon Henry, John Glover, Taylor Wilk, Chris Jordan
Pop's Automotive Factory Stocks – Buck Mills Sr., Tommy Groover, Mike Morse, Buck Mills Jr., Nick Stark, Shane Moshier, Dylan Eaton, Shawn Sabo, Cody Rowley, Todd Koegel, DNS Luke Mills
Rookie Sportsman – Blake Sarpriacone, Josh Allen, Timmy Borden Jr., Jamie Kamrowski, Billy Fiske, Bryan Pospisil, Jordan Millard, Tim Staring, Mike Mikulski, Jonathan Fowlston, DNS Matt Irwin, Coleby Felber, Michael Roach
Rookie 600cc Modifieds – Logan LaDue
Thank you for choosing to race with us!