Chris Jordan Scores First Modified Win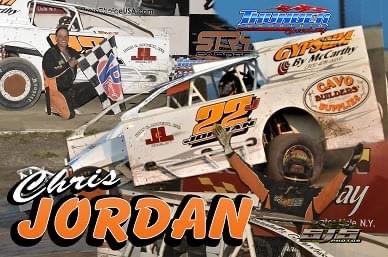 By Kyle Young
The Thunder Mountain Speedway closed out the month of July with another spectacular night of racing.  With the addition of the Dirt Modified Nostalgia Tour and some invading drivers from some other tracks, the entire show was filled with tons of action and some special moments.
One of those special moments came in the Open Modified feature.  Pole sitter Rick Wilk led the first four laps before Chris Jordan took control of the field.  A few early race restarts were the first obstacles in Jordan's way, but he survived them all.  The middle portion of the race was filled with lots of green flag laps, which allowed Shaun Walker to work his way through the field.  He got himself up to second place and was closing in on Jordan for the race lead, but a broken axle ruined his plans of another victory and brought out a yellow.  This created a six lap sprint to the finish and ultimately a thrilling finish.  Billy Decker took the restart in third and quickly moved around Chris Stull for second.  With Jordan running the bottom, Decker had to use the top side and was making ground on Jordan.  The two were side-by-side heading into turn three on the final lap and stayed that way coming across the line.  Getting there for the first time in his Modified career was Chris Jordan.  Billy Decker had to settle for a close second place finish while Jimmy Zacharias, Nick Nye, and Chris Stull completed the top five.
Another first happened in the DIRTcar 358 Modified feature.  Jordan McCreadie led the early laps from the pole and started to run away from the field.  Before he got too comfortable, a caution came out and erased his gap.  Lance Willix was able to steal the lead away from McCreadie for a moment, but a flipping Justin Crisafullil brought out the red flag as soon as he did.  Willix didn't keep the lead for long as he surrendered the top spot to McCreadie when the race resumed.  McCreadie had to endure one more restart with six laps to go and did so successfully.  He would come to the checkered flag to claim his first career victory at the track over Lance Willix, Larry Wight, Shayne Spoonhower, and last week's winner Ronnie Davis III.
The DIRTcar Sportsman feature saw a hard fought battle all race long at the front of the field.  Pole sitter Stacy Jackson commanded a strong field of cars behind him, but he didn't do it easily.  Fifth place starter Brandon Carvey made his way to Jackson's presence through some early restarts and put up a very strong fight for Jackson's lead.  Jackson was able to hold him off throughout most of the feature, but Carvey finally found something that his car liked and took over the top spot.  Once he did, Jackson found trouble with a broken rear end and saw his chances at victory evaporate.  It was up to Carvey to try to fend off a fast moving Zach Sobotka behind him in the final few laps and he was able to do just that to add himself to the list of drivers scoring their first career Thunder Mountain Speedway victories on the night.
One of the most exciting classes all night long were the Wheeler Excavation Street Stocks.  After two exhilarating heat races, hopes were high for a great feature race.  Damon Decker paced the field early and looked strong while doing so.  He couldn't run away from the field, but he wasn't having to fight hard to keep the lead.  That stayed true up until seventh place starter Jerry Lobdell Jr. made his way to the front of the pack.  Lobdell made multiple attempts to get underneath of Decker, but failed to do so.  One of his attempts led to contact between the two, sending Lobdell into a long slide into the infield.  He gathered the car up and the race stayed green, but he lost a bunch of time to Decker and looked to run out of time to get the ground back.  The gap disappeared after some late race yellows and that allowed Lobdell the chance to redeem himself.  He was successful in doing so and finally made the pass down low on Decker.  Lobdell led the remainder of the race and made another trip to Victory Lane when the checkered flag was displayed.
The 600cc Modified feature was another closely contested race.  Chase and Ali Scutt led the field to the initial green flag.  Fourth place starter Brenton Miller made quick work of the cars in front of him and took the race lead in the opening laps.  While he led, James Randall, Chris Jordan, and points leader Jake Waibel worked their way through the field and found themselves joining Miller at the front.  They all threw a bunch of shots at Miller to try to knock him out of the front spot, but none of them were able to get ahead of the #35 machine.  Miller held off all of the advances behind him and made it through a handful of restarts to claim the victory in the 20 lap feature.
As has been the case over the last few weeks, Mike Morse was the class of the field in the Pop's Automotive Factory Stocks.  Mike started in fourth and worked his way to the lead early on.  It wasn't a dominating race for him, though.  Grayson Albanese was ready for a battle this week and would not allow Morse out of his sights.  At one point during the race, Albanese was able to get around Morse and led a few laps.  Albanese fought as hard as he could, but the strength of Morse was too much for him to overcome and he would see Morse's #21 move back around him.  Lapped traffic came into play in the closing laps, but it only allowed Morse to separate himself from Albanese and score the win with a comfortable gap.
This week's Rookie Sportsman feature was very similar to last week's race.  Dane Hedlund brought the field to the green, but a nasty push through the first two turns saw him turn it over to Billy Fiske.  Bryan Pospisil and Michael Roach battled behind Fiske for the second spot before the first caution came out and ended that battle.  Roach made the most out of the ensuing restart and took the race lead away from Fiske.  Roach had to deal with another onslaught of restarts, but just like last week, he held the lead through every single one of them and picked up his second career win in back-to-back fashion.
Taylor Wilk did nothing but dominate the Rookie 600cc Modified feature at the start of the night.  She jumped into the race lead right off of the start and walked away from the field in the six lap feature.  She took the checkered flag by a huge margin to make a return trip to Victory Lane.
The Dirt Modified Nostalgia Tour visited the track for their first and only appearance on the year and competed in two different feature events.  In the first race, Chip Gauthier was the victor after holding off charges from his brother Scott Gauthier in the early part of the race and then Frank Hoard in the closing laps.  The second feature saw Jon Kuleszo work his way up to the race lead in the opening laps after starting back in sixth place.  He refused to be denied once he took control and pulled into Victory Lane with a solid performance.
The month of August will start next Saturday night with another eight division program.  The racing throughout July has been nothing short of fantastic, so hopes are high for that to continue on as we move into a new month.
Finish for July 25, 2020
50/50 – (claimed Rich Powell), Tickets – 795257
Modified – Chris Jordan, Billy Decker, Jimmy Zacharias, Nick Nye, Chris Stull, Brandon Walters, Eric Leet, Cory Costa, Larry Wight, Rusty Smith, Pat Ward, Alan Barker, Ryan Susice, P.J. Goodwin, Kenny Hammond, Jeff Sheely, Jesse Velez, Shaun Walker, John Morse, Rick Wilk, Landon Cummings, Arthur Bray, Bailey Boyd, Ryan Jordan, Marc Goodwin, DNS – Joe August
DIRTcar 358 Modified – Jordan McCreadie, Lance Willix, Larry Wight, Shayne Spoonhower, Ronnie Davis, Colton Wilson, Brandon Walters, Corey Cormier, Dave Marcuccilli, Pat Ward, Darren Smith, Gordy Button, Willy Decker, Michael Stanton, Marshall Hurd, Glenn Forward, Devin Willis, Jeff Taylor, Tom Eiklor, Justin Crisafulil, Nick Krause, Kirk Reynolds
DIRTcar Sportsman – Brandon Carvey, Zach Sobotka, Tom Collins, Alan Fink, Todd Hayward, Sean Beardsley, Mike Button, A.J. Miller, Willy Decker Jr., Garrison Krentz, Isaiah Forward, Matt Meade, Tim Guild, Jack Speshock, Kevan Cook, Ryan Shanahan, Stacy Jackson, Matt Janczuk, Hunter Lapp, Rich Talada, Mike Austin, Will Eastman, Thomas Van Vost, Cody Jackson, Payton Talbot
DNQ – Addison Bowman, Will Shields, David Dickey, Tom Velez, Leon Brockner, Tyler Keener, Matthew Richardson, Bailey Groves, Colby Herzog
Wheeler Excavation Street Stocks – Jerry Lobdell Jr., Damon Decker, Steven Deinhardt, Don Russell, Jake Fowlston, Mike Wilbur, Lanson Albanese, Shane Wolf Jr., Cody Baker, Don Reeves, Earl Zimmer, Chris Cunningham, Cameron Searles, Matt Roberts, Gene Sharpsteen, Craig Kranz, DNS Doug Stack Jr.
600cc Modifieds – Brenton Miller, Chris Jordan, Tom Donahue, Doug Windhausen, Ivan Forney, Justin LaDue, Chace Scutt, Tommy Paige, John Glover, Tom Shiner, Chad Mason, Ali Scutt, Chelsie Beebe, Ryan Hurlburt, Tracy Oliver, Eli Akshar, James Randall, Nick Nye, Devon Green, DQ –Jake Waibel
Pop's Automotive Factory Stocks – Mike Morse, Grayson Albanese, Bob Mills, Buck Mills Jr., Nick Stark, Shane Moshier, Phil Burnes, Sean Sabo, Dave Fetterly, DNS Will Jones
Rookie Sportsman – Michael Roach, Billy Fiske, James Costlow, Blake Sarpriacone, Jake Green, Ray Reynolds, Dane Hedlund, Ernie Staelens, Tim Staring, Jonthan Fowlston, Bryan Pospisil, Jason Lopes, Jamie Kamrowski, DQ Josh Allen
Rookie 600cc Modifieds – Taylor Wilk, Logan LaDue, Josh Kashuba
Dirt Nostalgia Tour 1 – Jon Kuleszo, Kevin, Kuser, Mike Houghtaling, Brad Litzenberger, Kyle Hoard, Andy Cassel, Frank Hoard, Wes Cassel, Duane Hiller, Scott Gauthier
Dirt Nostalgia Tour 2 – Chip Gauthier, Frank Hoard, Scott Gauthier, Myron Hardt, Bill Leonard, Cale Mutter, Mike Cole, Alan McDonald
Thank you for racing with us!