Mike "Mr. Ford" Colsten Memorial POSTPONED
In an effort to include our fans in the celebration of Mike Colsten's 51 year racing career we have postponed the August 16th memorial race until the 2021 season. 
We are still taking lap sponsorships for 2021!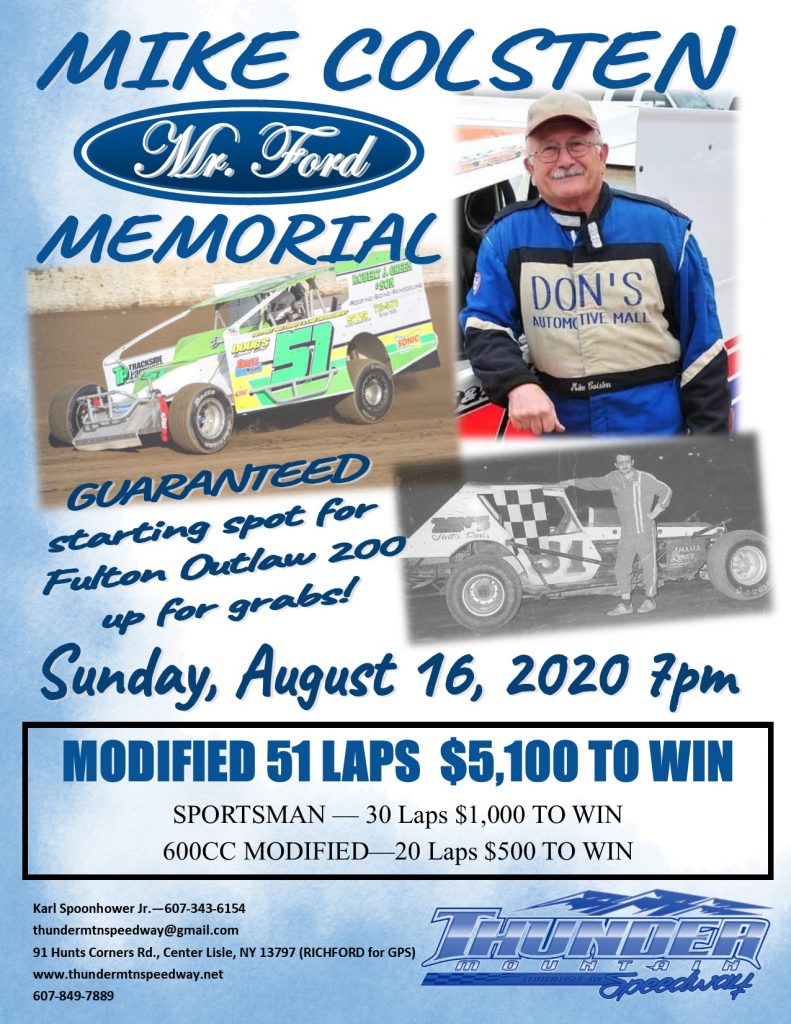 Lap Sponsorships are available! Laps are $51 minimum to commemorate Mike's 51 years of racing his # 51 cars!
THUNDER MOUNTAIN SPEEDWAY
DIG RACE PRODUCTS
ALISSA & NICK
BILLY V ENTERPRISES 
JEREMY WARREN RACING + Mary's Bar & Lounge In Memory of Tim Olenski
JENNIFER OBREMSKI
GRANT HILFIGER
GRANT HILFIGER + REYNOLDS RACING
IN MEMORY OF DIRT MOTORSPORTS HALL OF FAMER MIKE COLSTEN ON BEHALF OF DIRTCAR AND SUPER DIRTCAR SERIES
BINGHAMTON TRUCK & TIRE CENTER – SCOTT LANDERS
 JAMES OSTERHOUT
 REEVES RACING
– 
DICKERSON RACING
–
–
–
–
REEVES RACING & BOYD RACING
JERRY LOBDELL JR RACING

WALKER RACING 

MATHEWS RACING

 

EAGLE RIDGE CONSTRUCTION

$100
–
ENDERS RACING ENGINES $100
VERSUS MONSTER TRUCKS

VERSUS MONSTER TRUCKS

–
BINGHAMTON TRUCK & TIRE CENTER – SCOTT LANDERS
–
–
–
KEENER RACING
SHAYNE SPOONHOWER RACING #34
–
JERRY LOBDELL JR RACING
WHEELER EXCAVATING
–
–
LYNN HIGHHOUSE #98B- "he was a great guy & friend" -$100
POP'S AUTOMOTIVE
PAT LYNCH WILSON RACING -$251
 
AS GOOD AS NEW AUTO + JEREMY WARREN RACING
–
–
THE JENKINS FAMILY
PENDELL COMPANIES
CODY JACKSON RACING + AIRBORNE TOWING & ROAD SERVICES
AIRBORN TOWING & ROAD SERVICES + ENDERS RACING ENGINES $100
BOB WILDONER