RYAN JORDAN TOPS MODIFIEDS ON THE MOUNTAIN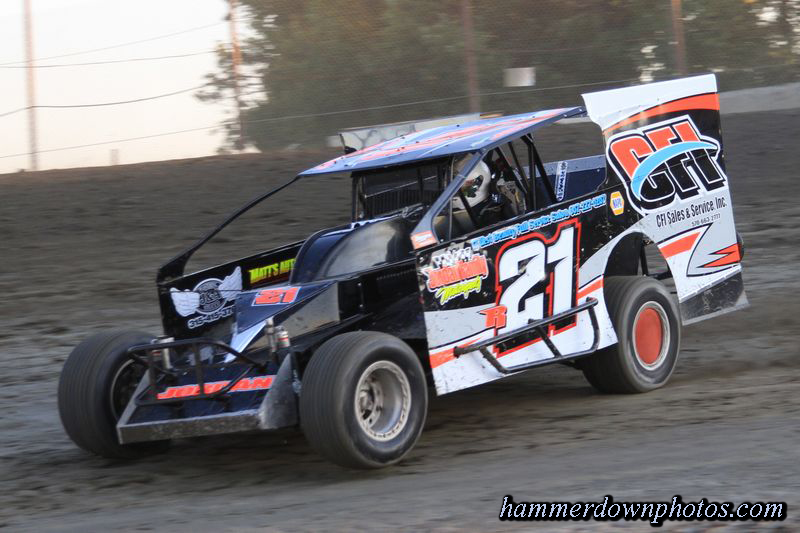 CENTER LISLE, NY – Mark Smith thrilled the Thunder Mountain Speedway crowd on Saturday night.
Smith, the Tower City, Pa., based star, wheeled to victory in the Lucas Oil Empire Super Sprint (ESS) 'Sprint Car Saturday' at the Center Lisle three-eighths-mile oval, his first-career Thunder Mountain score. Smith literally rim-rode around the banked oval in the 25-lap main!
A solid field of 28 360 Sprint Cars signed in for the third edition of the 'Sprint Car Saturday' on the Mountain.
Jason Barney had a final opportunity to unseat Smith on a last-lap restart but settled for second. Barney had won during the May ESS visit to Thunder Mountain.
Joe Trenca, Steve Poirier and Parker Evans, who 17th, completed the front-five.
Middletown, N.Y., driver Brian Krummel wheeled to the CRSA 305 Sprint Car 25-lap victory. Krummel diced through lapped traffic in the final circuits to take the win over Dana Wagner. Eddie Strada, the CRSA point leader, cut through traffic after starting 13th, with Brent Wilcox and J.R. Hurlburt in tow.
There were 24 CRSA Sprint Cars on hand.
After a trying season, Ryan Jordan of Dryden, N.Y., finally reached Victory Lane in the 30-lap big-block/small-block Modified main event. Jordan, driving his family fielded Hig Fab Chassis No. R21, started from the pole and led every lap.
"I have to thank my Dad," Jordan said in Victory Lane. "I wanted to quit so many times this year but he kept encouraging me. I didn't think we were going to get a win this year."
Byron Worthing earned a season-best second-place finish, ending his streak of poor luck. Chad Cook, Alan Barker and Brent Wilcox placed third through fifth, respectively.
Mike Nagel Jr. of Susquehanna, Pa., took a $500 payday home in the 20-lap Crate 602 Sportsman feature. Nagel utilized both the outside and inside lanes on restarts to take the win. Brian Mady drove to second and effectively clinched the Crate 602 Sportsman track championship for the 2016 season. Shayne Spoonhower, Isaiah Forward and Tom Collins Jr. filled out the front five.
Ryan Alsdorf continued his outstanding season in the Rookie Sportsman division, topping a 15-lap main event. Alsdorf adjusted well to the tackier clay earlier in the program, pulling away from the field. Street Stock star Trevor Dudley was second in the Daryl Krebs No. 13K, with Chuck Wheeland, Dan Allen and Connor Spoonhower in tow.
Don Harvey picked up the victory in the 20-lap Empire Lightning Sprint 1000cc event, cutting through traffic with relative ease. Jon Moore, Clint Roehrs, Shilo Boyce and Jerry Sehn trailed.
Chris Kithcart outgunned divisional top gun Will Eastman to win the 20-lap XCel 600 Modified main. Kithcart edged Eastman for the lead and was never headed. Eastman finished second, with Modified star Byron Worthing placing third, followed by Eric Boyd and Dana Davis.
Racing resumes next Saturday, September 10, with Championship Night for all divisions. Modifieds race for $1,500 to win, plus Open Sportsman, Crate 602 Sportsman, Rookie Sportsman, Street Stocks, XCel 600 Modifieds and FWD Four Cylinders.
Gates open at 4 p.m. Hot laps get underway at 6:20 p.m., with racing at 7 p.m.
Adult admission is $12. Seniors (ages 65 and up) and Students (ages 10-17) pay $10. Kids 9 and under are FREE. Pit admission is $35, with no license required.
For Thunder Mountain Speedway general information and a complete schedule, visit www.thundermtnspeedway.com. The speedway office number is 607.657.8202. On race day, call 607.849.7899. The speedway e-mail is thundermtnspeedway@gmail.com. "Like" Thunder Mountain Speedway on Facebook or follow @thundermtnspeed on Twitter.
Thunder Mountain Speedway is located at 91 Hunts Corners Road Center Lisle, NY 13797, approximately 25 miles north of Binghamton. The three-eighths-mile clay oval features hillside concrete seating, free parking and camping, a variety of concession items and novelties, a family environment and more.
THUNDER MOUNTAIN SPEEDWAY 'SPRINT CAR SATURDAY' RACE SUMMARY – SEPT. 3, 2016
Lucas Oil Empire Super Sprint (ESS) Feature Finish (30 laps): MARK SMITH, Jason Barney, Joe Trenca, Steve Poirier, Parker Evans, Jimmy Stitzel, Chad Miller, Pete Richardson, Justin Barger, Tim Axton, Thomas Radivoy, Brandon Kidd, Jeff Cook, Paul Kinney, Coleman Gulick, Paulie Colagiovanni, Matt Tanner, Matt Billings, Dan Bennett, Jonathan Preston, Dave Axton, Steve Collins, Chuck Hebing, Jared Hortsman.
CRSA 305 Sprint Car Feature Finish (25 laps): BRIAN KRUMMEL, Dana Wagner, Eddie Strada, Brent Jaycox, J.R. Hurlburt, Dalton Herrick, Josh Flint, Kyle Smith, Thomas Radivoy, Johnny Smith, Tyler Jashembowski, Sydney Prince, Mike Kiser, Christian Rumsey, Kelly Hebing, Rick Stone, Craig Pellegrini, Josh Pieniazek, Michael Walsh, Frank Connelly, Emily Van Inwegen, Jeff Trombley, Dustin Purdy, Peter Dance.
Modified Feature Finish (30 laps): RYAN JORDAN, Byron Worthing, Chad Cook, Alan Barker, Brent Wilcox, Danny Creeden, Cory Costa, Nick Nye, Colton Wilson, Jeremy Smith, Brian Malcolm, Barry White, Geordie Decker, Sam Allen, Mike Trautschold, Nick Mady, Cole Price, Mike Wilbur Jr., Alyssa Cody, Randy Brokaw, Brad Shaffer, John Morse, Butch Green.
Crate 602 Sportsman Feature Finish (20 laps): MIKE NAGEL JR., Brian Mady, Shayne Spoonhower, Isaiah Forward, Tom Collins, Daryl Krebs, Kinser Hill, Allen James, Brenton Miller, Rich Powell, Derek Cormier, T.J. Frost, James McIntyre, Pat Parker, Alyssa Cody, Bob Stahl, Kimberlee Morgan, Tyler Keener, Jake Granacker, Dustin Jordan.
Rookie Sportsman Feature Finish (15 laps): RYAN ALSDORF, Trevor Dudley, Chuck Wheeland, Dan Allen, Connor Spoonhower, Dylan Robbins, Anthony Rundell, Matt Sherwood, Beth Brokaw, Corey Cormier.
Did Not Start: Dave Fellman.
Empire Lightning Sprint Feature Finish (20 laps): DON HARVEY, Jon Moore, Clint Roehrs, Shilo Boyce, Jerry Sehn, Lou Torres, Phil Besette, Rohan Beasley, Jesse Pruchnik, Kurt Conklin, Rick Stone, Nick DeNyse.
Did Not Start: Josh Chess, Doug Norrie.
XCel 600 Modified Feature Finish (20 laps): CHRIS KITHCART, Will Eastman, Byron Worthing, Eric Boyd, Dana Davis, Bailey Boyd, Kamdin Maby, John Burnside, Jamie Frantz, Dakota Anderson, Jacob Waibel, Jared Green, Chris Jordan, Joe McCabe.