Thunder Mountain Honors Champions at 2016 Banquet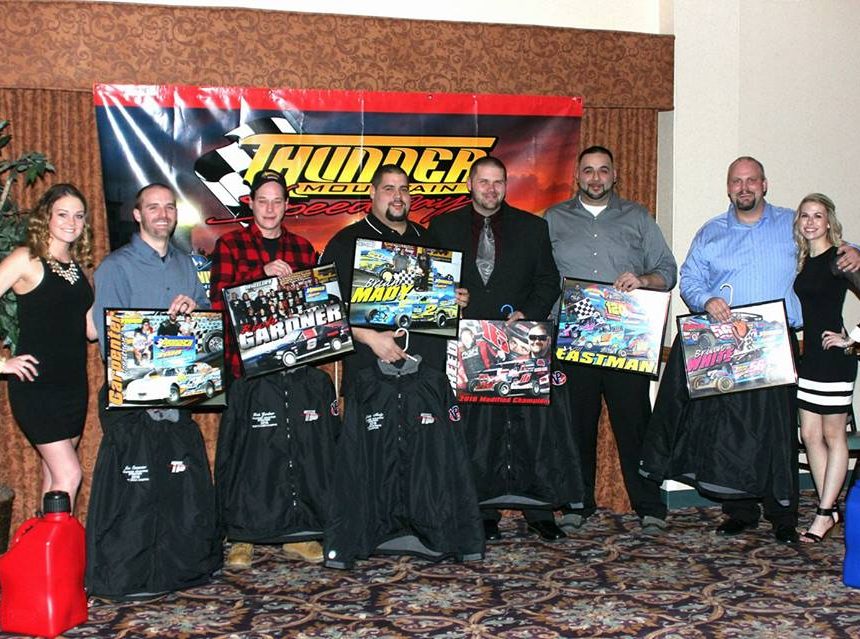 OWEGO, NY – The 2016 season at the Thunder Mountain Speedway officially came to a close on January 28 as the track honored its champions at the annual season ending awards banquet at the Owego Treadway.
Danny Creeden earned his first ever title at the facility in a hard fought battle with Chad Cook. Creeden capped off his 2016 title run by winning the Short Track Super Series event on September 23. Cook settled for second with Alan Barker, Brian Malcolm and Ryan Jordan completing the top five. Jeremy Smith, Brent Wilcox, Nick Nye, Colton Wilson and Barry White rounded out the top ten in Modified points.
Brian White earned the big trophy for his title run in the Open Sportsman division. White scored 784 points to Chance Sponnhower's 759. Eddie White, Chris and Kevin Jordan completed the top five. In the Crate Sportsman division, Brian Mady was honored as the top point getter with 775. Mady had a strong season beating out Mike Nagel Jr. Tom Collins ended up third with Isiah Forward and Shayne Spoonhower tied for fourth. In the Rookie Sportsman ranks, Dan Allen was high point man by six points over Ryan Alsdorf. Connor Spoonhower, Landon Cummings and Jason Beebe made up the rest of the top five.
The 2016 Street Stock point title went to John Carpenter. Carpenter was chased by Shane Wolf for much of the season with Carpenter proving to be too much. Carpenter scored an impressive 874 points to Wolf's 773. Trever Dudley, Earl Zimmer and Matt Spencer were others in the top five.
Rich Gardiner was honored for his track championship in the 4 Cylinder Stock division while Will Eastman earned the title for the Xcel 600 Modifieds.
For Thunder Mountain Speedway general information and a complete schedule, visit www.thundermtnspeedway.net. The speedway office number is 607.657.8202. On race day, call 607.849.7899. The speedway e-mail is thundermtnspeedway@gmail.com. "Like" Thunder Mountain Speedway on Facebook or follow @thundermtnspeed on Twitter.
Thunder Mountain Speedway is located at 91 Hunts Corners Road Center Lisle, NY 13797, approximately 25 miles north of Binghamton. The three-eighths-mile clay oval features hillside concrete seating, free parking and camping, a variety of concession items and novelties, a family environment and more.
PHOTOS FROM EVENT