JIMMY GRANT WINS SINDONI MEMORIAL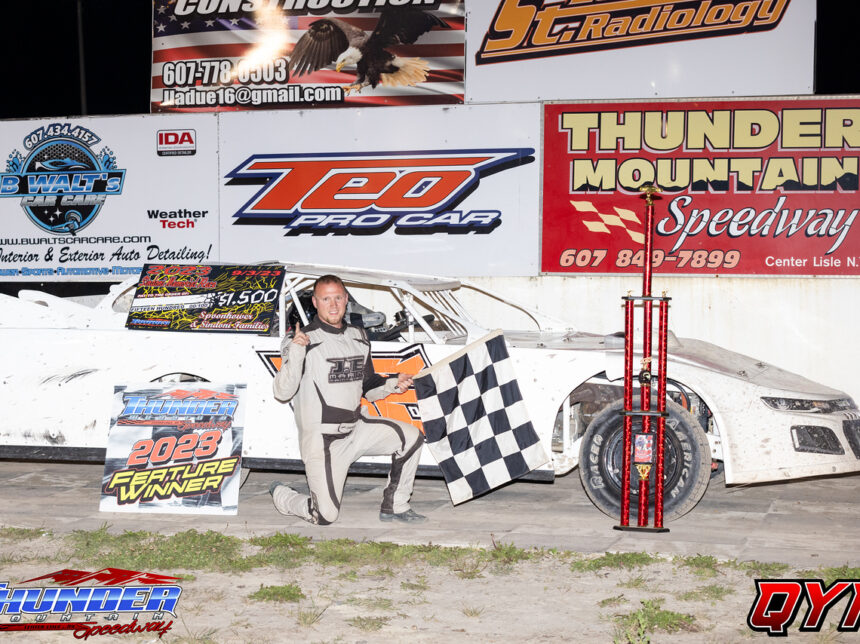 Center Lisle, NY- Sunday's Chad Sindoni Memorial brought an awesome night of racing to Thunder Mountain Speedway. Fans packed the stands for the final night of the 2023 season.
Jimmy Grant scored the victory in the street stock division with Gene Sharpsteen hot on his heels. Shane Wolf, Doug Stack Sr, and Jon Carpenter rounded out the top five.
Jimmy Zacharias grabbed the top spot in the DTDTV modified division from his 7th place starting position. Tommy Collins, Brian Malcolm, Dan Creeden and Matt Meade rounded out the top five.
Mikey Smith found victory lane in the NY6A sprint feature. Johnny Smith, Kirsten Petti, Ivan Forney and Cameron Wise finished the top five.
The DIRTcar Sportsman saw Randy Brokaw bring home his third Thunder Mountain victory of the season followed by Kreg Crooker, Jared Green, Ray Leonard and Mike Nagel Jr.
The Pop's Automotive Factory Stock win went to Rich Sharpsteen. Mike Morse, Eric Beach, Frank Mills Jr, and Jordan Towner finished the top five.
Track champion Tom Donahue grabbed the final race win in the B Walt's Car Care 600cc Modified
division. Jake Waibel, Owen Mossow, Devon Green and Doug Windhausen rounded out the top five.
The 4CYL Stock division win went to Nathan Powers followed by Eric Brigham, Willy Easling, Eric Rowley, Brad Delamater.
We want to thank all of our fans, drivers and sponsors for their support this season. A special thanks to the Sindoni family and the Stack family for choosing Thunder Mountain for this race. We look forward to another great year in 2024!
Results:
NY6A Sprints –
Mikey Smith, Johnny Smith, Kirsten Petti, Ivan Forney, Cameron Wise, Eric Wise, Matt Foster, Zach Bobbett, Chuck Bruce, Kyle Pierce, Will Fisher, Dave Johnson, Zack VanNorsstrand, Billy Applebee, Jayden Flora, Jason Moll, Jeff Tinkham, DNS Kyle Morrow, Jerry Gurney
DTDTV Modified
Jimmy Zacharias, Tom Collins, Brian Malcolm, Danny Creeden, Matt Meade, Eric Leet, Shannon Whaley, Jason Andrews, Landon Cummings, Bailey Boyd, Tom Eiklor, Dane Hedlund, Luke Powell, Rich Powell
Street Stock
Jimmy Grant, Gene Sharpsteen, Shane Wolf Jr, Doug Stack Sr, Jon Carpenter, Doug Stack Jr, Charlie Fulton, Jerry Lobdell Jr., Kurt Decker, Damon Decker, Jason Rhodes, Lenny Kobe, Mike Wilbur Sr., Mike Wilbur Jr., Don Russell, Brian Rhodes
DIRTCar Sportsman
Randy Brokaw, Kreg Crooker, Jared Green, Ray Leonard, Mike Nagel Jr., Daryl Krebs, Dale Folejewski, Tony Finch, George Schweigard, Dane Hedlund, Joe Wilcox, Dylan Hartman, Avery Decker, Scott Torbitt, Ace Prentice Jr., Todd Falter, Jerry Roys, Tres Palmer, Tim Falter, Jamie Kamrowski, T.J. Frost, DNS Nate DeGraw
Pop's Automotive Factory Stock
Rich Sharpsteen, Mike Morse, Eric Beach, Frank Mills Jr, Jordan Towner, Mitch Quail Jr., Buck Mills III, Devin Sweat, Buck Mills Jr., Rich Green, Austin Baldwin, Justin Lovejoy, Jason Beebe
B Walt's Car Care 600cc Modified
Tom Donahue, Jake Waibel, Owen Mossow, Devon Green, Doug Windhausen, Anthony Desimone, Nick Johnson, Chelcie Beebe, Logan LaDue, Jonathan Fowlston, Tim Cornell, Justin LaDue, Sam Usborne, DQ – Ryan Jordan, James Randall, P.J. Goodwin
4CYL Stock
Nathan Powers, Eric Brigham, Willy Easling, Eric Rowley, Brad Delamater, Kenneth Evans, Nick Galusha, Mike Jenks, Chris Bonoffski, Collin Mills, Colbie Lockwood, Richard Wagner, Scott Beach, Jesse Lovejoy, Dakota Fuller, David Jenkins, DNS Stephen Burdick, Shawn Mattes
50/50 – 20648767