BARKER FINDS VICTORY AT THUNDER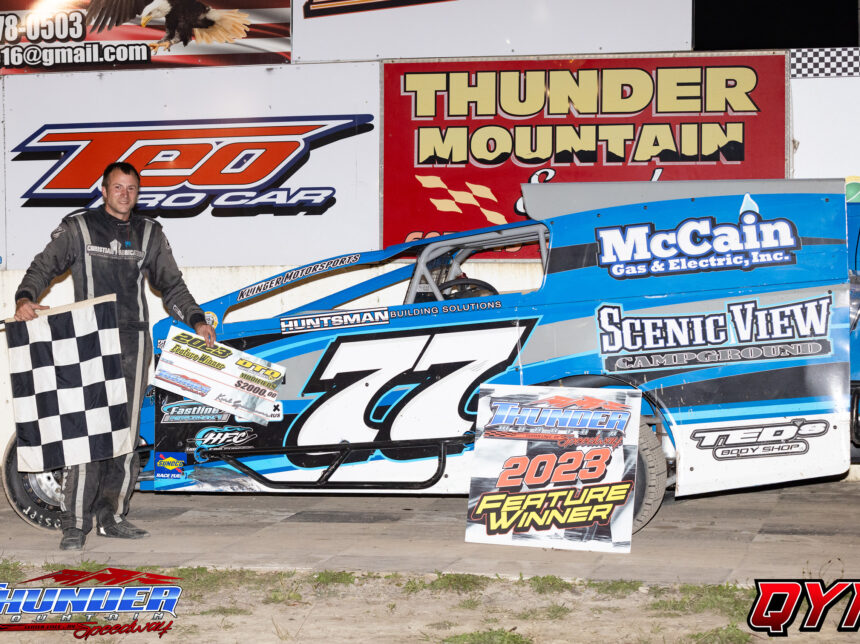 by Dylan Decker
Center Lisle, NY – The mild weather made for some excellent racing Saturday night on the mountain. The Dirt Nostalgia tour returned to showcase the cars of yesteryear. Joe August and Bill Leonard set the pace. Luck was not with August as he succumbed to a flat right rear. Leonard hung on to get the win.
The B-Walt's Car Care 600cc Modifieds saw Logan LaDue grab the early advantage over Nick Johnson's #52. Tommy Donahue started 8th and worked his way to third in just three laps. A couple cautions aided Donahue in reeling in LaDue and by lap 16 he was able to overtake him for the win.
In the factory stocks, Buck Mills Jr took the early advantage and showed the fast way around the track. Rich Sharpsteen battled to get by Mike Morse while Jeremie Hale Jr. and Caleb Clark got together to draw the first caution. Austin Baldwin and Mike Chilson brought out caution number two on lap 4 and lap 6 saw Clark bring out the final caution of the evening. Morse would fall back to fifth with Sharpsteen taking home the win.
The DIRTCar Sportsman saw points leader Jordan Millard start on the pole and pull away to take the early advantage. Dane Hedlund washed up the speedway and lost ground to give an advantage to the rest of the competitors. The class went green flag to checkered with no cautions. Millard went on to lead every lap.
The Dirt Track Digest TV Modifieds put on an excellent show. Garrett Rushlow, flyin Brian Malcom and Landon Cummings battled for the number one spot with Cummings taking the early lead. By lap 13, Eric Leet found the top five after starting 12th. Cummings would run into lapped traffic spelling trouble as he spun on lap 19. Malcom took the lead but Alan Barker, working the top side, would eventually pass him with five to go. Barker and Malcolm continued their battle with the high side hustler, Alan Barker, taking the win.
The Street Stock division started with the Nineveh nightmare, Damon Decker, on the outside trying to take the lead from Don Russell. Battling for second was mean Gene Sharpsteen. Captain Kurt dog Decker and Jerry Fassett Jr got together in turns 1 & 2 to bring out the first caution. Kurt would recover with a top five finish. Sharpsteen would take the lead with Damon Decker in hot pursuit. The two would battle with Decker prevailing over Sharpsteen for his third win of the season.
Dylan Hartman and Chance Spoonhower Jr would pace the field in the Rookie Sportsman division. Spoonhower and Avery Decker would make contact as Avery battled for second but both continued without caution. Decker would lose his winning streak as Hartman maintained the race lead to bring home the win without any cautions.
Next week is the kids power wheels competition along with a full show! Please pre-register your child by messaging our Facebook page. There are three classes – "parent powered" remote controlled class, ages 5-6 and ages 7-8. This event is sponsored by the Windhausen family.
Full Finish Results:
DTDTV Modified
Alan Barker, Brian Malcolm, Eric Leet, Jimmy Zacharias, Darren Smith, Will Shields, Rusty Smith, Bailey Boyd, Jeremy Smith, Shayne Spoonhower, Nick Nye, Brandon Walters, Tyler Siri, Tom Collins, Ken Hammond, Tom Eiklor, Casey Plummer, Matt Meade, Landon Cummings, Garrett Rushlow, Dane Hedlund
Dirt Nostalgia
Bill Leonard, Andy Cassel, Duane Hiller, Marty Bunker, Dan Karl, John Wood, Joe Makowski, John West, Frank Brown, Joe August Jr., Ace Prentice, Dan Morten, Matt Larrivee, DNS – Rich Leonard
Street Stock
Damon Decker, Gene Sharpsteen, Jerry Lobdell Jr., Brian Rhodes, Kurt Decker, Don Russell, Bubba Peters, Don Reeves, Shane Moshier, Charlie Fulton, Jerry Fassett Jr
DIRTCar Sportsman
Jordan Millard, T.J. Frost, Cody Jackson, Dana Davis, Gordon Smith, Randy Brokaw, Byron Worthing, Jamie Kamrowski, Bobby Sweeney, Greg Morgan, Dane Hedlund, Ray Leonard, Will Eastman, Dale Folejewski, Wyatt Frink
Factory Stock
Rich Sharpsteen, Buck Mills Jr, Kurtis Stickles, Jason Beebe, Mike Morse, Billy Shoemaker, Mike Chilson, Buck Mills III, Jason Wood, Austin Baldwin, Jeremy Hale Jr., Caleb Clark, Jacob Fowlston, Mitch Quail Jr., DNS- Jason Rhodes
B Walt's Car Care 600cc Modified
Tom Donahue, Logan LaDue, James Randall, Tyler Talada, Samual Hubbard, Jake Waibel, Anthony Desimone, Doug Windhausen, T.J. Smith, Nick Johnson, Chelcie Beebe, Justin LaDue, Ali Scutt, Bumps Scutt, Benny Shaw, P.J. Goodwin, Christian Hafl, Owen Mossow, A.J. Tuttle, DNS – Chace Scutt
Rookie Sportsman
Dylan Hartman, Chance Spoonhower Jr., Avery Decker, Amanda Scholtisek, Ace Prentice Jr.