CHAMPIONS CELEBRATED, 2022 REMEMBERED AT THUNDER MOUNTAIN SPEEDWAY BANQUET.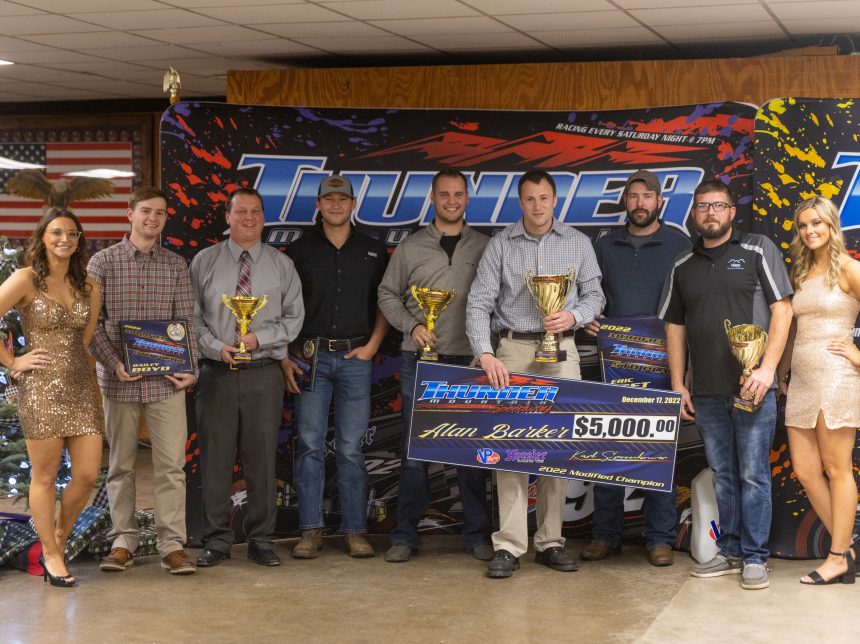 MARATHON, NY – The 2022 racing season at Thunder Mountain Speedway was celebrated this past Saturday with the annual Thunder Mountain Speedway Banquet. Champions were crowned, awards were given, and many in attendance went home with a few extra Christmas presents to stash under the tree.
Before we recap the ceremony inside the Marathon Civic Center, Thunder Mountain Speedway would like to take this opportunity to remember one of our own. "Four-Wheeler" Bob Wildoner tragically passed on this weekend. Bob was always ready with a smile in the pit area, and his flags on the backstretch. He was always prepared to step in to offer a helping hand on and off the racetrack. We will all miss him dearly, and we send our deepest condolences and prayers to his family and friends.
Calling hours for Bob will be held January 2nd from 4-6pm at Thomas J. Shea Funeral Home at 137 Robinson Street in Binghamton. A brief memorial service will be held afterwards.
The night started off with some major announcements for the Speedway in 2023. After a discussion with drivers, Thunder Mountain Speedway will be committing to Hoosier racing tires in 2023.
The DIRTcar 358 Modifieds and Open vs Crate Sportsman will no longer be classes at the Speedway. Sportsman will remain DIRTcar sanctioned in 2023,
The Dirt Track Digest TV Modiifieds purse will increase in 2023. All races will pay a minimum of $2,000 to win and $200 to start.
The B-Walt's Car Care 600cc Modifieds will race for an increased purse in 2023, racing for $500 to win and $70 to start.
Pop's Automotive Factory Stocks will receive a boosted purse, racing for $300 to win and $50 to start.
The track will be purchasing new clay from the Syracuse area for a brand-new racing surface in 2023.
Multiple special awards were given out to exemplary drivers and teams at the Speedway.
Two raffles for a 2023 Teo Pro Car and a 2023 Season Pass to Thunder Mountain Speedway were held. Tom Eiklor won the Teo and Rusty Smith won the season pass. Thank you to Teo for your continued support of the Thunder Mountain Speedway!
Rookie of the Year awards presented by CB Performance were earned by Doug Smith (DIRTcar 358 Modified), Matt Meade (Dirt Track Digest TV Modifieds), Gordon Smith (DIRTcar Sportsman), and Dominick Albanese (Pop's Automotive Factory Stocks).
Dedication to Racing awards were won by Buck Mills Jr., Andy and Terry Cummings, and Jeremy Smith for their determination to race and support of the Thunder Mountain Speedway.
Car Owner of the Year was won by Nick Lapp. Nick is Hunter Lapp's father and owns the No.60 Hunter wheeled to a championship in 2022.
Points award winners for the 2022 season at Thunder Mountain Speedway are as follows;
Dirt Track Digest TV Modifieds:
CHAMPION: ALAN BARKER, 2nd Jimmy Zacharias 3rd Darren Smith, 4th Rusty Smith, 5th Eric Leet, 6th Nick Nye, 7th Jason Andrews, 8th Bailey Boyd, 9th Garrett Rushlow, 10th Matt Meade
DIRTcar 358 Modifieds:
CHAMPION: SHAYNE SPOONHOWER, 2nd Rusty Smith, 3rd Lance Willix, 4th Connor Sellars, 5th Tom Eiklor
DIRTcar Sportsman:
CHAMPION: HUNTER LAPP, 2nd Alan Fink, 3rd Will Eastman, 4th Cody Jackson, 5th Gordon Smith, 6th Jamie Kamrowski, 7th Mike Austin, 8th Dane Hedlund
B-Walt's Car Care 600cc Modifieds
CHAMPION: JAKE WAIBEL, 2nd Doug WIndhausen, 3rd Tom Donahue, 4th Justin Ladue, 5th Chris Jordan, 6th Tracy Oliver, 7th Ali Scutt, 8th Devon Green, 9th Bumps Scutt, 10th TJ Smith
Wheeler's Excavating Street Stocks
CHAMPION: JERRY LOBDELL JR., 2nd Trevor Dudley, 3rd Shane Moshier, 4th Mike Wilbur Jr., 5th Don Reeves
Pop's Automotive Factory Stocks
CHAMPION: BUCK MILLS JR., 2nd Jason Rhodes, 3rd Dominik Albanese, 4th Bob Mills, 5th Frank Mills Jr., 6th Lanson Albanese
Open VS Crate Sportsman
CHAMPION: LUCAS KASTENHUBER, 2nd Trey Palmer, 3rd Stephen Winsor, 4th Jonathan Fowlston, 5th Greg Morgan, 6th Dylan Hartman
Thank you to all of our racers, fans, and supporters who spent their summers on the Mountain in 2022. We look forward to welcoming you back in 2023 for what promises to be an exciting year of racing, family, and friends at Thunder Mountain Speedway.