TIGHT POINTS BATTLES TO BE DECIDED SATURDAY AT THUNDER MOUNTAIN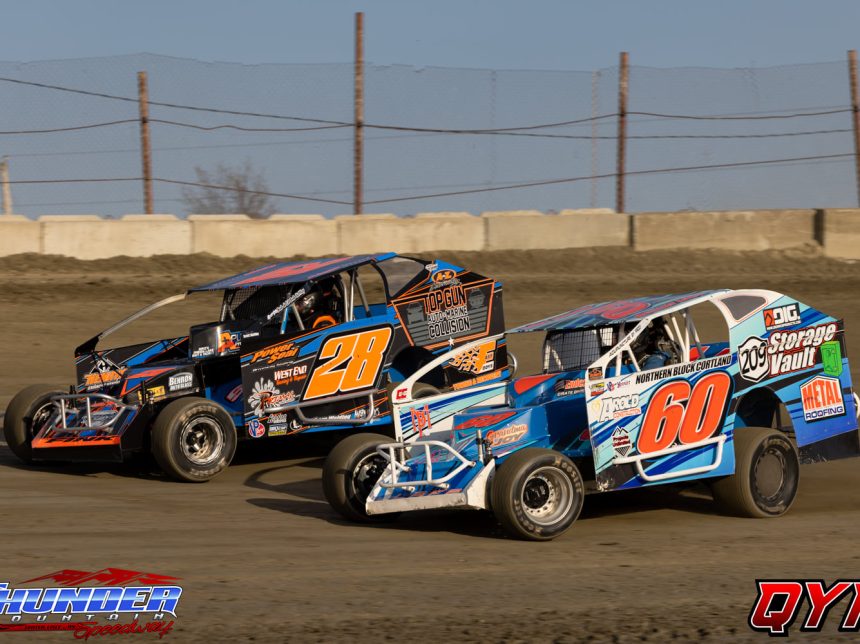 LISLE, NY – Thunder Mountain Speedway is set to end the 2022 season with a bang Saturday night on Championship Night presented by Timberwolf Firewood Processing Equipment! Here's a look at some of our points battles heading into the final night.
Alan Barker is in the catbird seat for the Dirt Track Digest TV Modifieds. A second-place run for Barker last week stretched his points lead to 19 over over Jimmy Zacharias and 24 over Darren Smith. These three are the top contenders for the title. Nick Nye and Rusty Smith are still technically mathematically eligible for the title, but will require extraordinary circumstances to be able to claim the title. If Barker does not run into any trouble Saturday, he will likely be champion. Zacharias or Smith will need a top three and misfortune for Alan Barker.
It's a similar story for the DIRTcar 358 Modified points standings. Shayne Spoonhower is thirty points clear of Lance Willix in the points standings. Rusty Smith and Connor Sellars are thirty-eight and thirty-nine points behind respectively. If there is a large field and Spoonhower faces problems, the championship picture could be cracked wide open between Willix, Smith, and Sellars. However, if Spoonhower unloads and has a clean night, he will likely be the champion.
A tight race in the DIRTcar Sportsman points standings between Hunter Lapp and Alan Fink has shifted in favor of Lapp in the closing weeks. Lapp rattled off a handful of wins, while Fink has suffered misfortune on more than one occassion after an incredible start to the season. Lapp is twenty-five points clear of Fink in the standings, with those two the only contenders in the championship battle. If Lapp runs into trouble and finishes down the order, that could give Fink the title if Fink wins or finishes somewhere in the top three depending on how far down the order Lapp finishes.
The B-Walt's Car Care 600cc Modifieds points title is almost a free for all. Points leader Jake Waibel has an eleven point lead over the field, which is much needed insurance as the battle behind him is a tight one. Doug Windhausen, Chris Jordan, Tom Donahue, and Justin LaDue are all separated by just ten points. If Waibel runs into any sort of trouble, the title is up for grabs. If Waibel finishes outside of the top five and Windhausen wins, Windhausen is the champion. If he does not win, Windhausen needs to finish at least six spots ahead of Waibel to win the title.The situation is similar for Jordan, Donahue, and LaDue, who will need misfortune for the top two and at minimum a top five finish and finishing ahead of the other contenders to take the title.
The Wheeler's Excavating Street Stock points battle is not for the title. Jerry Lobdell Jr. has won ten races in a row, and locked up the title weeks ago. Shane Moshier is in second at 511 points, but Trevor Dudley sits third at 492 points. If Moshier runs into trouble and Dudley finishes in the top three, Dudley could swipe second in the last event of the year.
The Pop's Automotive Factory Stock race for the championship features two contenders. Buck Mills Jr. leads by 14 points over Jason Rhodes. With bigger car counts in previous weeks, this could spell trouble for both Mills Jr. and Rhodes. If Mills Jr. or Rhodes get caught up in trouble, that could spell the end of their points title hopes. A clean night for Mills Jr. wins him the title, if Mills Jr. has a problem, Rhodes can win the title a top three finish depending on where Mills Jr. finishes
The Open vs Crate Sportsman Champion will be Lucas Kastenhuber. Kastenhuber will claim the title by starting Saturday's feature event.
Heat race points are also on the line. Five points goes to the race winner, with four going to second, three going to third, two going to fourth, and one point going to fifth. Heat races are not just for start position on Saturday; a bad run will not only leave you deep in the field, but also behind in the points.
Come on out and join us for our final night of action on the Mountain. Tickets are $15 for adults, $10 for Students/Seniors/Veterans, and kids 9 and under are free!
This week's racing action is presented by Timberwolf Firewood Processing Equipment. Located in Marathon, NY, Timberwolf builds high performance logging and firewood equipment for residential and commercial usage. Visit their website Timberwolfequip.com for their full inventory of equipment.