Climbing The Mountain with: Hunter Lapp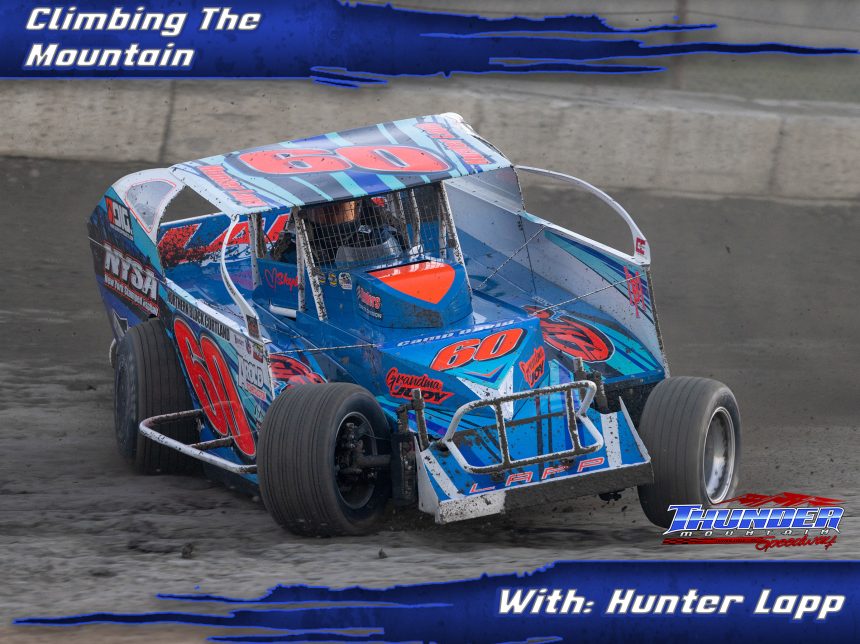 LISLE, NY – The DIRTcar Sportsman class at Thunder Mountain Speedway is full of young stars. Some are just starting out in their racing career, while some drivers have already spent a good chunk of their childhood behind the wheel. Hunter Lapp falls into the latter category, already having five years of big car racing experience at only 18. The current points leader for the 2022 DIRTcar Sportsman championship is this week's feature on Climbing The Mountain.
Lapp's career started out just like many other young racers career's have in recent years. Lapp, along with fellow Sportsman racer Jake Mason, started out in the Slingshot class.
" I got a Slingshot as a gift for graduating elementary school.", Lapp said. "I raced those until I was twelve, then started racing a Sportsman at 13."
The Slingshot gave the young Lapp a shot at racing, which he gladly took. He ran with the class for about half of his career to this point. There were many ups and downs, but one of the highest peaks came right at the very end.
"We raced the All-Star Slingshot tour for three years and never won", Lapp reflected. "The tour went to Oakland Valley our last year, and we finally got a tour win at the end. That was one we had circled on the calendar from the moment we started running the Tour."
Lapp may be a young racer, but he has a fairly sizeable career to look back on already. He hasn't been limited to success in just Slingshots either. Lapp toured with the Short Track Super Series North Region Sportsman tour in 2021, and is already a multi-time feature winner at Thunder Mountain with the DIRTcar Sportsman class. Lapp has also had success at some of the biggest events for the class.
"There's a lot of memories like that over my racing career", commented Lapp. "In a Sportsman, it's probably when we went to Middletown for the first time when I was 14. We put it on the pole for the 2018 Eastern States Sportsman race. That was huge for us then and still is now when we look back."
Lapp's success has fueled a competitive spirit. Lapp's blue No.60 has lately been seen up front quite often at Thunder Mountain. Winning is often difficult at Thunder Mountain, however. Experience matters; drivers making their first visits or in their first year of points competition often struggle. Lapp has enough experience under his belt to contend for the title this year. His competition is stiff to put it mildly. Alan Fink, the defending track champion, is a seasoned veteran of the class who has won just about anywhere and everywhere either in the Mike DeFreitas owned No.8 or his own No.28.
Lapp hasn't been fazed so far in 2022, especially in the past few months. Fink started off the year hot, grabbing two in a row to start the year. Lapp remained consistent, clicking off top fives. Lapp won his first race of 2022 on July 16th, and since then he has not finished worse than second. He finished second this past Saturday night, and won the week before.
"I would love if we could win every week.", Lapp commented. "We have such a great race car this year. A top three is the goal every night. We're a little disappointed if we can't finish up there. The competition is very even here, everybody is pretty fast around this place. That makes it tough."
Lapp's racing career is still young. Lapp may be at another crossroads in his career. Lapp just finished up high school, and is far removed from being the 'young rookie' driver type. The future isn't uncertain, as it's clear that Lapp is going to continue racing. Lapp and family are the type of team to take it just a little bit at a time, while waiting to see what might come along in the future.
"I'm not sure what the big end goal is to be honest", said Lapp. "I just want the opportunity to win for as long as we can. My parents and my sponsors have really put together a great program for me and we're having a great time. I'll be really, really happy this year if we can pull of a championship. Even if we didn't win a single race this year, that wouldn't have mattered to me if we won the championship anyways."
Lapp has spent the past few years of his career at Thunder Mountain. The Lapp family spends their Saturdays at the speedway, often staying over the night in a camper. For Hunter and his family, they wouldn't want to be anywhere else.
"This is a great place to race", added Lapp. "The pay is great, which is huge during these tough times for everyone. The purse here is really good, especially compared to most of the area racetracks. The Spoonhower's take care of you no matter what. We're glad to be here."
Hunter Lapp resumes his points battle with Alan Fink this Saturday, August 20th when the CRSA Sprint Cars roll into town, joining a full card of racing. Hot Laps will start at 6:00pm with racing to follow.