CLIMBING THE MOUNTAIN: with Rusty Smith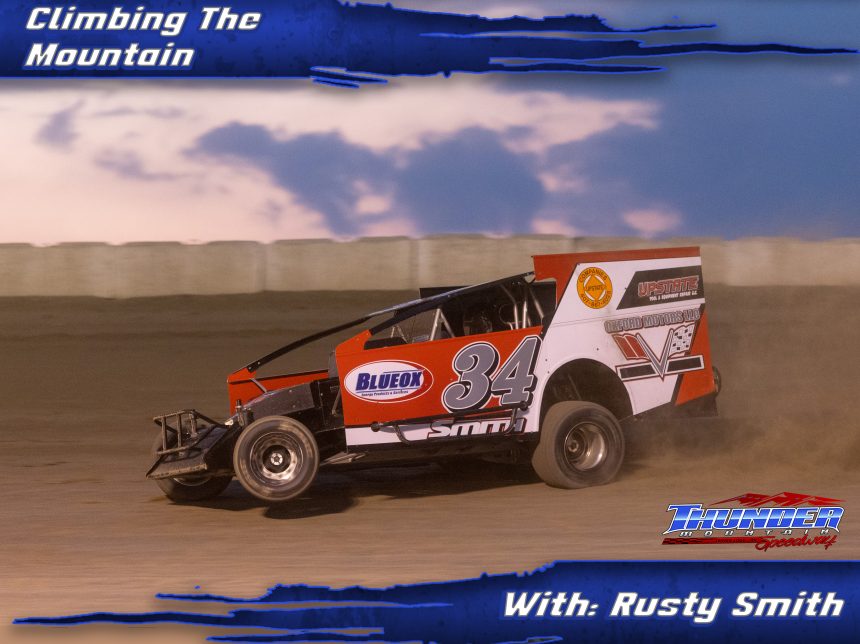 LISLE, NY – Many people say that no two racers are exactly alike. Racers load up and head to the track for a variety of reasons. For some, it's a fun weekend hobby that quenches a thirst for speed and adrenaline. Sometimes it's a family tradition handed down from generation to generation. For others, racing is more than just a hobby or a weekend getaway; it's a way of life. Whether it's on pavement or dirt, there's a good chance that Rusty Smith has raced it. This week on Climbing the Mountain, we sit down with Rusty Smith to learn more about the career racer.
Smith has been racing as long as he can remember. Even from the very start of his career, Smith called the Southern Tier his home.
"I started when I was six years old in Greene with a go-kart", said Smith. "It was there where we caught the bug. Clearly, it's been hard to get rid of. For most of my career up until now, we raced at Shangri-La Speedway on asphalt until they closed. We traveled doing the asphalt stuff for years. We went anywhere we could."
If there was a race to run with the pavement modifieds, the Smith team ran it. They traveled up and down the east coast, racing with the best of the best. However, as the years rolled by, priorities for Smith and team were starting to change.
"I realized I was missing moments with my family", said Smith. "My kids were getting older, I was missing sports games, and wanted to stay close to home. We sold all of our asphalt stuff and switched to dirt racing so we could race without traveling as much. That was our big reason to switch. Many of the problems asphalt racing faces now didn't start becoming a problem until after we switched. We got lucky with our timing."
Despite the success that Smith has found in his racing career, dirt racing has been a new challenge to the Smith Racing team. While Smith has clicked off race wins and has been a competitor for points championships in the past, the team is always learning something new.
"Since we went dirt racing, our main goal has been to make the race and run all of the laps", said Smith. "I believe if you can do that, you'll end up wherever you are supposed to end up. The issue we've had with the switch to dirt is that one night you can show up to the track and be the most dominant car by miles. You go home, wash it, bring the exact same car back and run eighth. It's so tough to be dominant in the Southern Tier. Nobody has really dominated this area in then years we've been running."
The Smith Racing team is a sizeable operation. The team has Rusty's modified, son Gordon's sportsman, and also houses Dave Dickey's sportsman cars. It's a grind during the week for the team to make it to the race track.
"For Gordon, we've been getting him to qualify for races, run all the laps, and get track time", said Smith. "For me, if we get to run all of the laps with no issues, we're okay with that. I've done a lot of cool stuff in racing. If we go out and finish sixth, it's far from the end of the world. I hate crashing my car and tearing stuff up. We've had that happen a few times this year, but we're still able to push it into the trailer and fix it. I like my cars to look nice."
For the Smith Racing team, it makes perfect sense to race at Thunder Mountain Speedway. The track is local, allowing more time to be spent at home with family, which is very important to Smith and his team.
"I like to race for points somewhere", said Smith. "It feels empty if you take a night off and you're sitting in front of a TV or on your phone at a campsite watching the races. I like the thought that the family owns the racetrack. A lot of tracks in New York and the Southern Tier aren't like that. It's either some big-time guy with money or a promoter has to lease the facility from someone else and run it. Here, it's all done by the Spoonhower family. We like to support a place like this because you can tell it means way more to them when it's family owned. When they put something into the facility, they can see a direct return on their investment. It means a lot to me personally. We get more than our monies worth here every Saturday night."
Rusty Smith and the Dirt Track Digest TV Modifieds return to action on Saturday, July 23rd for our 30th Anniversary Celebration! We hope to see you at the race track tomorrow to celebrate with us and see an action-packed card of racing.