CLIMBING THE MOUNTAIN with: Eric Leet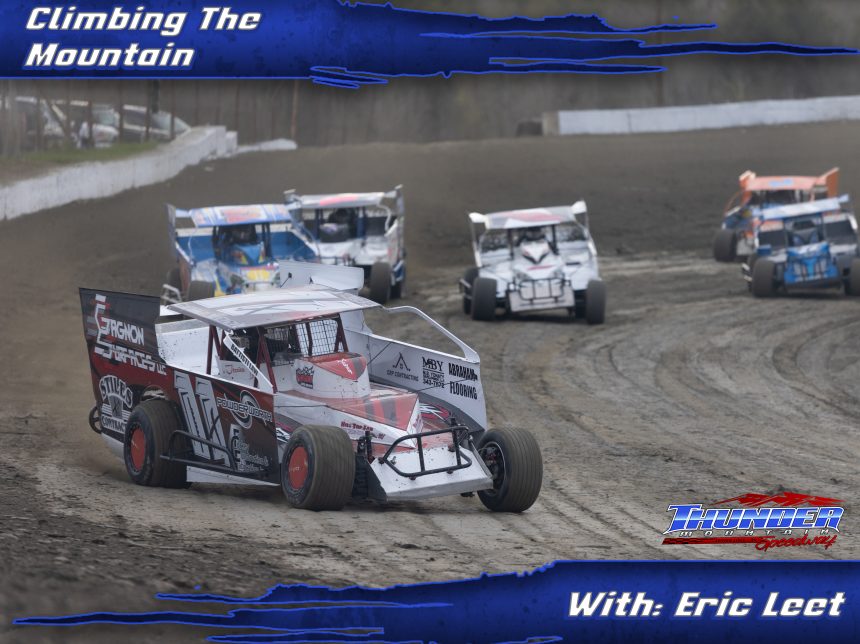 LISLE, NY – A quick look at points standings at the Thunder Mountain Speedway shows what could be up to a seven car battle for the Dirt Track Digest TV Modified points championship. Eric Leet is one of those drivers fighting for the modified crown. The "Marathon Man" might be from Marathon, but his nickname may be more fitting for his incredible consistency week in and week out. This week on Climbing The Mountain, we get to know Eric Leet.
Leet's career centers around the Thunder Mountain Speedway, despite the fact that Leet spent some time away from racing full-time. Regardless, Leet has been one of the top competitors at the track year in and year out.
"I started racing with an Open Sportsman at Skyline years ago", said Leet. "After the first year at Skyline, the Spoonhower's bought Thunder Mountain back and we came here right away. We ran here for two to three years. After we won the title in 2015, we sold everything. I built my house in the meantime and settled in with my family. I raced a few times between 2015 and 2019. In 2019, I decided it was time to come back full-time and bought all new stuff and started racing modifieds."
With a track title under his belt, Leet and his team carry high expectations on race day for the No.11x. Leet currently sits fifth in points, and is one of the seven drivers that has a good opportunity to bring home the 2022 Dirt Track Digest TV Modified track championship.
"We're always hoping for a top five when we unload", said Leet. "We're always hoping to win, but if we can load up a car in one piece and be around the top five that's a solid night. We've struggled a bit this year. We have a new car that we're still figuring out and we had to start running our spare engine since our main engine isn't back from the shop yet."
Leet has had more than his share of bad luck this season. Leet had a fast race car last Saturday on Youth Bike Races night, but Leet had nowhere to go when Bailey Boyd ended up sideways in front of him. However, when lady luck hasn't been causing Leet problems, Leet has been one of the cars to beat in the Dirt Track Digest TV Modifieds. Since the start of the 2022 season, his worst on-track finish is seventh in points-paying races. However, a lack of pennies might be to blame for some of Leet's luck this year.
"I always like to find a heads-up penny on race day", said Leet. "I haven't found one of them in a few weeks, so that hasn't helped. Hopefully we'll find one soon."
From the beginnings of his racing career to the present day, Leet has called the Thunder Mountain Speedway home for the majority of his career. The track ticks all of the boxes Leet needs in a weekly track.
"It's always a great place to race", said Leet. "The racing is pretty clean. Tire wear is practically nonexistent. We've barely touched our tires at all even after a few weeks here. The Spoonhower family has been a great friend to us and we love supporting them and the race track."
However, Leet's racing career may be entering a new chapter in the next few years. A little Leet might just be a future competitor at the Thunder Mountain Speedway.
"We're going to keep running Modified for a couple more years", said Leet. "I have an 11-month old son with my wife, so I'd like to get him into small cars and see what happens from there."
Eric Leet and the Dirt Track Digest TV Modifieds return to action this Saturday, July 16th, for Fan Appreciation Night! Come out to the Speedway at 5:30pm to meet all of your favorite drivers and teams before racing action gets underway. Racing gets underway at 6:30pm. We'll see you Saturday on the Mountain!