CLIMBING THE MOUNTAIN with: Jake Mason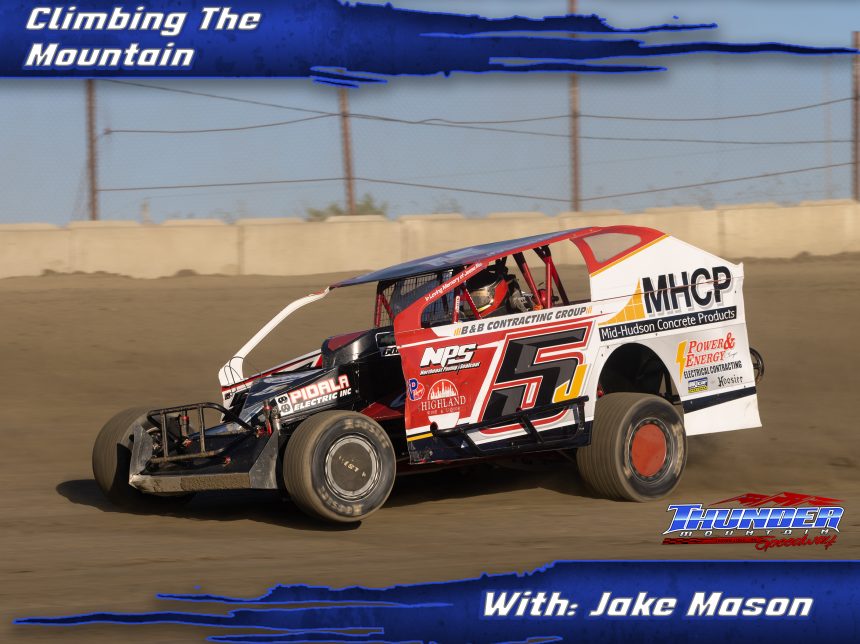 LISLE, NY – Across the Northeast, the Sportsman modified class is full with drivers of all ages. Often, they all have different goals for their racing career. The DIRTcar Sportsman at Thunder Mountain Speedway are no different. The class has it all, from young drivers just starting their racing career to the most experienced career racers who have racked up dozens of wins. On top of that, there's many drivers that fall somewhere between the two. One of the young guns competing at Thunder Mountain in this class is the 'Cold Spring Kid' Jake Mason, who is this week's featured driver on Climbing The Mountain.
If one thing is very important to all racers at the Thunder Mountain Speedway, it's family. Mason's racing career started with a rich racing tradition at the Orange County Fair Speedway.
"I started racing because my grandfather raced for years at Middletown", said Mason. "He was a big part of getting me involved in racing. I started my career in go karts at Oakland Valley in the Baby Champ class."
After spending time in Champ Karts, Mason and his father, Jeff, decided it was time to move up. The Slingshot class is often the second stepping stone up the racing ladder for young dirt drivers, and it was just that for Mason.
"We moved up to Slingshots after that and we raced around a little bit", said Mason. "We spent a lot of time at Hamlin and Accord over the years. When I turned 12, we decided it was time to go Sportsman racing."
If family ties are important to the Masons, friendship is as well. Making the move to a big car was made much easier as some of their racetrack friends also made the move into Sportsman modifieds.
"We had a lot of great friends who were in crate cars when we got ready to move up", said Mason. "The Sherlocks had a crate car, and Hunter (Lapp) moved up to the crates a year before we did."
Mason and crew might have one of the longest tows of any driver coming to Thunder Mountain. The No.5j team tows from Cold Spring, NY, which is almost a three hour drive from Thunder Mountain. The small town on the Hudson River is almost directly across the river from West Point, and south of Poughkeepsie. But, the drive is worth it for Mason.
"The racing is great here", said Mason. "The crate class has started to become crash-and-smash at some places, but it's not like that here. It's clean but close racing. That's why we make the drive out here weekly."
The next step in any young drivers' racing career is always one of the hardest decisions. With a variety of rule packages and setups in the top-tier Modified class, many drivers are assessing their options. However, Mason is content with where he's at, but still hungry for more.
"We're just riding things out right now", said Mason. "We'll see where we go or what we do in the future. If we can load the car in the trailer with no dents or problems with a decent finish, we're happy doing what we're doing."
Mason is one of many DIRTcar Sportsman drivers gunning for the points championship at the end of the year. Thunder Mountain Speedway's Sportsman payout is one of the largest in the Northeast, paying $750 to win and $100 to start. Plus, the Pitside Products bonus race series adds $450 to the purse on July 16th and August 20th. The driver who scores the most points between the four races takes home a $1,000 prize. The DIRTcar Sportsman are back in action as part of Fan Appreciation Night this Saturday at Thunder Mountain Speedway.