Climbing The Mountain: with Justin LaDue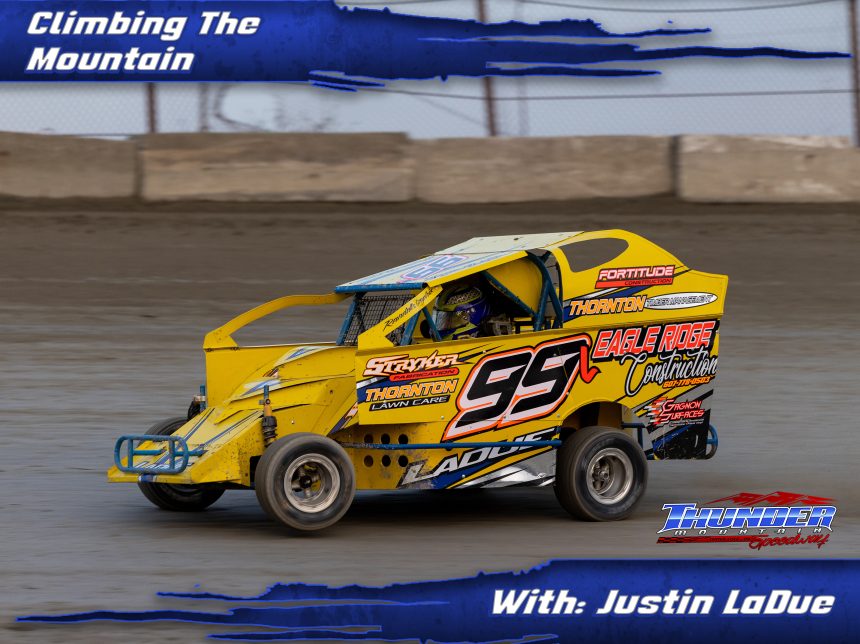 LISLE, NY- The B-Walt's Car Care 600cc Modified division always brings a diverse and competitive field to the Thunder Mountain Speedway every week. The 600's are coming up on two big races at Thunder Mountain this Thursday with the Empire Super Sprints and this Sunday for the Decker Memorial Shootout. For the first feature of the week for Climbing The Mountain, we talk with one of the drivers who's likely to contend for win this weekend. This is Climbing The Mountain with Justin LaDue.
LaDue has had a long racing career across multiple divisions. Most of that racing career has unfolded on the Mountain, whether in full-size race cars or the speedy 600cc modifieds.
"I started out with a four-cylinder car", said LaDue. "I had a rear wheel drive car. We'd come up here to race, and we won a lot of those races back in the day. I decided to move up into the 600cc modified class after a few years of that."
Thunder Mountain Speedway was the perfect track for LaDue to center his racing career around.
"Thunder Mountain is five minutes away from home and I think it's the best track in New York", said LaDue. "It has a great racing surface and the I know the Spoonhower family well. We choose to race here."
LaDue's success on the Mountain in a four-cylinder did not end with his move to the 600cc modifieds. LaDue quickly grabbed a big win and has been one of the more consistent cars in a class that has at least ten drivers capable of winning a race.
"We got good quick in the 600's", said LaDue. "We won the Wade Decker race in our first year. From then on out, we were good for about one win a year or so. We've got one already, so hopefully we can get another one and keep rolling."
LaDue wasted no time in grabbing his first win of 2022 on Opening Night. Now, with the Wade Decker Memorial special event for the 600's coming up, LaDue is eager to repeat his big win back a few years ago.
However, racing is not just about big wins anymore for LaDue. Justin's son, Logan LaDue, has started racing in the same class as his father. Logan grabbed a couple wins in the Jr. 600cc Modified division last year before moving up to the B-Walt's Car Care 600cc Modifieds after a few weeks.
"He's starting really young", said LaDue. "He'll hopefully get up on the wheel soon and keep running better every week. He could be something as he gets older and gets more seat time."
It's only fitting for Justin LaDue to go racing with his son. His grandfather, Jerry Hayes, raced when LaDue was growing up and brought LaDue into racing.
"I keep a picture of me and my grandfather in the trailer", said LaDue. "He was a wicked good racer back in the day. I'm giving him a high five in the picture."
Having a dominant car week in and week out in the 600cc Modified class is a big challenge for even the most seasoned veterans of the class. Despite the odds, LaDue hopes to be a weekly challenger for the checkered flag.
"I really want to be in the top-five every week", said LaDue. "If I'm not up there, it's not the best night for us. For Logan, it's a good night if he's passing cars and he's coming along with that. We got a class full of so many good racers. We all know each other and almost all of us have a pretty good relationship together. You can get the young racers out there and sometimes it can get a little crazy, but it happens."
The B-Walt's Car Care 600cc Modifieds join the card this Thursday and Sunday as part of our Lucas Oil Empire Super Sprints Speedweek event and our Decker Memorial Shootout. The 600's add another dose of high-octane action to already exciting events on the Mountain.