BARKER AND MCCREADIE MAKE LATE RACE MOVES TO WIN: Eastman, Lobdell Jr., Windhausen, Mills Jr., Hamilton Visit Victory Lane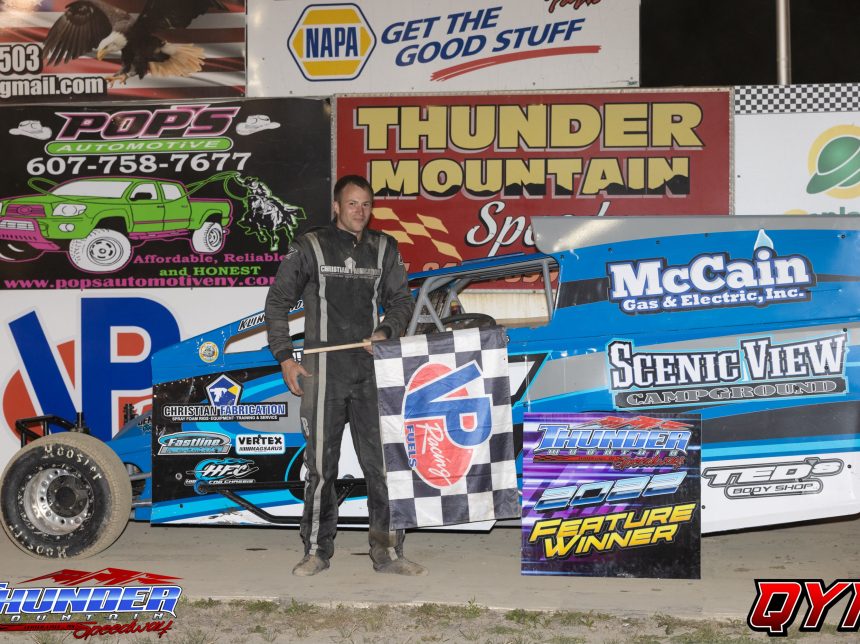 LISLE, NY- It was an eventful and exciting night of racing at the Thunder Mountain Speedway. After 28 laps in the Dirt Track Digest TV Modified feature, Alan Barker got around race leader Eric Leet on the penultimate lap to claim victory. In the DIRTcar 358 Modified feature, Jordan McCreadie dove underneath Shayne Spoonhower with just four laps to go to take the lead and claim victory. Will Eastman returned to DIRTcar Sportsman victory lane in a race marred by a lap two pileup. Doug Windhausen held off all-comers to take his first B-Walt's Car Care feature win of 2022. Jerry Lobdell Jr. used the pick-and-roll on Steven Deinhardt to take yet another Wheeler's Excavating Street Stock victory. Buck Mills Jr. held off uncle Bob Mills and Jason Rhodes to return to Pop's Automotive Factory Stock victory lane. Jeremy Hamilton dominated the Open V. Crate feature for his first win of 2022 at Thunder Mountain. Duane Hiller drove to Dirt Modified Nostalgia Tour victory lane in their twenty-lap main event.
Landon Cummings and Jeff Sheely led the Dirt Track Digest TV Modifieds to the green flag. Cummings led the early going with Sheely getting into a four-car battle for the top five with Kenny Hammond, Jason Andrews, and Eric Leet. Leet quickly launched past the trio and set his sights on catching Cummings. Leet took the lead as the field completed lap four just as a yellow flag flew on lap four for an incident involving Ryan Jordan, Rusty Smith, Nick Nye, and Garrett Rushlow in turn three. All drivers were able to continue with some minor damage. Leet went back to the lead on the restart while a host of other drivers charged up through the field. Darren Smith passed Landon Cummings off of turn two to move up to second from his seventh place starting spot. Jimmy Zacharias moved into third ahead of Jason Andrews and Jeff Sheely after starting ninth. Alan Barker followed suit, passing Sheely to move up to fifth after starting eighth. The yellow flag flew on lap twenty after Jeff Taylor got a uke tire in turn two. On the restart, Alan Barker's car came alive. By lap twenty three, Barker had driven around both Zacharias and Smith on the top-side with Leet still a few car lengths out front. With two laps to go, Barker was right on the rear bumper of Leet. As they worked through turn one, Leet got sideways and Barker was able to jump out to the lead and take his second win of the year. Leet took home second, followed by Darren Smith, Kenny Hammond, and Jimmy Zacharias.
Shayne Spoonhower and Connor Sellars led the field to the first and only green flag of the night in a wire-to-wire DIRTcar 358 Modified feature. Spoonhower jumped out to the early race lead with McCreadie passing Sellars for second. Lance Willix moved past Sellars into third just ahead of a hard-charging Billy Decker, who quickly got past Rusty Smith and Sellars to move into fourth. Everybody settled in for the middle of the race, with the action heating up again on lap 19. McCreadie cut into Spoonhower's lead over the race, and by lap 19 he had caught the leader. McCreadie made his move into turns three and four on lap 21, taking the lead for good on the front-stretch to take his first 358 win of the year. Spoonhower finished second, followed by Willix, Decker, and Smith to complete the top five.
Dane Hedlund and Mike Austin brought the DIRTcar Sportsman to the green flag. Austin took the lead away from Hedlund and built a comfortable gap as Hedlund faced challenges from Jamie Kamrowski and Will Eastman early. The yellow flew early for points leader Alan Fink, who broke on the back-stretch to end his night just a lap in. On the restart Austin again jumped back out to the lead. In turns three and four, the pack of lead cars behind Austin started to stack up coming out of turn four. A major crash kicked off when Cody Jackson ended up pitched sideways in front of the field. Doug Smith had nowhere to go and spun after contact with Jackson who was able to escape the pileup. Riley Rogala and Gordon Smith made hard contact as the piled in with nowhere to go, while Bobby Sweeney, Eric Winsor, and Dana Davis were collected in the track-blocking pileup. All drove away with varying levels of damage except for Riley Rogala, who suffered major front and rear-end damage. A red flag was required to pull Rogala and Smith's cars apart and tow Rogala's stricken No.R1 to the infield. After the incident, Dane Hedlund spun in turn two, which ended his night. The first restart was called off after Jake Mason and Cody Jackson made contact, with Mason ending up sideways off the top of turn one. Will Eastman got the holeshot on the restart and drove away from Austin. Eric Winsor broke on lap ten to bring out another yellow. Eastman once again pulled ahead of Austin on the restart. A jam-up in turn one on lap eleven sent Doug Smith sideways into the infield, bringing out another caution. Bobby Sweeney got up high and got the backstretch wall on lap 13 bringing out another yellow flag. Eastman pulled a comfortable gap over Austin to take the win. Hunter Lapp, Kamrowski, and Jake Mason completed the top five.
Nick Johnson and Justin LaDue brought a twenty-three car B-Walt's Car Care 600cc Modified field to the green flag. LaDue jumped out to the early race lead with Doug Windhausen following LaDue through into second while Devon Green and Nick Johnson battled for third. As the field completed lap one, James Randall made hard contact with the outside wall in turn three. Randall attempted to continue, but after running a few laps at speed he pulled the No.17j into the infield for the night. LaDue and Windhausen brought the field back to the green flag, with Windhausen winning the race into turn one. Chris Jordan moved up five spots to take third, while the 'Candyman' Tommy Paige battled his way up through the field to move into fourth. The yellow flag flew on lap eight for Logan LaDue, who ended up facing the wrong direction in turn one. On the restart, Windhausen led LaDue and Jordan away from the field while intense battles developed for spots 5-12. The battle between Tracy Oliver and Tom Donahue got a little too intense, as the two made contact. Oliver drew the short straw and ended up sideways in turn one to bring out a yellow. On the lap 13 restart, Bryan Root flipped wildly in turn two to bring out the first and only red flag of the race. At the same time on the front-stretch, Bumps Scutt and Tracy Oliver stacked together on the front-stretch after Scutt made contact with Chris Jordan. All drivers were okay. Root was unable to continue, but all cars on the front-stretch were able to keep racing. After the restart the race went green flag to its conclusion, with Windhausen pulling away for a dominating win. Chris Jordan finished second, with Paige, LaDue, and Green completing the top five.
Steven Deinhardt and Mike Morse brought the Wheeler's Excavating Street Stocks to the green flag. Deinhardt showed the way early as Jerry Lobdell Jr. moved into second. The pair battled in a wire-to-wire race for almost the entire race distance until the final laps. Michael Morse had problems right in front of Deinhardt, allowing Lobdell Jr. to get by on the top side and take a hard-fought race win. Deinhardt recovered to finish second, with Morse, Lanson Albanese, and Shane Moshier completing the top five.
Jason Rhodes and Bob Mills brought the Pop's Automotive Factory Stocks to the green flag. Buck Mills Jr. quickly made work of the top two, moving into the lead. The top three tussled all race long with great fender to fender racing. Bob Mills tried to make a move on the final lap, but all he could do was watch nephew Buck come home in first. Bob Mills held on to second with Jason Rhodes, Dominik Albanese, and Mitch Quail Jr. completing the top five.
Jeremy Hamilton led wire-to-wire in the Open V. Crate Sportsman feature. The race slowed for a single caution for a sideways Roger West. Ray Leonard, Lucas Kastenhuber, Greg Morgan, and Kourtney Slavick completed the top five.
Duane Hiller took his Chevalier-bodied race car to Dirt Modified Nostalgia Tour victory lane after dominating the twenty lap event. Joe August Jr., Bill Leonard, Steve Longo, and John West completed the top five.
Thunder Mountain Speedway sends condolences to the family and friends of Art Goodier and the entire Woodhull Speedway community after his passing last night. We hope for the speedy and complete recovery of corner flagger Neil Stoddard as well.
Quick results for June 25th, 2022 at Thunder Mountain. 50/50 Money Ticket has been CLAIMED.
Dirt Track Digest TV Modifieds (30L)
ALAN BARKER, Eric Leet, Darren Smith, Kenny Hammond, Jimmy Zacharias, Rusty Smith, Landon Cummings, Ryan Jordan, Garrett Rushlow, Jeff Taylor, Jason Andrews, Jeff Sheely, Nick Nye, Bailey Boyd
DIRTcar 358 Modified (25L)
JORDAN MCCREADIE, Shayne Spoonhower, Lance Willix, Billy Decker, Rusty Smith, Connor Sellars, Marshall Hurd, Tom Eiklor, Colton Wilson, Lucas Heintz, Lucas Fuller
DIRTcar Crate Sportsman (25L)
WILL EASTMAN, Mike Austin, Hunter Lapp, Jamie Kamrowski, Jake Mason, Jordan Millard, Gordon Smith, Dana Davis, Doug Smith, Dave Dickey, Daryl Krebs, Bobby Sweeney, Eric Winsor, Cody Jackson, Dane Hedlund, Riley Rogala, Alan Fink
B-Walt's Car Care 600cc Modifieds (20L)
DOUG WINDHAUSEN, Chris Jordan, Tommy Paige, Justin LaDue, Devon Green, PJ Goodwin, Chace Scutt, Ali Scutt, Jake Waibel, TJ Smith, Bumps Scutt, Tom Donahue, Zack Mills, Tracy Oliver, Jack Sherwood, Bryan Root, Logan LaDue, Chelsie Beebe, Ajay Tuttle, James Randall, Nick Johnson, Tyler Paige, Aiden Miller, Christian Hafl (DNS)
Wheeler's Excavating Street Stocks (20L)
Jerry Lobdell Jr., Steven Deinhardt, Mike Morse, Lanson Albanese, Shane Moshier, Micheal Morse, Lee Wagner
Open V. Crate Sportsman (15L)
JEREMY HAMILTON, Ray Leonard, Lucas Kastenhuber, Greg Morgan, Kourtney Slavick, Roger West, Stephen Winsor, Tres Palmer
Pop's Automotive Factory Stocks (15L)
BUCK MILLS JR, Bob Mills, Jason Rhodes, Dominik Albanese, Mitch Quail Jr., Todd Koegel, Justin Fuller
Dirt Modified Nostalgia Tour (20L)
DUANE HILLER, Joe August Jr., Bill Leonard, Steve Longo, John West, Tim Hegarty, Brad Liztenberger, Butch Leonard, Ace Prentice, Mike Cole