CLIMBING THE MOUNTAIN with: Shayne Spoonhower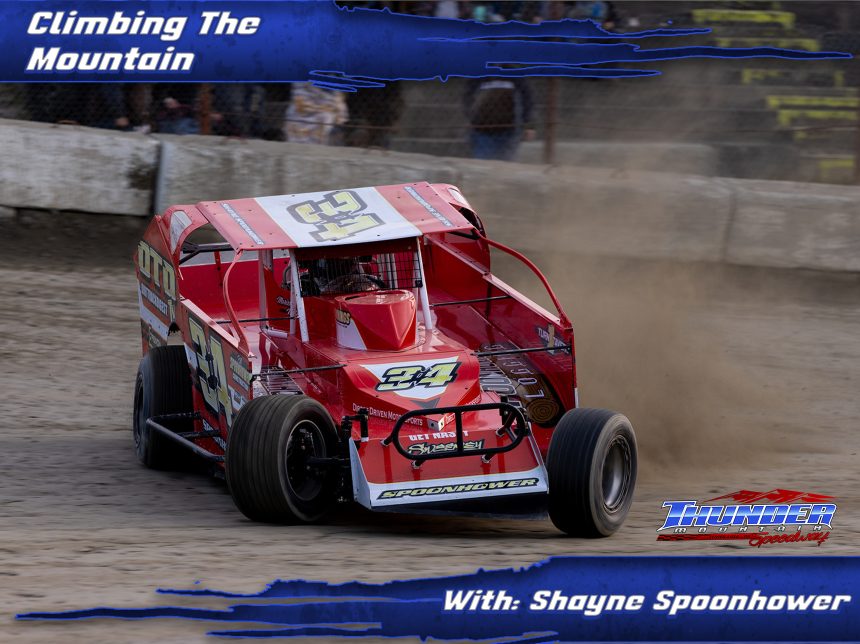 LISLE, NY- Every racer at the Thunder Mountain Speedway has their own story to tell. From first-generation gearheads to a storied family tradition, racers at Thunder Mountain come from all walks of life. Starting today, we are going to bring some of those stories to light and get to know some of your favorite drivers across all divisions at the speedway. This is Climbing The Mountain. We'll start this series with current DIRTcar 358 Modified points leader Shayne Spoonhower.
The Spoonhower family has a long racing tradition on the track and as part of the legacy of the Thunder Mountain Speedway. On the driving side, Shayne is the latest Spoonhower to carry on the family tradition of racing.
"My first race car was a street stock that me and my dad [Karl Spoonhower Jr.] bought off of Denny Decker.", said Spoonhower. We got it almost all the way together and decided that street stocks weren't really what we wanted to race. We sold that car and bought my uncle Billy's open sportsman car. We ran that in the rookie class for a year before we bought Coty Bishop's car to run with the crate sportsman. After that everything took off and we got into the Modifieds."
Uncles Billy Spoonhower and Chance Spoonhower raced at the Thunder Mountain Speedway while Shayne was young, offering the younger Spoonhower the chance to fall in love with the sport.
"I look up to my uncles Billy and Chance", said Spoonhower. "They raced while I was growing up and I worked on their race cars with the family."
After some time in the sportsman class, Spoonhower moved up to what is now the Dirt Track Digest TV Modifieds in 2019. Spoonhower found some success, but didn't feel like the class was the right fit for him and the race team.
"We had a Modified motor for awhile to run with the open class", said Spoonhower. "We didn't have the budget to keep up with the open class. We figured that the DIRTcar 358 Modified class was a good option for us to be competitive, so we got two motors and moved to that class."
The move has brought Spoonhower success, especially in 2022. Spoonhower won the first two DIRTcar 358 Modified races of the year, and currently leads the points standings. The wins were his first in the DIRTcar 358 Modified division after a slew of top-fives to round out the 2021 season. The victories are a stand-out part of Spoonhower's young career.
"It's tough to beat winning back-to-back this year.", reflected Spoonhower. "We've had a lot of great memories over the years though, I can't really pick a certain one out of the bunch. Any night I can go out there and make my Dad proud is a great memory."
Spoonhower hopes to keep his strong 2022 season going at Thunder Mountain and possibly other race tracks in New York. However, Spoonhower tries to keep his goals honest and realistic for their race team.
"I think a lot of people have some really big dreams in racing; they think they're the next Stewart Friesen or Matt Sheppard", said Spoonhower. "I try to not get too carried away and hope that we're at least competitive at places like Thunder Mountain, Fulton, Can-Am, or wherever else we go for a DIRTcar 358 Modified race."
With racing being such a big part of life for the Spoonhower family, Shayne spends a lot of time focused on racing. But, it is far from the only thing going on in his life.
"99% of the time when I'm not working on the race car I'm hanging out with my wife Marissa and our newborn child", said Spoonhower. "When I'm not doing that, I'm thinking about hunting."
Stay up-to-date on all of the latest results, news, and more from Thunder Mountain Speedway by liking our Facebook page and following us on Instagram and Twitter. You can find us on the web at thundermtnspeedway.com.