Exciting race night puts some new faces in victory lane for 2017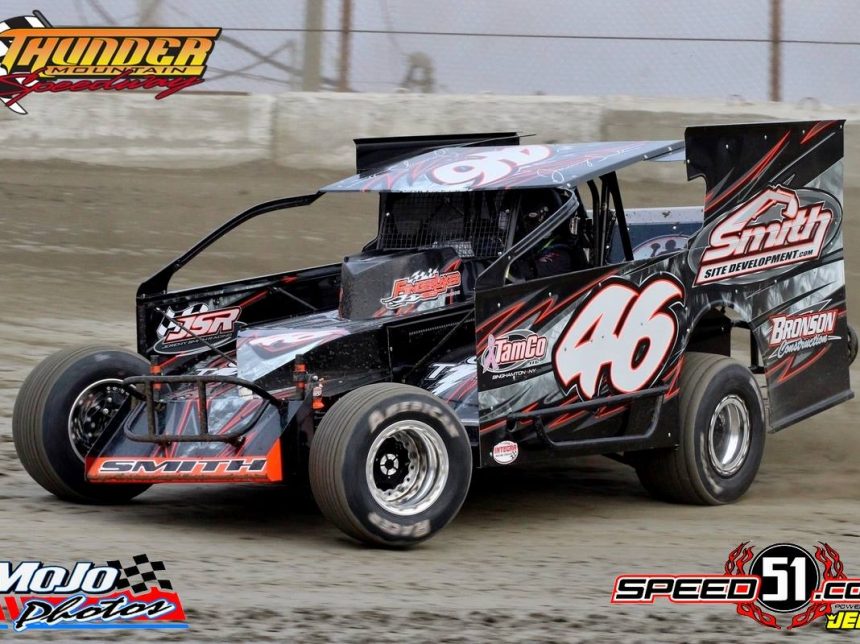 By Sara Spoonhower
Thunder Mountain Speedway
Center Lisle, NY
Photos courtesy of Mojo Photos
Thunder Mountain drivers put on a great show for fans Saturday night! Jeremy Smith stole the checkers in his #46 Modified for his first trip to victory lane on the Mountain in 2017. The driver of the #34 Crate Sportsman, Shayne Spoonhower, also found himself the victor after a handful of DNFs in season. It was a bittersweet win for his team. The Street Stock division put on one heck of show racing three wide for the lead.  Jon Carpenter beat the pack to take home the win.  In the IMCA class Brad Smith took the checkers in his 20 lap feature.  The Sportsman win went to Kevin Jordan, driver of the 22 machine.  Will Eastman also drove his 600cc Modified to victory lane. In the Rookie/Budget Sportsman class, the win went to A.J. Williams and in the 4cyl. Stocks Chris Bonoffski took home the winning trophy.  The EST Trucks were also on the mountain for a show.  Bob Crandall took the win.
If you weren't in the house on Saturday you certainly missed out on some awesome racing!  Below is a full list of the finishes for Saturday, June 3rd.  Congratulations to all of our winners and good luck to all drivers this weekend.
Modified
Jeremy Smith
Nick Nye
Colton Wilson
Cory Costa
Brian Malcolm
Sam Allen
Barry White
Byron Worthing
Rick Wilk
Brent Wilcox
Bob Stahl
Jeff Bronson
Brett Barrett
Alan Barker
Dan Creeden
Randy Brokaw
Mike Nagel Sr.
Sportsman
Kevin Jordan
Eddie White
Billy Spoonhower
Chance Spoonhower
Tom Eiklor
Larry Mekic
Brian White
Eric Leet
Larry Hillis
Dayton Coney
Chris Jordan
Greg Morgan
Ryan Alsdorf
Landon Cummings
DNS – David Doig Jr.
Crate Sportsman
Shayne Spoonhower
Dustin Jordan
Greg McCloskey
Corey Cormier
Pat Jordan
Mike Austin
Isaiah Forward
Darren Smith
Tom Collins
James McIntyre
Ben Bushaw
Mike Nagel Jr.
Brenton Miller
Kailee DiMorier
Pat Parker
Kinser Hill
Kenny Hammond
Tom Velez
Tyler Keener
T.J. Frost
Kimberlee Morgan
Street Stock
Jon Carpenter
Lanson Albanese
Jake Fowlston
Trever Dudley
Damon Decker
Don Russell
Cody Nielson
Matt Spencer
Mike Wilbur Sr.
Kevin Garland
Mike Chilson
Dan Force
Jordan Dunagan
Jon White
Jerry Wilcox
Jack Holcomb
Rich Fife
Bob Maynard
Jeff Wilcox
Jonathan Fowlston
Earl Zimmer
DNS – John Hoover
IMCA Modified
Brad Smith
Will Ward
Dan Searles
Bumps Scutt
Rich McNeal
Keith Lamphere
Beau Ballard
Ray McClure
Mike Stoddard
Brandon Smith
Don Alvordi
Doug McKane
Tyler Stoddard
Gary Roberts
DNS – Billy Ward
DNS – Junior Stanton
600 Modifieds
Will Eastman
Justin Shiner
Dakota Anderson
Bailey Boyd
Doug Windhausen
Joe McCabe
John Burnside
Paul DeRuyter
Chris Jordan
Tom Shiner
Jake Waibel
Damon Henry
Dana Davis
Jared Green
Norm Whittemore
Kyle Harrington
Josh Kithcart
Joe Amato
Byron Worthing
Rookie
A.J. Williams
Connor Spoonhower
Hunter Lapp
Landon Spoonhower
Matt Sherwood
Paul Mellen
DNS – Anthony Rundell
4 Cylinder Stock
Chris Bonoffski
Clint Kadaronak
Justin LaDue
Tom Bumpus
Chris Taylor
Evan Wright
EST Trucks
Bob Crandall
Brandon Clapperton
Jeff Young
Jerry Lanfair
Trey Palmer
Wayne VanDusen Jr.