BARNEY IS BEST IN ESS RETURN TO THUNDER MOUNTAIN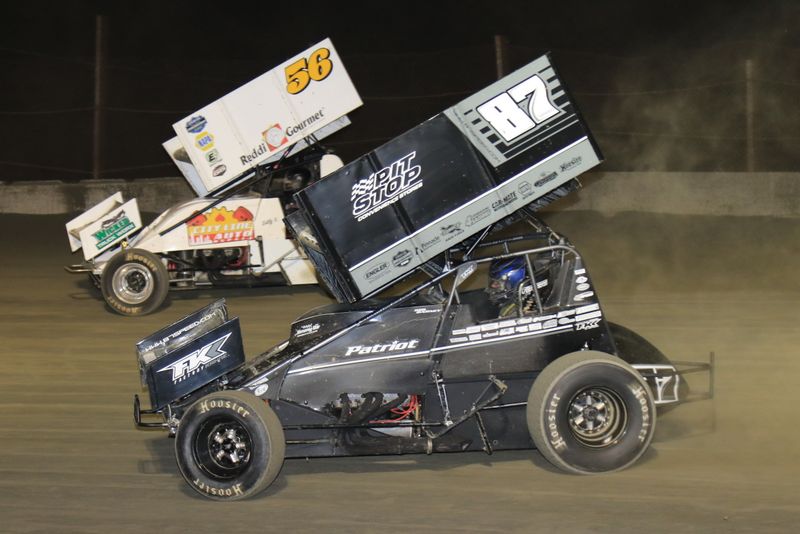 CENTER LISLE, NY…..On a summery May evening, Thunder Mountain Speedway hosted the return of the Lucas Oil Empire Super Sprints, with Jason Barney winning the 25 -lap 'A' feature event. Billy Decker and Rusty Smith took their second wins of the year in the Modifieds and DIRTcar 358 Modifieds, and Jeremy Hamilton was a second time winner in the Budget Sportsman. Two first time winners emerged on the night with Brian White taking the DIRTcar Crate Sportsman honors and Chelcie Beebe winning the 600cc Modified main event.
Jason Barney took the lead from Bill VanInwegen at the start of the 25-lap Lucas Oil Empire Super Sprint feature, but only two laps were completed when the red flag waved for a flip by Scott Holcomb in turn two. Holcomb was OK, and when racing resumed, VanInwegen was in a heated battle with Jason Barney as they traded the lead back and forth. Barney solidified the lead on lap 8 as the leaders would enter lapped traffic. Dave Franek used the traffic to slip past VanInwegen on lap 15, but could not catch Barney, who weaved his way through the slower cars to take the win over Franek and VanInwegen. Sammy Reakes IV and Jeff Cook rounded out the top five.
In the 35-lap Modified feature, Landon Cummings took the lead with Jimmy Zacharias moving into second on lap 4. The two had a side by side battle for the lead for several laps until, under a lap 12 yellow, Cummings stopped with a mechanical issue and had to be pushed to the pits. Zacahrias inherited the lead, but on the restart, Billy Decker launched past Chris Jordan and Ryan Jordan to take second and used the outside lane to take the lead on lap 16. Zacharias kept Decker within sight and used a lapped car to retake the lead on lap 33, only to have Decker move back around him coming to the white flag. Decker took his second win of the year by less than one car length over Zacharias, with NIck Nye a close third. Ryan Jordan and Chris Jordan were fourth and fifth across the line.
The DIRTcar 358 Modified 30-lappper found Matt Meade up front early after starting on the pole, with Tom Collins Jr taking second. Rusty Smith moved into the third spot by lap 5 and battled Collins, taking second one lap later. He then set his sights on leader Meade, making the move under him to take the top spot on lap 15. Collins also moved past Meade and couldn't catch Smith in traffic and had to settle for second as Smith took his second straight DIRTcar 358 Modified victory. Jordan McCreadie made a last lap pass to take third from Meade as Billy Dun completed the top five.
Brian White turned his bad luck at the start of the season to good luck as he went wire to wire to claim the 25-lap DIRTcar Crate Sportsman feature. It was not an easy win as Will Eastman hounded White the whole distance, but could not find his way past him. Brandon Carvey rebouded from a heat race incident to take the third spot, with Rich Talada holding off Alan Fink for fifth in a photo finish for the spot.
Chelcie Beebe took the lead from James Randall in the 20-lap 600cc Modified main, leaving Randall to fight off Ali Scutt for the second spot. Tom Donahue blasted up from his ninth starting spot and used the top groove to pick his way through the top five, eventually getting to third on lap 15. Donahue's night went sour on the next to last lap when he spun while running third, which bunched the field for a one lap dash. Beebe held off Scutt to take the honor, followed by Devon Green, Dana Davis, and Brenton Miller.
The Budget Sportsman race was declared official at the lap 6 mark when rain made it unsafe to continue racing, giving Jeremy Hamilton his second straight win in the division.
Liam Zacharias won the 10-lap Junior Slingshot feature and Tyler Paige won the Junior 600cc Modified main.
Racing continues at Thunder Mountain Speedway next Saturday night with all the regular divisions in action. For more information, visit www.thundermtnspeedway.net .
*REVISED* RACE SUMMARY-THUNDER MOUNTAIN SPEEDWAY-MAY 22, 2021
LUCAS OIL EMPIRE SUPER SPRINT 'A' MAIN-JASON BARNEY, Dave Franek, Bill VanInwegen, Sammy Reakes IV, Jeff Cook, Dylan Swernik, Matt Tanner, Dalton Herrick, Thomas Radivoy, Chuck Hebing, Chad Miller, Denny Peebles, Joe Trenca, Paulie Colagiovanni, Danny Varin, Jake Karklin, Tylder Cartier, Shawn Donath, Keith Granholm, Nick Fratto, Jeremiah Munson, Kelly Hebing, Josh Pieniazek, Chint Roehrs, Scott Holcomb.
MODIFIED FEATURE-BILLY DECKER, Jimmy Zacharias, Nick Nye, Ryan Jordan, Chris Jordan, Ken Hammond, Shawn Walker, Bailey Boyd, Alan Barker, Darren Smith, Jeff Sheely, Jesse Velez, Chris Curtis, Eric Leet, Marc Goodwin, Rick Wilk, Larry Mekic, Landon Cummings.
*DQ plus a one week suspension for actions unbecoming of a driver/crew member -PJ Goodwin
DIRTcar 358 MODIFIED FEATURE-RUSTY SMITH, Tom Collins Jr, Jordan McCreadie, Matt Meade, Billy Dunn, Lance Willix, Billy Van Inwegen, Glenn Forward, Colton Wilson, Tom Eiklor, Shayne Spoonhower, Cameron Black, Connor Sellers, Tyler Meeks.
DIRTcar CRATE SPORTSMAN FEATURE-BRIAN WHITE, Will Eastman, Brandon Carvey, Rich Talada, Alan Fink, Mike Austin, Daryl Krebs, Tom Velez, Cody Jackson, Hunter Lapp, Jamie Kamrowski, Chuck Miller, Bobby Heintz, Drew Hedlund, Ray Reynolds, Todd Hayward, Kinser Hill, Jake Mason, Jordan Millard.
600cc MODIFIED FEATURE-CHELCIE BEEBE, Ali Scutt, Devon Green, Dana Davis, Jared Green, Tyler Smith, Jake Waibel, Chad Mason, Rich Powell, Mark Golden, Nolan Smith, TJ Smith, Tracy Oliver, Doug Windhausen, Larry Furman, Taylor Wilk, Tom Donahue, Justin LaDue, Chris Krebs, Aiden Miller, Christian Hafl, Bumps Scutt, Connor Sellers (DNS), Chris Jordan (DNS).
*DQ plus a one week suspension for actions unbecoming of a driver/crew member – Brenton Miller, James Randall, Brett Gray
BUDGET SPORTSMAN FEATURE-JEREMY HAMILTON, Josh Akshar, Steve Schrader, Lucas Kastenhuber, Brandon Loucks, Johnathan Fowlston, Mike Dawson, Bill Fiske, Matt Rigatti, Eric Winsor, Will Jones, Brock Pinkerous, Dylan Hartman.
JUNIOR SLINGSHOT FEATURE-LIAM ZACHARIAS, Kolt Gamble, Dom Kirchburger, Evan O'Hara.