CHAD COOK EARNS MODIFIED VICTORY ON CHAMPIONSHIP NIGHT AT THUNDER MT.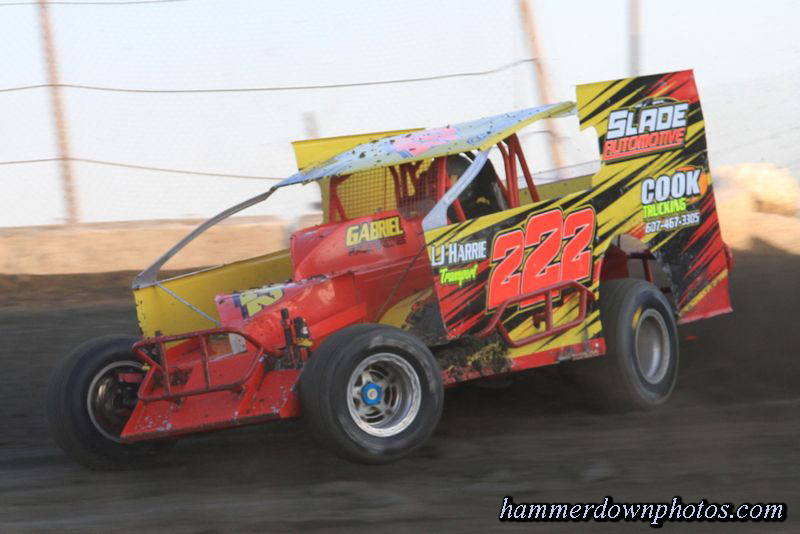 CENTER LISLE, NY – Chad Cook used Saturday night's Thunder Mountain Speedway Modified victory as a prelude to this coming Sunday's (Sept. 18) Wade Decker Memorial.
Cook, of Deposit, N.Y., guided the Mike Costello-owned No. 222 to a $1,500 Championship Night 30-lap triumph. Cook won the May Bob Hilbert Sportswear Short Track Super Series Fueled By VP visit to the Mountain and hopes to repeat this weekend.
Danny Creeden, meanwhile, locked up the 2016 Thunder Mountain Speedway championship by finishing second in Saturday's main event. The Wurtsboro, N.Y., driver took the title in his first season running regularly on the Mountain.
Nick Nye finished third in a stout performance, with Butch Green fourth in his best outing of the year and Brian Malcolm completing the front five.
Eddie White of Candor, N.Y., won the 20-lap Open Sportsman feature capping a memorable night for his family. Eddie's son, Brian of Owego, N.Y., clinched the division's championship with a fifth-place finish in the feature.
Following Eddie White across the line was Eric Leet, Chance Spoonhower, Billy Spoonhower and title-winning Brian White.
Bob Stahl of Whitney Point, N.Y., broke into the Crate 602 Sportsman win column, earning a $500 payday. Stahl fended off T.J. Frost, Kinser Hill, a returning Kenny Hammond and Daryl Krebs.
Milford, Pa., driver Brian Mady locked up the division's championship by placing 11th.
Corey Cormier of Middletown, N.Y., won for the first time at Thunder Mountain in the 15-lap Rookie Sportsman feature. Dan Allen of Berkshire, N.Y., took the title with a runner-up finish after a down-to-the-wire battle with Ryan Alsdorf, who finished the event in third.
Jonathan Carpenter of New Milford, Pa., officially clinched the Street Stock championship in winning style. Carpenter took the crown and topped the 20-lap feature over Trevor Dudley, Matt Spencer, Shane Wolf Jr. and Donald Russell.
Young Damon Henry broke into the XCel 600 Modified win column following the division's 20-lap feature. Henry led Eric Boyd, Byron Worthing, Chris Kithcart and Bailey Boyd across the line.
Oneonta, N.Y., driver Will Eastman took the XCel 600 Modified championship for the second year in a row.
Rich Gardiner won the FWD Four Cylinder 15-lap main. Gardiner also clinched the Four Cylinder crown. He led Clint Kadarondak, Eric Rowley, Caleb Lacey and Chris Taylor to the finish.
Racing resumes at Thunder Mountain this Sunday, Sept. 18 with the MjH Oilfield Wade Decker Memorial event featuring Short Track Super Series Modifieds ($5,000 to win), Crate 602 Sportsman, Street Stocks and XCel 600 Modifieds. Pit gates open at 2 p.m., with grandstand gates unlocked at 3 p.m. Hot laps begin at 5 p.m. with racing at 6 p.m.
Adult admission is $22. Seniors (ages 65 and over) and Students (ages 10-17) pay $15. Kids 9 and under are FREE. Pit admission is $35, with no license required.
For Thunder Mountain Speedway general information and a complete schedule, visit www.thundermtnspeedway.com. The speedway office number is 607.657.8202. On race day, call 607.849.7899. The speedway e-mail is thundermtnspeedway@gmail.com. "Like" Thunder Mountain Speedway on Facebook or follow @thundermtnspeed on Twitter.
Thunder Mountain Speedway is located at 91 Hunts Corners Road Center Lisle, NY 13797, approximately 25 miles north of Binghamton. The three-eighths-mile clay oval features hillside concrete seating, free parking and camping, a variety of concession items and novelties, a family environment and more.
THUNDER MOUNTAIN SPEEDWAY RESULTS SUMMARY – SEPTEMBER 10, 2016
Modified Feature Finish (30 laps): CHAD COOK, Danny Creeden, Nick Nye, Butch Green, Brian Malcolm, Colton Wilson, Ryan Jordan, Alan Barker, Jeremy Smith, Byron Worthing, Mike Clapperton, Jim Britt, Darwin Greene, P.J. Goodwin, Geordie Decker, Barry White, Brent Wilcox, Brad Shaffer, Chris Wood, Cole Price, Nick Mady, Dan Morden, Mike Trautschold, Sam Allen.
Open Sportsman Feature Finish (20 laps): EDDIE WHITE, Eric Leet, Chance Spoonhower, Billy Spoonhower, Brian White, Kevin Jordan, Chris Jordan, Dayton Coney, Jason Tuttle, Dan Burman, Daniel Burman, Larry Hillis, Alyssa Cody, Tommy Eiklor, Shawn Davis, Marshall Balzer.
Crate 602 Sportsman Feature Finish (20 laps): BOB STAHL, T.J. Frost, Kinser Hill, Kenny Hammond, Daryl Krebs, Pat Parker, Mike Nagel Jr., Shayne Spoonhower, Brenton Miller, Tom Collins, Brian Mady, Dustin Jordan, Jim Spano, Isaiah Forward, Jimmy Zacharias, James McIntyre, Kimberlee Morgan, Tyler Keener, Harold Humphrey, Alyssa Cody.
Rookie Sportsman Feature Finish (15 laps): COREY CORMIER, Dan Allen, Ryan Alsdorf, Willy Decker Jr., Chuck Wheeland, Dylan Robbins, Matt Sherwood, Chris Rundell, Beth Brokaw.
Street Stock Feature Finish (20 laps): JONATHAN CARPENTER, Trevor Dudley, Matt Spencer, Shane Wolf Jr., Don Russell, Dan Force, Mike Wilbur Sr., Dan Searles, Tom Savercool, Earl Zimmer, Jeff Wilcox Jr., John Hoover, Rick Sinsabaugh, Jerry Wilcox, Jon White.
XCel 600 Modified Feature Finish (20 laps): DAMON HENRY, Eric Boyd, Byron Worthing, Chris Kithcart, Bailey Boyd, Joe McCabe, Brian White, Kamdin Maby, Jacob Waibel, Will Eastman, Dana Davis, Rich Green, Dakota Anderson, Doug Windhausen, Jamie Frantz.
FWD Four Cylinder Feature Finish (20 laps): RICH GARDINER, Clint Kadarondak, Eric Rowley, Caleb Lacey, Chris Taylor, Zack Hayward, Jeremy Warren, Sheldon Whitman.