Creeden Surges Late to Steal Thunder Mountain Opener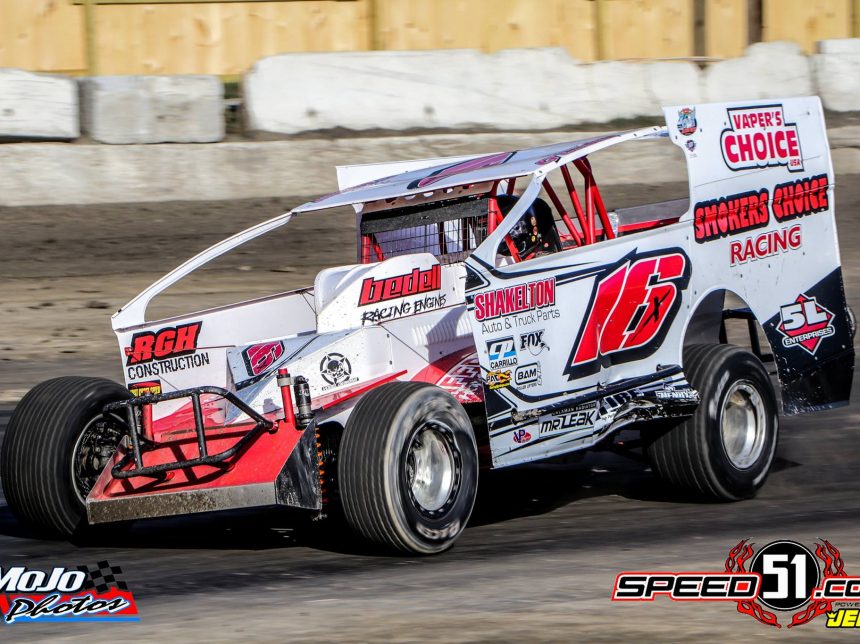 By: Ed Kochersberger
Thunder Mountain Speedway Media
607-643-1703/nyfan0205@yahoo.com
Creeden Surges Late to Steal Thunder Mountain Opener
The winter seemed endless for fans, teams, drivers, and the staff of Thunder Mountain Speedway. Saturday evening the Center Lisle New York bullring came alive once again with the sound of weekly motorsports competition. It is also the beginning of the speedway's twenty fifth anniversary season.
The headline division Modifieds saw defending track champion Dan Creeden take home the opening night 30 lap main event feature win. Creeden guided his Shakelton Auto and Truck Parts, Smokers Choice number 16x to the lead after a hard-fought battle with Nick Nye and Alan Barker. He took over the lead for good with a committed outside run on both competitors. It took Creeden a few laps to wrestle away the lead from Nye and Barker. But once the mission was complete, he was able to set sail for the remaining laps of the feature event.
"It was a good race with Alan and Nick. They got to the bottom and slowed the pace of the race down. I was able to roll the top and make it stick. I had a very good balanced race car. This car is my favorite car. Clyde never lets me down."
Perhaps one of the most intense finishes of the evening occurred during the 20 lap Open Sportsman feature event. Owego New York's Brian White made a pass on Chris Jordan while coming to the white flag to finish the first Sportsman Feature of 2017. White parked his Quicks Logging & Tree Service, Greg Auto Sales number 56 in Thunder Mountain Speedway Victory Lane for the first time this season. He had a short but powerful reflection on his display of inspired driving.
"I believe the biggest thing we can learn from tonight is to never give up on your evening."
Other main event winners throughout the evening include: Pat Jordan (Crate Sporstman), Gary Roberts (IMCA Modifieds), Damon Decker (Street Stock), Mitch Hurlburt (4 Cylinder Stock), Chris Jordan (Xcel 600), and AJ Williams (Rookie/Budget Sportsman).
Thunder Mountain Speedway continues their twenty fifth anniversary season next weekend, May 6th, with a complete regular program. Gates open at 4 p.m. Hot laps begin at 6:20 p.m. Racing is set to begin at 7 p.m. Fans and teams can find more information on Thunder Mountain Speedway at thundermtnspeedway.net.
Modified Feature (30 Laps):
1.Dan Creeden, 2. Nick Nye, 3. Alan Barker, 4. Chad Cook, 5. Cory Costa, 6. Barry White, 7. Billy Spoonhower, 8. Colton Wilson, 9. Byron Worthing, 10. Jeremy Smith, 11. Jeff Sheeley, 12. Brett Barrett, 13. Steve Deinhardt, 14. Brian Malcolm, 15. Bob Stahl, 16. Brent Wilcox, 17. Randy Brokaw, 18. Tim Harris, 19. Sam Allen
Open Sportsman Feature (20 Laps):
1.Brian White, 2. Chris Jordan, 3. Kevin Jordan, 4. Larry Hillis, 5. Tom Eiklor, 6. Lee DeWitt, 7. Larry Mekic, 8. Chance Spoonhower, 9. Jeff Bronson, 10. Marshall Balzer, 11. Dayton Coney, 12. Dan Burman, 13. John Morse, 14. Landon Cummings, 15. Carl Bittenbender, 16. Ryan Alsdorf, 17. Dave Doig Jr., 18. Geordie Decker, 19. Eddie White
Crate Sportsman Feature (20 Laps):
1. Pat Jordan, 2. Kenny Hammond, 3. Tom Collins, 4. Isiah Forward, 5. Dustin Jordan, 6. Corey Cormier, 7. Mike Austin, 8. Ben Bushaw, 9. Kailee Dimoirer, 10. Brenton Miller, 11. T.J. Frost, 12. Kinser Hill, 13. Darren Smith, 14. Tom Princiotta, 15. Duane Knapp, 16. Tyler Keener, 17. Colby Hendrickson, 18. Shayne Spoonhower, 19. Kimberlee Morgan, 20. James McIntyre, 21. Tyler Ward, 22. Pat Parker
IMCA Modified Feature (20 Laps):
1. Gary Roberts, 2. Tyler Stoddard, 3. Will Ward, 4. Keith Lamphere, 5. Beau Ballard, 6. Brandon Smith, 7. Rich McNeal, 8. Tim Vandermark, 9. Brad Smith, 10. Dan Searles, 11. Mike Stoddard, 12. Billy Ward, 13. Don Alvordi, 14. Doug McKane
Street Stock Feature (20 Laps):
1.Damon Decker, 2. Lanson Albanese, 3. Jake Fowlston, 4. Don Russell, 5. Mike Wilber Sr., 6. Earl Zimmer, 7. Trevor Dudley, 8. Cody Nielsen, 9. Jack Holcomb Jr., 10. Dan Force, 11. Rick Sinsabaugh
4 Cylinder Stock Feature (15 Laps):
1.Mitch Hurlburt, 2. Keith Shay, 3. Chris Taylor, 4. Tom Bumpus, 5. Cody Stahl, 6. Richard Hurlburt, DNS – M. Gibson
Xcel 600 Modified Feature (20 Laps):
1. Chris Jordan, 2. Joe McCabe, 3. Eric Boyd, 4. Dana Davis, 5. Dakota Anderson, 6. Justin Shiner, 7. Doug Windhausen, 8. Bob Rowback, 9. Adam Mudge, 10. Jacob Waibel, 11. Dominick Amato, 12. Norm Whittemore, 13. Will Eastman, 14. Kyle Harrington, 15. Bailey Boyd, DNS – Chuck Lohmeyer, Damon Henry
Rookie/Budget Sporstman Feature (15 Laps):
1. AJ Williams, 2. Connor Spoonhower, 3. Landon Spoonhower, 4. Seth O'Dell, DNS – Anthony Rundell