HOT STREAK CONTINUES FOR JEREMY SMITH ON THE MOUNTAIN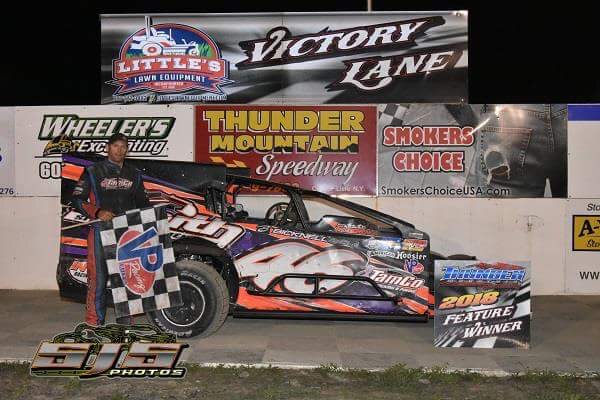 By C. Barry Goodband
CENTER LISLE NY – Over 150 race teams had the pit area brimming with horsepower as their fans filled the grandstand to near full capacity at Thunder Mountain Speedway Saturday night. After taking the previous week off from competition and many of the areas Friday night tracks losing out to the weather, both racers and fans were more than ready to see some on track action.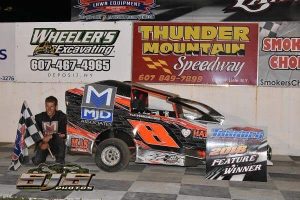 The 600cc Modified feature went green with Binghamton's Jake Waibel on the front row. Newark Valley's Jared Green lined up to his outside. Fabius native Doug Windhausen wasted no time as he leapt to the outside at the drop of the green from his 4th place starting spot. A three wide drag race ensued as the field raced their way through turn two. On the backstretch Windhausen took command. The pace would slow for a few minor incidents but Windhausen would maintain his advantage for the full 20 laps and pick up his third set of checkers in 2018.
600cc Modified – Doug Windhausen, Rich Powell, Dana Davis, Chris Jordan, Tom Shiner, Shayne Spoonhower, Damon Henry, Chace Scutt, Rich Gardiner, Bob Rowback, Chris Krebs, Rich Christman, Kyle Fallis, James Randall, Chelsie Beebe, Aiden Miller, Kristen Chamberlain, Ali Scutt, Dakota Anderson, Jared Green, Jake Waibel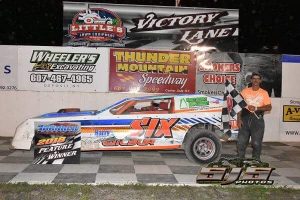 Bob Mills and Tom Donahue sat on the front row for the start of the 20-lap Street Stock feature. Unfortunately, several yellows would plague the event, bending fenders and fraying nerves. Norwich NY driver Jake Fowlston has had a fast hot rod for last few weeks, running consistently in the top three and this week it seemed would finally be his. In the late stages, however Fowlston would fall under heavy pressure from Jerry Lobdell and Mike Wilbur. The top three began an extremely close and clean battle for the lead on lap 15. Fowlston and Wilbur came to the stripe dead even with the parallel sticks being shown. When the white flew on the next lap, it was long time street stock driver Mike Wilbur showing the way after powering by Fowlston on the top. Wilbur then sailed the remaining ⅜ of a mile to the win.
Street Stock – Mike Wilbur, Jerry Lobdell Jr., Jake Fowlston, Bob Mills, Jack Holcomb, Shane Wolf Jr., Dan Force, Buck Mills, Tom Donahue, Jeff Wilcox, Gene Sharpsteen, Abe Romanik, Jonathan Fowlston, Donald Briggs, Bob Crandall, Trevor Dudley, Kevin Garland, Earl Zimmer, Josh Towner, Don Russell, Jon White, Keith Beach, DQ – Matt Spencer, DNS – Dustin Fassett, Nick Mady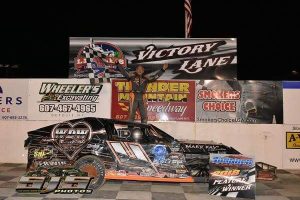 The 20 lap IMCA modified feature was paced by Ray McClure and Brandon Smith. Smith took the holeshot into turn one and held the lead in the early going. Following a restart on lap 4, the father/son duo of Billy and Will Ward made their presence felt in the top 3 with Will surging into the number one position on lap 5. Billy followed suit on the next circuit and Will began to march out to comfortable lead. The tide began to shift at or about lap 10 when the elder Ward began to reel in the younger. By lap 13 the pair held a full straightaway advantage and one lap later, Billy Ward drove by his son in turn two. It would then become apparent that Will's car fading as much as Bill's had come on and a few laps later Will would go pit side with broken right front suspension components. Papa Ward was then free to drive to a second career trophy to place alongside the first one gained just three weeks ago. Combined this makes four straight for the potent WDW team.
IMCA Modified – Billy Ward, Shawn Bruce, Brandon Smith, Ray McClure, Logan Terry, Bill Nichols, Rodney Morgan, Bruce Tinsley, Jeff Cardinale, Tyler Stoddard, Will Ward, Bumps Scutt, Gary Roberts, Don Alger
A colossal field of 30 Modified drivers made the start of the 35 lap modified main event. It had been assumed by all in attendance that a consi would be run to narrow the field of 30 to 26. However, it was announced during intermission that speedway promoter Karl Spoonhower wanted all the teams that came in this night to go home with some starting cash.
Chance Spoonhower and Byron Worthing were on the front row when the field came to green. Spoonhower held the lead over most of the first half of a race. During a seven lap green flag run Spoonhower was chased by Shaun Walker who had danced to second. Walker completed a slide job to lead a lap but Spoonhower executed a textbook crossover move to regain the top spot in one and two. Jeremy Smith also threw in his hat despite some significant damage to the right sail panel. Another restart on lap 11 saw the trio racing for the lead. Two laps later Walker found the bite he needed off turn four and rocketed to the point. Disaster nearly struck however as Walker hopped the wheel of a lap car in the next turn, catapulting his machine toward the outside wall. By will and skill, Walker steered his car away from the fence and lost only three spots to the miscue. This left Spoonhower and Smith, who has been on an amazing hot streak as of late, to duke it out up front. On lap 17 Smith would get the drive off the top side of turn two and take command of the event. Smith would go on to extend his hot streak that currently includes two straight feature wins along with a $500 dash win here at TMS and two straight wins at Afton that includes his first ever victory in a Short Track Super Series event.
Modified – Jeremy Smith, Shaun Walker, Chance Spoonhower, Colton Wilson, Nick Nye, Byron Worthing, P.J. Goodwin, Bob Stahl, Alan Barker, Brent Wilcox, Jeff Sheely, Mike Bowman, Mike Colsten, Damon Decker, Alissa Cody, Lee DeWitt, Kevin Jordan, Kevin Smith, Ryan Jordan, Steven Deinhardt, Ken Titus, Pat Parker, Chad Cook, T.J. Frost, Steve Cummings, Joe Krum, Brian White, Larry Mekic, Kailee DiMorier, James Cummings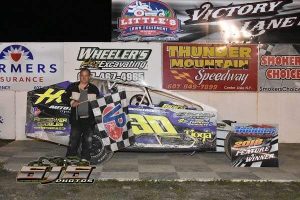 There were 28 Crate Sportsman cars called to the start of their 25-lap feature. The field was lead by Tyler Ward and Kimberlee Morgan. Ward would have the top spot locked down for much of the distance. Kenny Hammond pursued Ward for the first 20 laps. It seemed as though Hammond would have the lead on a few occasions but caution flags would then appear to erase his progress. The final 12 laps went green with Hammond getting the upper hand in turns one and two on lap 21. Kenny never looked back from there on as he cruised to Little's Lawn Equipment Victory Lane.
Crate Sportsman – Kenny Hammond, Jimmy Zacharias, Tom Collins, Mike Austin, Shayne Spoonhower, Isaiah Forward, Garrett Rushlow, Daryl Krebs, Brenton Miller, Hunter Lapp, Rich Talada, Jason Feinberg, Dan Burman, Hilary Ward, Kimberlee Morgan, Chance Spoonhower, Matt Brewer, Damon Decker, Marc Goodwin, Kyle Pierce, Tyler Keener, Will Eastman, Devon Zona, Joe Guastella, DNS Craig Cuneo, Erica Bowman, Jake Mason, DQ – Tyler Ward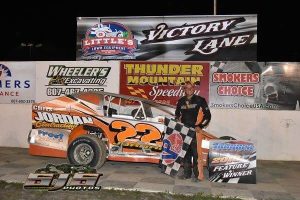 The Open Sportsman had the final slot in the racing program and started their 25-lap feature with Tommy Eiklor and Greg Morgan on the pole. Morgan would lead lap one but a quick yellow brought the previous week's winner, Landon Cummings to the outside of the front row for the restart. Cummings would be the new leader at the green and would show the way for two more circuits until Brian Mady would blast through on the high side of turn two. A somewhat bizarre incident would take place on lap ten as the leaders worked through lap traffic. Cummings who was still running second got hung out on the high side by a car coming cross track toward the pit entrance in turn one. Cummings had no other avenue of escape and was forced down pit road. He soon reappeared but had lost several positions. While under the ensuing yellow flag smoke was seen emanating from Mady's car. He continued however to set an unmatchable pace until the end came on lap 21 as Mady slowed off turn two. This put the race into the hands of Chris Jordan who held through the final four circuits, picking up his second Open Sportsman victory of the season.
Open Sportsman – Chris Jordan, Jimmy Zacharias, Landon Cummings, Greg Morgan, Craig Pope, Tom Eiklor, Chris Hunsinger, Duane Knapp, Craig Cuneo, T.J. Frost, Brian Mady, Jesse Velez, Lisa Williams, Jim Rothwell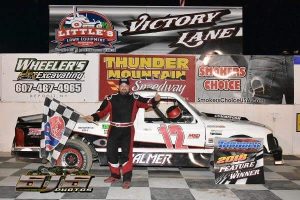 Trey Palmer parked his potent number 12 truck in victory lane. Palmer who makes the haul all the way from Connecticut started 5th on the grid and took the lead from Justin LaDue on a restart at lap 6. Palmer then extended his lead throughout the rest of the event.
4cyl Stock – Trey Palmer, Nick Kennedy, Luke Mills, Tom Bumpus, Eric Rowley, Rich Wagner, Zack Haward, Rick Sinsabaugh, Justin LaDue, Casey McPherson, Bob Doolittle, Jarrod Hislob, Justin Wells, Kenny Underwood, Richard Eggleston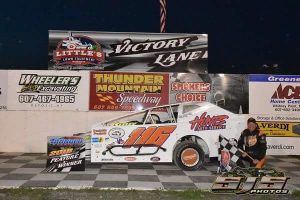 Joe McCabe returned to his winning ways in the Rookie Sportsman main event. McCabe took the lead from pole sitter Leah Decker on lap 2 and dominated the rest 15 lap distance to bring home his fourth win of the season. This win snaps a three-race win streak by young Jake Mason who was involved in an early incident that sidelined him.
Rookie Sportsman – Joe McCabe, Matt Addona, Leah Decker, Michael Corbin, Erica Bowman, Cody Jackson, Zach Murray, Mike Grover, Danielle Smith, Meckenzie Marsh, Zachery Diedrickson, Mike Lawrence, Jake Mason
Next Saturday August the 11th has regular show for all divisions with a special $1,000 winners purse offered for the Street Stocks we'll also get a visit from the Empire Lightning Sprint tour as well as the drawing for the 2nd annual VIP Fan Experience.