DECKER AND WIGHT CLAIM HONORS AT THUNDER MOUNTAIN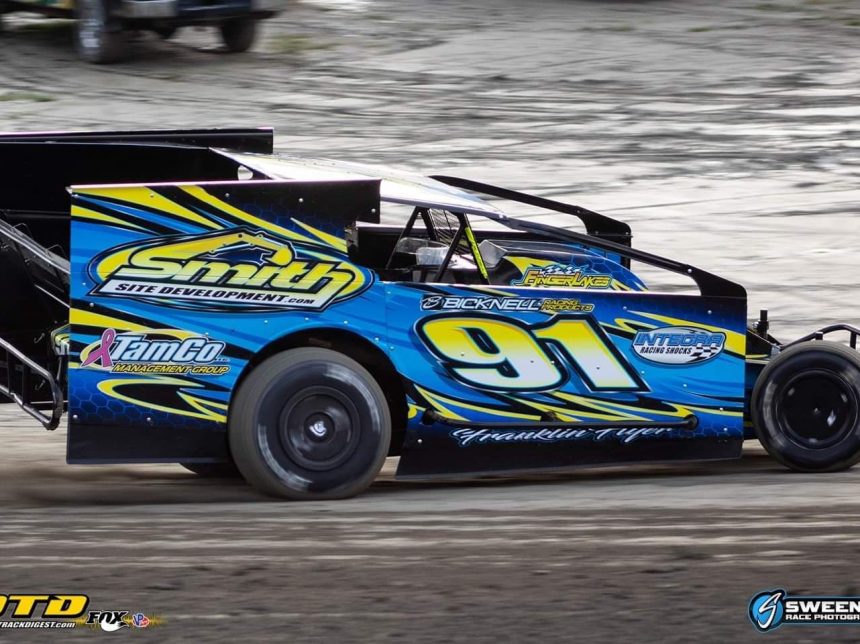 CENTER LISLE, NY…..Billy Decker and Larry Wight both made a trip to Thunder Mountain Speedway pay off Saturday night, as Decker took the 35-lap Modified feature event while Wight was the victor in the DIRTcar 358 Modified class. Other winners included Tom Collins Jr in the DIRTcar Crate Sportsman, Brett Gray in the 600cc Modifieds, Lanson Albanese in the Wheeler Excavating Street Stocks, Rich Sharpsteen in the Pop's Automotive Factory Stocks, Johnathan Fowlston in the Budget Sportsman, and Taylor Houghton in the Junior Slingshots.
Jeff Taylor took the lead at the start of the 35-lap Modified feature, but Shaun Walker moved past for the top spot on lap 8 while Billy Decker and Larry Wight battled further back. Decker, who started in 12th, moved past Wight and took 3rd on lap 14 as Walker was chased by Alan Barker into lapped traffic. A lap 23 yellow cleared the field, and Decker took to the top side to pass Barker, then moved around Walker for the lead on lap 27. Decker held on off the final restart to take the win over Walker, Barker, Nick Nye, and Kenny Hammond.
In the 30-lap DIRTcar 358 Modified feature, Larry Wight and Rusty Smith started on the front row and turned the race into a two car battle for the win. Smith stayed close to Wight into traffic and on a couple of late race restarts, but Wight was not to be denied, holding off Smith by a car length to take the checkers. Colton Wilson got by Dave Marcuccili on the last restart for third and Jeff Taylor made a late charge to claim fifth.
Pole sitter Lance Irwin had terrible luck, spinning out in the fourth turn of the first lap of the DIRTcar Crate Sportsman feature after starting first. Tom Collins Jr. took the lead on the restart and even though Alan Fink got close to him on several restarts and in lapped traffic, Collins emerged victorious over Fink, Todd Heyward, Hunter Lapp, and Steve Marshall.
Scheduled pole sitter Jared Green had to start from the back of the field in the 20-lap 600cc Modified feature after a mechanical issue sent him to the pits before the green, leaving Chris Jordan to grab the lead. Jordan held on for most of the race, but a mistake in lapped traffic with three laps to go handed the lead to Brett Gray, who brought home the win. Jordan had to settle for second, followed by Tom Donahue, Doug Windhausen, and Tyler Smith.
The 20-lap Wheeler Excavating Street Stock main event went wire to wire with Lanson Albanese outrunning Steven Dinehardt for the victory. Don Russell, Dusty Decker, and Gene Sharpsteen rounded out the top five.
In the Pop's Automotive Factory Stocks, Mike Morse made it into the lead a few laps in but then broke, handing the lead to Rich Sharpsteen, who held on the rest of the way for the win. Josh Towner fought his way into second and chased Sharpsteen to the checkers, with Buck Mills Sr, Shane Moshier, and Shawn Sabo following.
Johnathan Fowlston was steady at the head of the pack to claim the 15-lap Budget Sportsman feature over Steve Schrader, Josh Akshar, Michael Roach, and Eric Winsor.
Taylor Houghton passed Evan O'Hara early in the 10-lap Junior Slingshot main event to take the win with Dom Kerchburger and Liam Zacharias following.
Racing continues at Thunder Mountain on Saturday, May 15th with a full program beginning at 7:00 p.m. The following week, the Lucas Oil Empire Super Sprints will pay a visit. For more information, visit thundermtnspeedway.net.
RACE SUMMARY-THUNDER MOUNTAIN SPEEDWAY-MAY 8, 2021
MODIFIED FEATURE-BILLY DECKER, Shaun Walker, Alan Bakrker, Nick Nye, Ken Hammond, Ryan Suscie, Larry Wight, Eric Leet, Bailey Boyd, Chris Curtis, Darren Smith, PJ Goodwin, Jeff Taylor, Jeff Sheely, Larry Mekie, Chris Jordan, Landon Cummings, Jimmy Zacharias, James Meehan, Ryan Jordan, Rick Wilk, Eric Williams, Marc Goodwin.
DIRTcar 358 MODIFIED FEATURE-LARRY WIGHT, Rusty Smith, Colton Wilson, Dave Marcuccilli, Jeff Taylor, Tyler Meeks, Marshall Hurd, Lance Willix, Jordan McCreadie, Tom Eiklor, Andrew Ferguson, Kyle Demetro, Connor Sellers, Matt Meade, Shayne Spoonhower, Cameorn Black, Joel Hall, Billy Dunn, Glenn Forward, Tom Collins, Michael Mandingo (DNS).
DIRTcar CRATE SPORTSMAN FEATURE-TOM COLLINS, Alan Fink, Todd Heyward, Hunter Lapp, Steve Marshall, Jordan Millard, Colby Herzog, Mike Austin, Rich Talada, Jamie Kamrowski, Brandon Carvey, Zac MacDonald, Tom Velez, Kinser Hill, Will Eastman, Alan Komar, Bobby Heintz, Dane Hedlund, Brian White, Chris Bonoffski, Lance Irwin, Ray Reynolds, Mike Button, Daryl Krebs, Jake Mason, Stacy Jackson, Bryce Bailey, Cody Jackson, Dustin Hutton.
600CC MODIFIED FEATURE-BRETT GRAY, Chris Jordan, Tom Donahue, Doug Windausen, Tyler Smith, Chad Mason, Ken Harris, Dana Davis, Doug Lattner, Rich Powell, Bumps Scutt, Nolan Smith, Jamie Frantz, Devon Green, James Randall, Chelcie Beebe, TJ Smith, Tracy Oliver, Christina Half, Larry Furman, Taylor Wilk, Justin LaDue, Jarrod Meyers, Brenton Miller, Jake Waibel, Ali Scutt, Jarden Green, Logan LaDue (DNS).
WHEELER EXCAVATING STREET STOCK FEATURE-LANSON ALBANESE, Steven Deinhardt, Don Russell, Dusty Decker, Gene Sharpsteen, Tom Paide, Rick Watt, John Carpenter, Trevor Dudley, Damon Decker, Thomas Moon (DNS), Bob Wagner (DNS), Mike Wilbur (DNS).
POP'S AUTOMOTIVE FACTORY STOCK FEATURE-RICH SHARPSTEEN, Josh Towner, Buck Mills Sr, Shane Moshier, Shawn Sabo, Luke Mills, Frank Mills Jr, Dylan Eaton, Kevin MacDonald, Scott Brown, Blake Furman, Rick Sinsabaught, Mike Morse, Tommy Groover, Jason Rhodes, Josh Vanderpook, Casey McPherson.
BUDGET SPORTSMAN FEATURE-JOHNATHAN FOWLSTON, Steve Schrader, Josh Akshar, Michael Roach, Eric Winsor, Lucas Kastenhuber, Dylan Hartman, David Hackett Jr, Jeremy Hamilton, Tres Palmer (DNS).
JUNIOR SLINGSHOT FEATURE-TAYLOR HOUGHTON, Evan O'Hara, Dom Kerchburger, Liam Zacharias.